We may earn compensation through affiliate links in this story.
Antiqued mirror tiles look awesome as backsplashes, mirrored walls, and in general as a decorative accent to your home. Finding the right "type" of antiqued mirror, however, is difficult. What's more, getting those antiqued mirror tiles into the right shape and installed can be even tougher.
This article shows you where to find and buy antiqued mirror tiles, and how to get the into the perfect size and shape into your home.
If you are interested in custom mirror tiles, click here to create a custom order.
Ready? Let's go!
Antiqued Mirror Example by Mirror Coop
Antiqued mirror is the name given to mirror that has any kind of smoky or colorful finish. There are many ways to "antique" mirror — including something called verre eglomise — though they all result in a mirror finish that has a unique reflection. Since antiqued mirror is a general name, you can find tons of variety in pattern and thickness. Below, I'll talk a little about that variation.
In other words, if you have even seen a mirror that looks like it has gold veins, a cloudy, smoky appearance, or any other kind of color, that's antiqued mirror.
What is Smoked Mirror?
Smoked mirror typically refers to dark grey mirror (you can see an example here). Though sometimes smoked mirror can refer to antiqued mirror, also…I know, it's confusing. The best thing to do is always make sure you are on the same page with whoever you are talking with.
Buying Antiqued Mirror Tiles
One thing to remember is that typically glass is the last thing added to any construction project. What this means is that you should always wait until nearly everything is done before you think about buying any mirror. Here is an article by Safewise that goes into a ton of detail about your project timeline.
Frequently Asked Questions About Antiqued Mirror
Buying Antiqued Mirror
Golden Antiqued Mirror from MirrorCoop
Typically, antiqued mirror is usually sold by two types of companies: local glass stores and DIY online companies. I'll give you a little info about the pros and cons of each, along with some recommendations.
1. Local Glass Stores
Most towns have at least one store that deals exclusively with glass and mirror. From windows to table tops, glass and mirror are a part of most every home, so glass tradesmen are very common.
These local stores can typically cut and install glass and mirror in your home, which requires special tools and expertise, making it can be difficult for anyone without experience. In addition, local glass stores typically carry a few "types" of antiqued mirror.
Your best bet is to call a few local stores and ask whether or not they have antiqued mirror tiles (many do!). From there, the company you work with will take care of all the measuring and installation details.
Click to Google Glass and Mirror Store Near Me
2. Finding Antiqued Mirror Tiles Online
If you are looking for a very artistic looking mirror — or need to match a color in your home — local stores may no be able to find the right material, as they often work with only one or two vendors. In this case, looking online can be a great way to find the perfect material for your space.
Most online mirror stores can provide you with the material you are looking for — at the sizes you need. Typically, the antiqued mirror can be shipped to a glass company you are working with for other glass/mirror in your home, or directly to your doorstep.
👍 John's Rule of Thumb If you're not too picky when it comes to the look of your antiqued tiles, go with a local company — otherwise, check out some of the artistic glass and mirror you can find online.
Options Instead of Antiqued Mirror
Besides working with a local company or ordering tiles online, there are a few other options that you can look into for finding antiqued mirror tiles. Below, I'll mention each and let you know what I think.
Peel and Stick Antiqued Mirror Tiles
I personally have never used these tiles but can imaging they would be great for a DIY project (like a mirrored wall or backsplash). Those picture above can be found at Home Depot. One word of warning is that if you are using any kind of peel and stick product in your bathroom, the moisture may corrode the adhesive, potentially making the mirror panels lose their grip on the wall.
Home Depot Antiqued Mirror Tiles
What doesn't Home Depot have? Turns out you can order a set of beveled antiqued mirror panels. You would have to do the installation, but if you are looking to save money and aren't too picky about the mirror pattern, this is a great option.
See Antiqued Mirror Panels on HomeDepot.com
Antiqued Mirror Film
Another idea is to use a glass film that has an antiqued mirror pattern. I've never done this but have heard success stories. Please read up on the film you are buying before doing so!
You can find antique mirror film here
3/8
Hexagon Mirror Tiles
Hexagon Mirror Tiles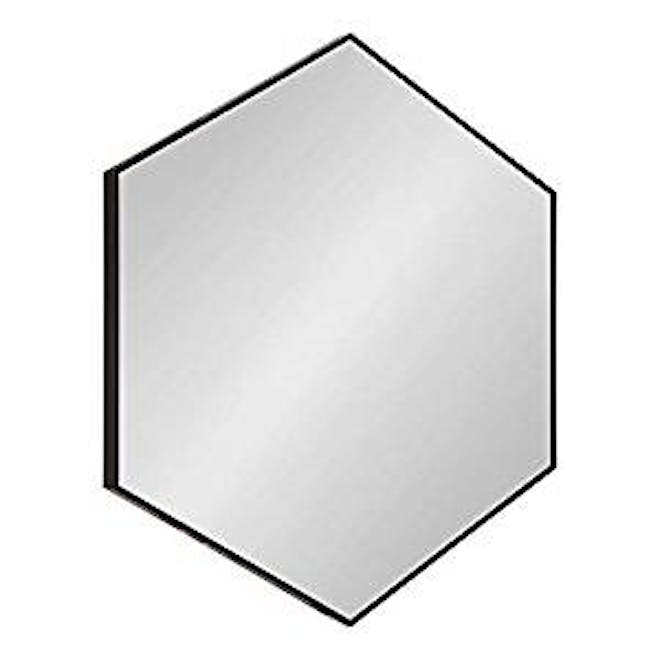 Kate and Laurel Rhodes Hexagon Mirror Tiles
These modern looking mirror tiles are great for adding a touch of class and elegance to any room in your home. THey are easy to hang and simple enough that they do not clash and look great anywhere

---
2/8
Mirror Squares
Mirror Squares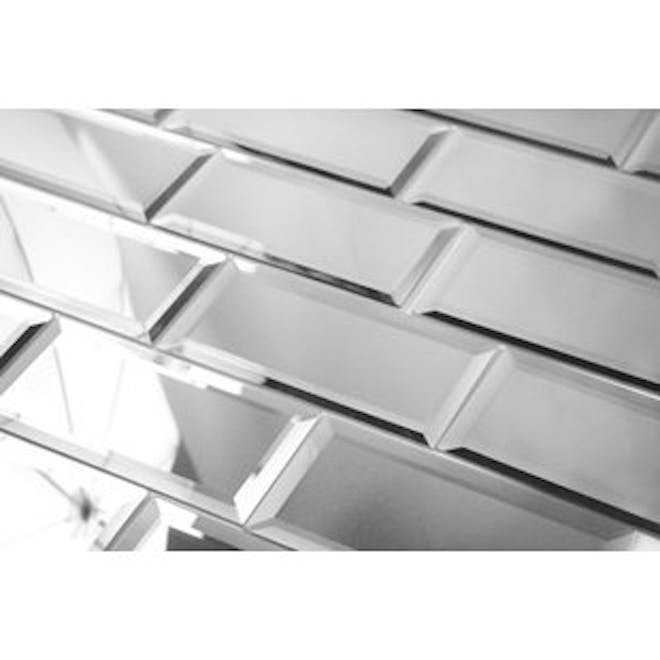 Reflections subway mirror tiles Mirror squares
These mirror tiles are recommended for anyone looking to update the look in their home. These mirror squares are quality products that are affordable as well

---
1/8
Peel And Stick Mirror
Peel And Stick Mirror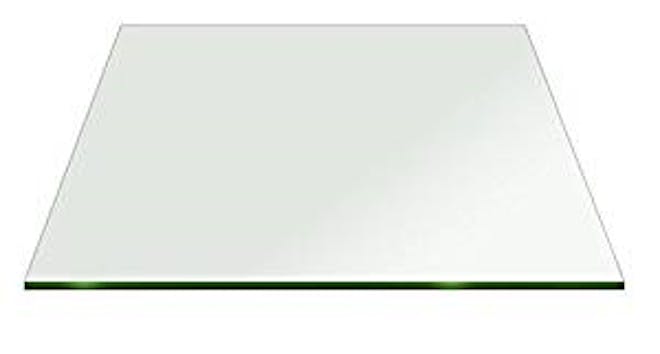 Source One Square peel and stick Peel and stick Mirror
This peel and stick mirror by Source One is 8 inches and is shatter proof as well, so it is safe and practical

---
Antiqued Mirror Tiles Summary
So that's a wrap. I know this article was a little long, so I've put together a little resource list to help you guys finish out their article.
Before You Start
If you are going the DIY route, make sure you check out how to measure and prepare
Here is a good resource video for installing mirror panels
Here is a good checklist before taking on any DIY construction project
Finding Antiqued Mirror Tiles
How Do You Hang A Mirror Tile Wall?
If you use clips, these are general instrucitons
Measure the mirror and the wall where you want to hang it
Place pieces of tape on the wall where you want to screw it in
Put a carbide or diamond tip in the drill
Place the bit into oil and position it against the pencil mark and make sure you have the bit where it needs to be.
Drill slowly into the tile keeping a light pressure on it. If it begins to smoke or turn red, stop immediately
Put the plastic anchor into the wall and make sure the screws and anchors can hold the correct weight.
Line up the mirrors hanging clips on the wall
How do you attach mirror tiles?
Mirror tiles are a perfect way to add a new decorative twist to any room in the home. Tiles can be used for mirrors, murals, and even decorative displays. Mirror tiles are available in a variety of shapes and sizes.
To attach your tiles to the wall, you will need:
Four small squares double sided mirror tape per 12″ of tile. (Use the same type of tape as your tiles.)
Step 1: Cleaning the wall. Clean the area where you are going to attach your mirror tiles with warm soapy water. Use a damp cloth and mild detergent or a clean lint-free rag to thoroughly clean the area. Dry thoroughly with a dry rag or towel. Allow it to completely air dry for several hours before moving on to step 2. Do not skip this step, as even minor debris between the tile and wall can cause problems during installation.
Step 2: Set the mirror tiles on a flat work surface. Using your hand, spread the tiles out, so that all of them are in contact with each other.
Step 3: Applying Double-Sided Tape squares to all sides of your mirror tiles. Connect your double-sided tape squares together with sticky tape. Position one side of your tile on one end of a square and press down firmly until it adheres to the tile and the sticky tape is secure.
Also use mirror mastic.
Continue placing and pressing down each single row until the entire wall surface is covered with rows of adhesive dotting and each piece has been attached completely to its neighbor by pressing firmly against it, thus locking them into place as an installation pattern.
What can I do with mirror squares?
Mirror squares are tiles that have been cut to shape from a mirror. They come in different shapes, sizes, and colors. You can use them to do many things-to make the kitchen look bigger and brighter by adding rows of mirror tiles to your stove or sink backsplash area, the space directly behind the stove or sink.
You can adhere small mirror tiles onto an old bedroom dresser that has seen better days if your bathroom is small, mirror tiles will open up the room and make it look twice the size. You can also use them on walls behind displayed candles to add depth and sparkle.
Antiqued Mirror Trend
Antiqued mirror is slightly more popular now than in 2005
More Articles About Antiqued Mirror
Antique Mirror Subway Tile
I personally have never used these tiles but can imaging they would be great for
a DIY project (like a mirrored wall or backsplash). One word of …
Verre Eglomise
When employing this method, craftspeople would apply gold leaf to the rear side
of a piece of glass in order to create a mirrored panel. Oftentimes …