We may earn compensation through affiliate links in this story.
Looking for smoked glass mirror? You're in the right place.
This article will show you exactly where to find smoked glass wall mirrors, smoked glass mirror panels, and smoked mirror tiles.
I'll tell you about the best vendors, how to get the mirror, and some tips along the way.
Let's go!
Editor's Choice for Top Pick
Editor's Choice for Top Pick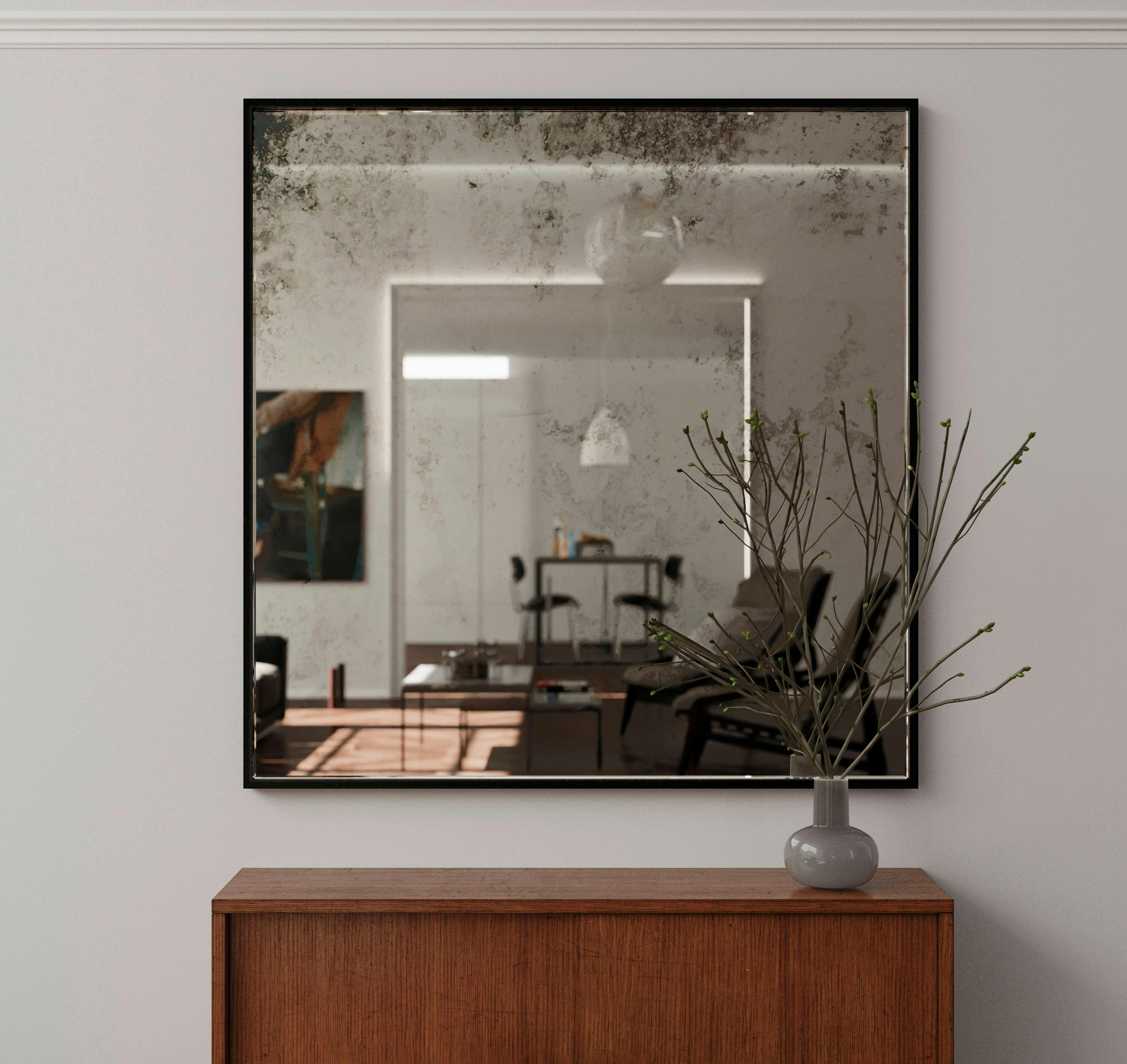 Framed minimal mirror with smoked finish and steel frame.
1/3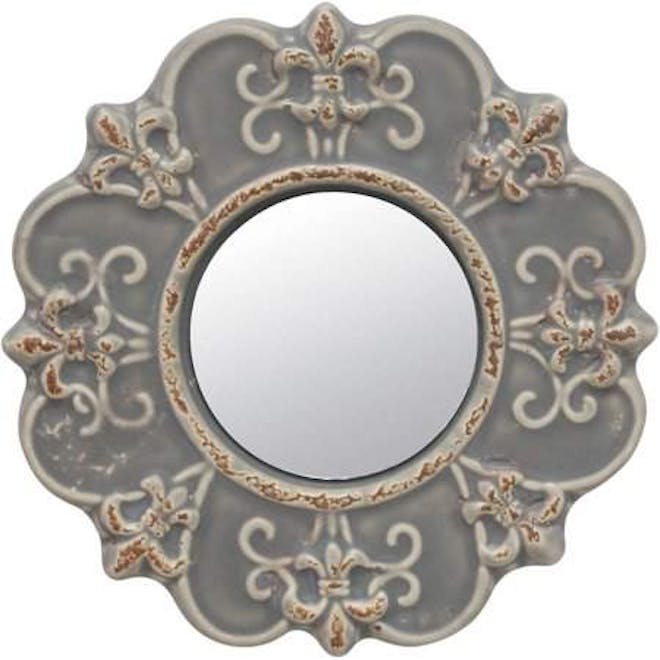 Matte Gray Ceramic FDL Mirror: Smoke gray matte glaze with worn details 7.9″W x .6″D x 7.9″H Glass cylinder: 3.84″W x 3.84″D x 5.87″H Wipe clean…
---
1/3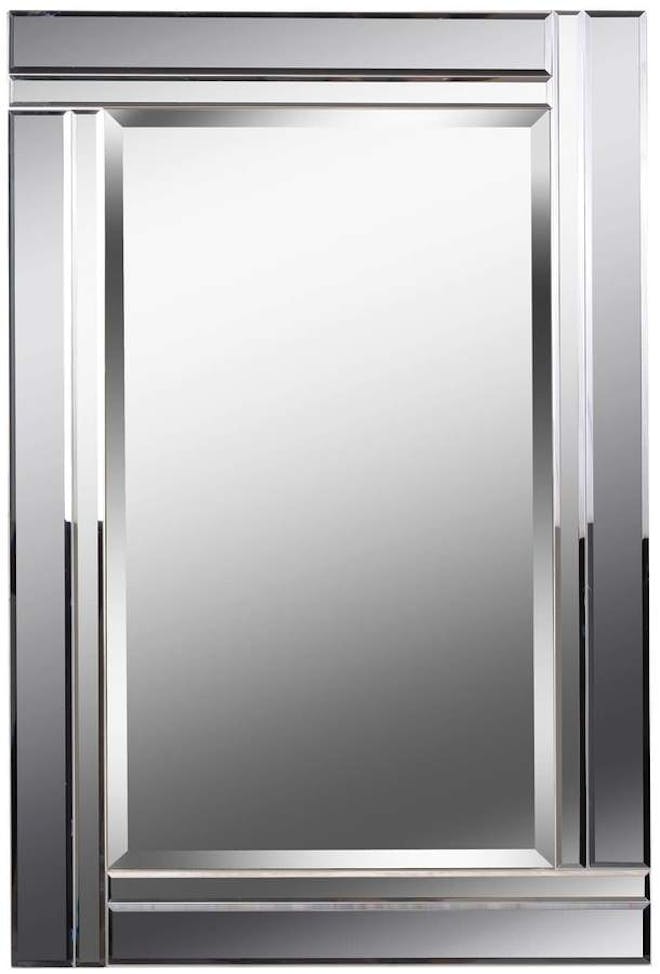 Kenroy Home from Kohl's $342.99
PRODUCT DETAILS The overlapping glass pieces in this mirror by Kenroy Home lends itself to a modern style. PRODUCT FEATURES Silver finish PRODUC…
---
1/1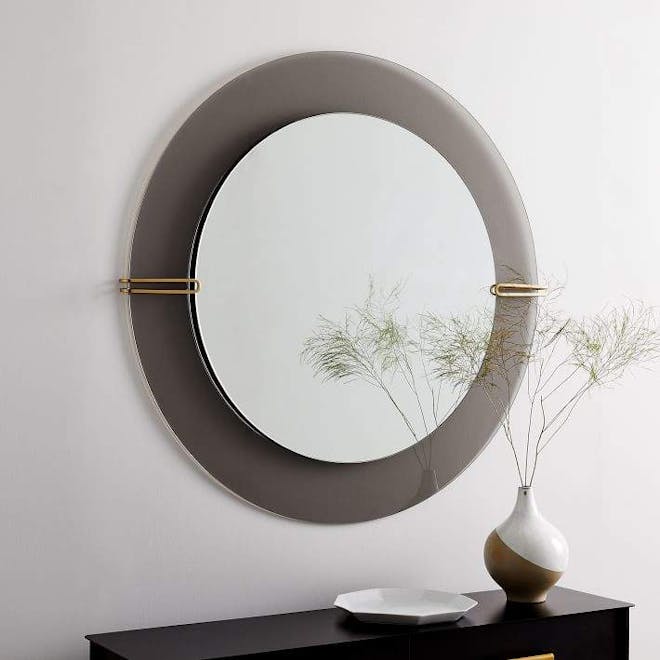 Overview Subtle yet elegant, the Dapper Glass Wall Mirror will attract the attention of anyone in the room. It overlaps smoke-finished and mirro…
---
1/4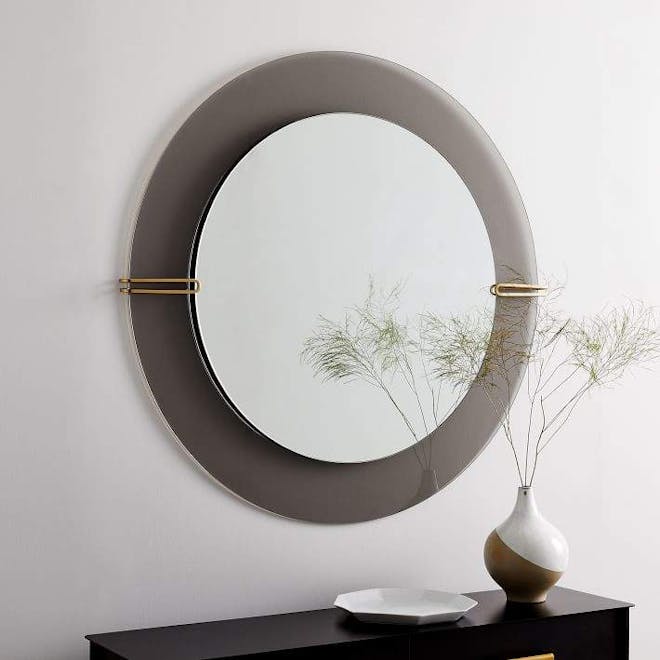 west elm from West Elm $399.00
Overview Subtle yet elegant, the Dapper Glass Wall Mirror will attract the attention of anyone in the room. It overlaps smoke-finished and mirro…
---
1/5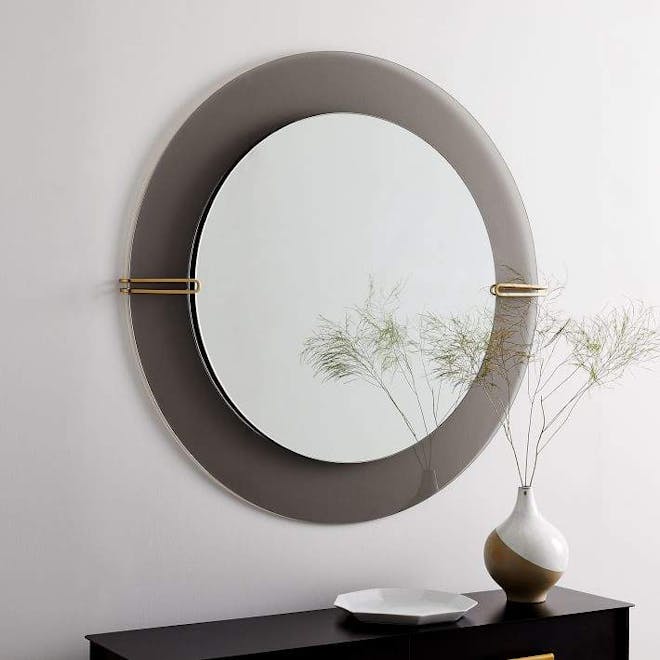 west elm from West Elm $399.00
Overview Subtle yet elegant, the Dapper Glass Wall Mirror will attract the attention of anyone in the room. It overlaps smoke-finished and mirro…
---
What Are Smoked Mirrors?
I'm sure you've heard the term "smoked mirrors", but many people misunderstand its meaning.
So what are they? Well, smoked mirrors are different than traditional mirrors in that they provide a clouded reflection – the glass is much darker in tone, less shiny and, thus, less reflective.
People don't own smoked mirrors because they want to use it to do their makeup, they don't use these mirrors to get ready in the morning, so instead, these mirrors are usually purely decorative.
As decorations, they're great.
They're bold, stylish and lend a certain type of sleek ambiance to a room.
They come in a variety of different sizes and styles to fit in any nook or cranny of a room.
Oftentimes, high-end modern furniture like tables, countertops, and backsplashes feature smoked mirror panels because they're elegant and easy to clean.
Our Favorite Smoked Wall Mirrors
Beaded accents are often used to adorn mirror frames. These accents are found in a range of different colors like silver, copper, and gold.
Gold beaded mirrors have an elegance that's hard to find elsewhere. These mirrors feature little gold beads around the frame. The beads add a sense of style and sophistication.
There are many different types of gold beaded mirrors. Some have a single row of accents around the frame while others have several, swirling rows adorning the frame's edges.
6/6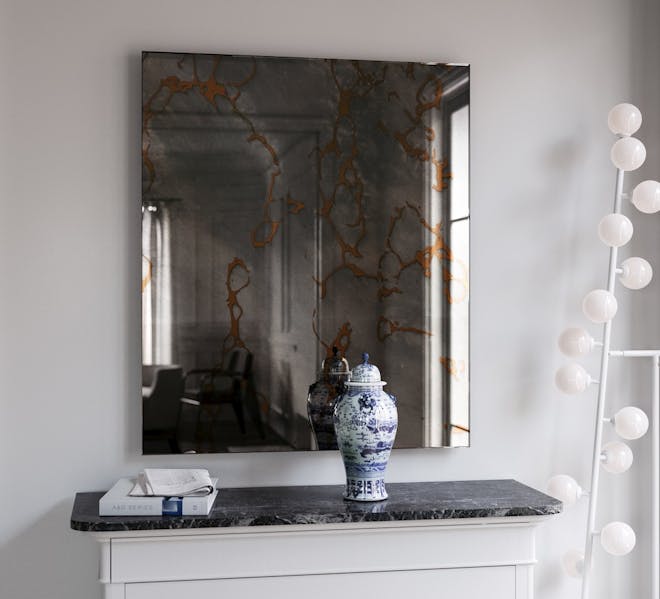 Color & Mirror Gold Veined Wall Mirror $815.00
Dark, moody gold veined mirror by our friends at Color & Mirror.
---
5/6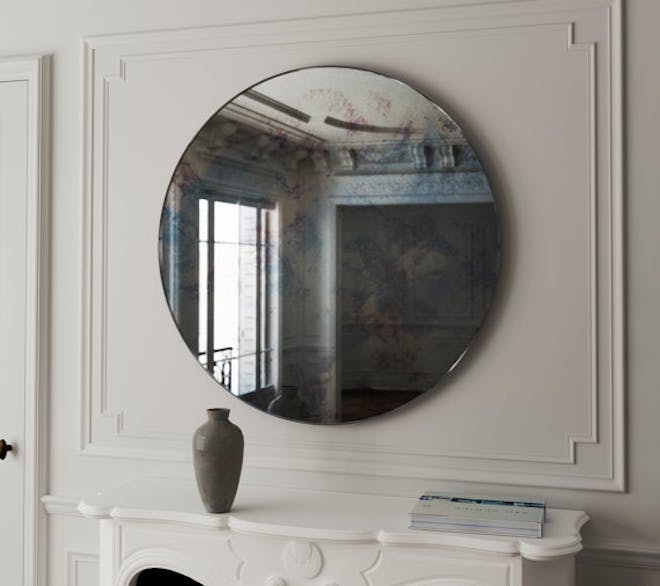 This is one of our subtle, colorful pieces – the finish of this mirror has blues, purples, and pinks. Best for adding subtle flair, this piece can work as both a functional mirror and an artistic piece. In the past, this piece has been used successfully as a foyer mirror, though I bet it could work in a powder or bathroom also. The piece is 32″ in the photograph but this round antiqued mirror can be made to any size between 8″ and 64″ inches in diameter. The edge of the mirror has a smooth finish – like a glass table top — and hangs via mounting hardware on its back.
---
10/6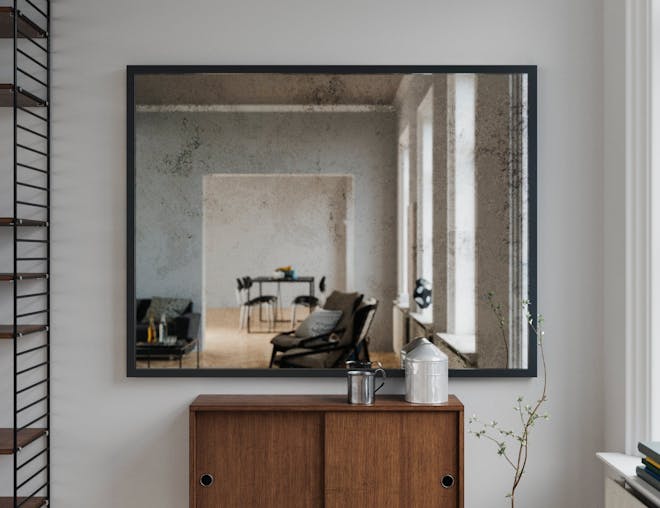 Mirror Coop Classic Antiqued Mirror $1,287.00
Classic steel framed antiqued mirror.
---
3/6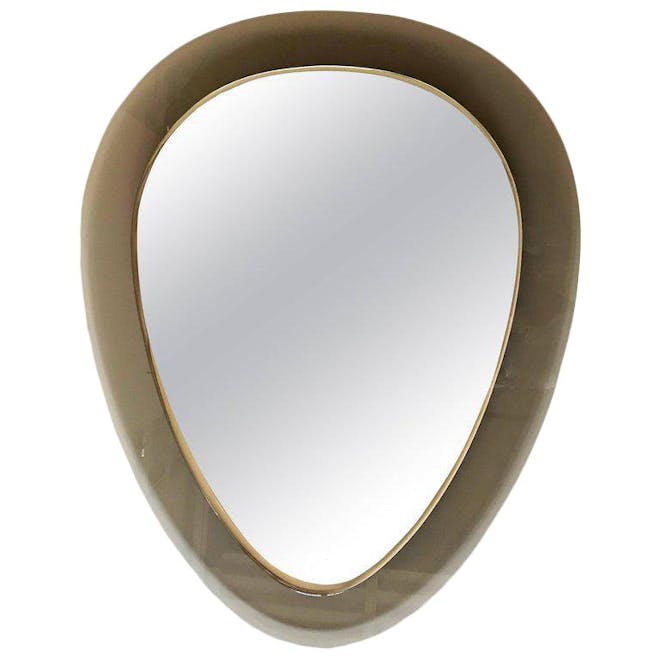 Veca Beveled Triangle Mirror $1,990.00
Very unusual shape for circa 1960s beveled triangle mirror by Veca, smoked glass frame, nickel-plated brass screw heads. Italy mirror measures: 18 inches W, 24 inches H.
---
4/6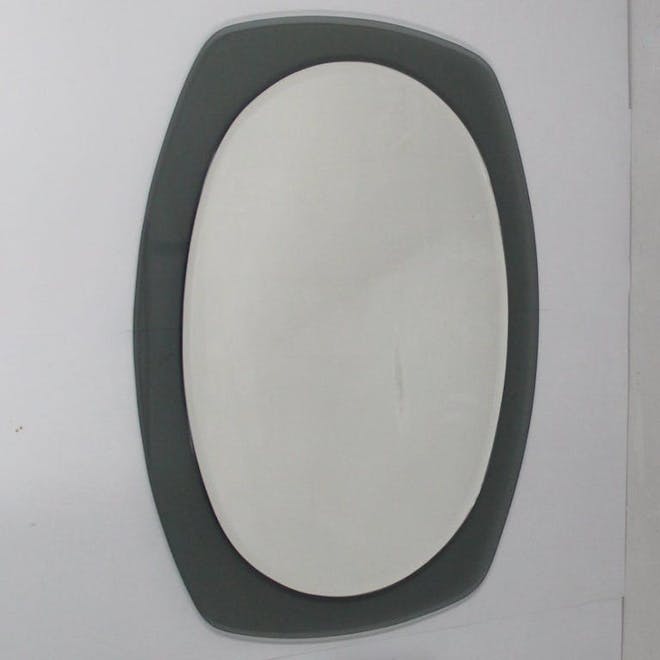 Pamono Vintage Italian Mirror from Veca
Vintage Italian mirror with a smoked mirror accent.
---
2/6
Smoked Mirror
Smoked Mirror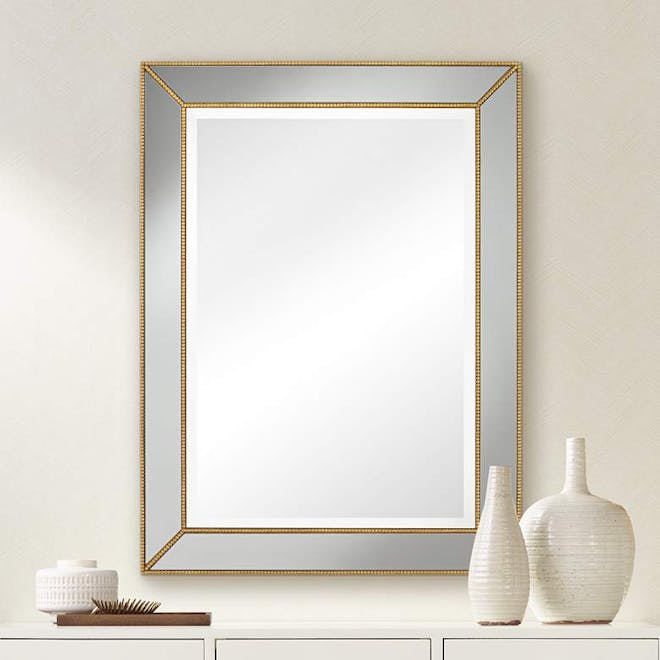 This 30″x40″ smoke glass mirror is a great addition to any room. Hang it vertically or horizontally, you cant go wrong with this mirror when you want to add a touch of elegance to your home.
What We Love
Looks exactly like it did in the picture which is amazing. Love this mirror
Impressed with the elegance of the mirror.
Things to Look Out For
Unable to hang, when I got it the back had nothing for me to hang it with. Disappointing
---
1/6
Framed Smoked Mirror
Framed Smoked Mirror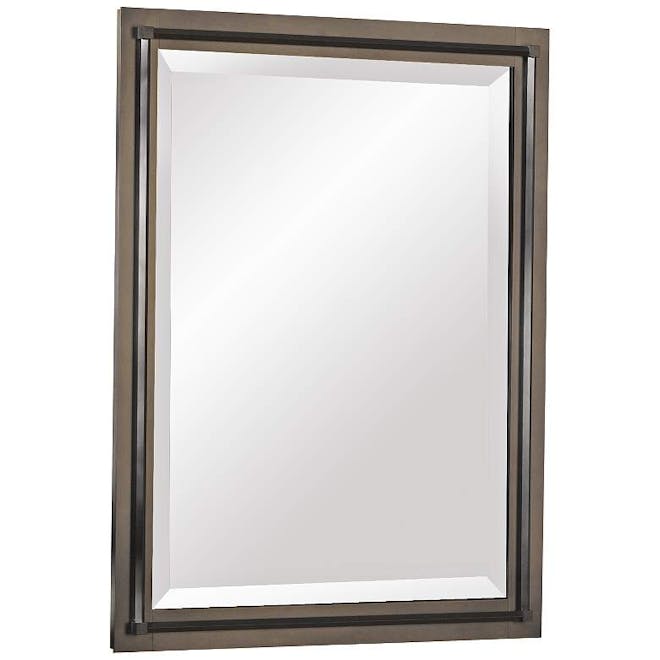 Hubbardton Forge Framed Smoked mirror
This Hubbardton Forge Dark Smoked mirror is great for any room. It has more of an industrial design feel to it while being rustic. A surefire hit in any room .
---
Research / Frequent Questions
What Is Smoked Mirror?
"Smoked mirror" is actually kind of a broad term. Depending on who you ask, it can mean a few different things.
Some mirrors are literally smoked. They're held up to a flame that melts the surface and creates a smokey effect on the reflective surface.
Other times, the term is used to describe any type of cloudy, antique mirror. While a mirror might not have been through the smoking process, it could have a distorted reflection due to aging.
What Does Smoking Glass Mean?
When a glassmaker smokes glass, they literally hold it up to a flame. The heat leaves a smokey residue on the surface of the glass.
This process is used to make smoked mirrors. But, it's also used to make filtered windows and screens.
Obviously, this process can be very toxic. When the hydrocarbon is burned off, it releases a poisonous smoke. So, DIYers shouldn't try this at home unless they have a gas mask and proper ventilation.
What Is Bronze Glass?
Bronze glass is a type of glass that is made to add a more elegant quality look to the piece you integrate the bronze glass into. Typically it is popular among outdoor tables and made to help reduce reflective glare from light. That is why it is popular for outdoor tables.
What Is Solex Glass?
Solex glass is a soothing green colored glass made by PPG industries. It was first made in 1934. It was designed for the purpose of being used in office buildings to assist with energy saving costs and end up saving companies money.It is also widely used by businesses to help with eliminating harsh solar glare and softens the glare with the composition of the glass.