We may earn compensation through affiliate links in this story.
In a world of square and rectangle furniture, a round mirror just might be the shape that can shake up your dull room.
Not only will a round mirror bring all the advantages that a mirror brings (like reflecting light and creating the optical illusion of more space), but its large size and irregular shape can provide the needed contrast its rectangular relative can't achieve.
Large, round mirrors when positioned over your other furniture like the couch, bed, or fireplace, will not just grab attention but free up light and space throughout the room.
Research / Frequent Questions
The Best Round Mirrors Explained
A few of our favorite round mirrors and what makes each special
1/6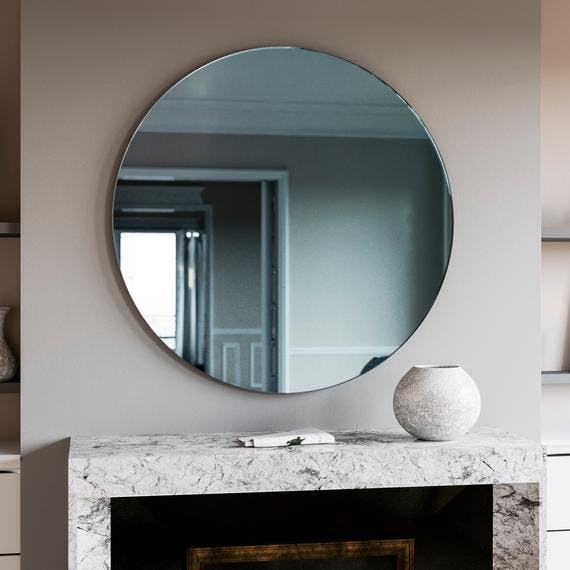 1920s and 30s style Blue Mirror from MirrorCoop
Round mirror. Hanging wall mirror made with unique blue mirror. Deco mirror perfect for an interesting, modern living space. The light blue has a airy, cheery feel.
---
1/6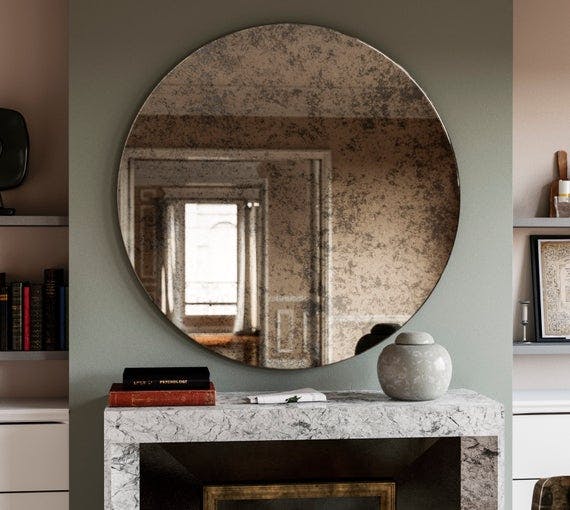 Interesting antiqued mirror with dark, abstract reflection.
---
1/6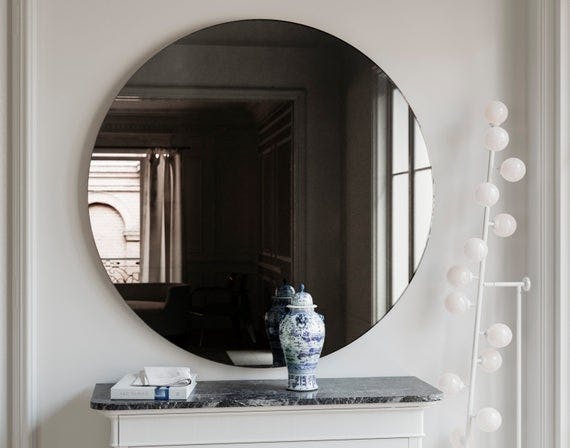 Round, decorative wall mirror hand made with black glass. This piece has a dark reflection that creates a unique, artistic effect when viewing.
---
1/6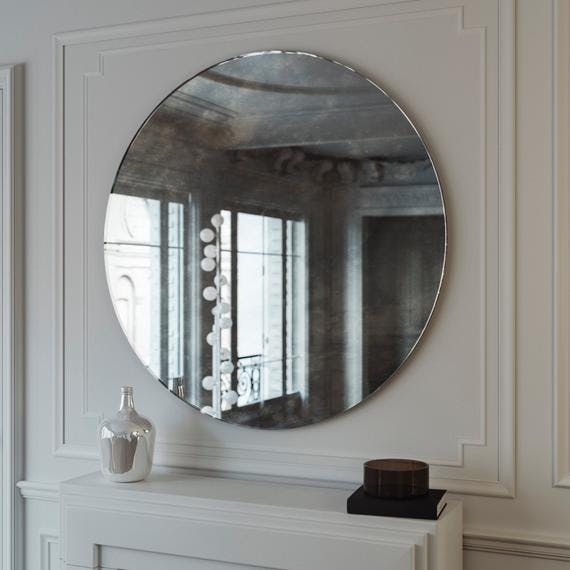 Frameless round mirror with a subtle, shimmering finish.
---
1/6
Large Round Brass Mirror
Large Round Brass Mirror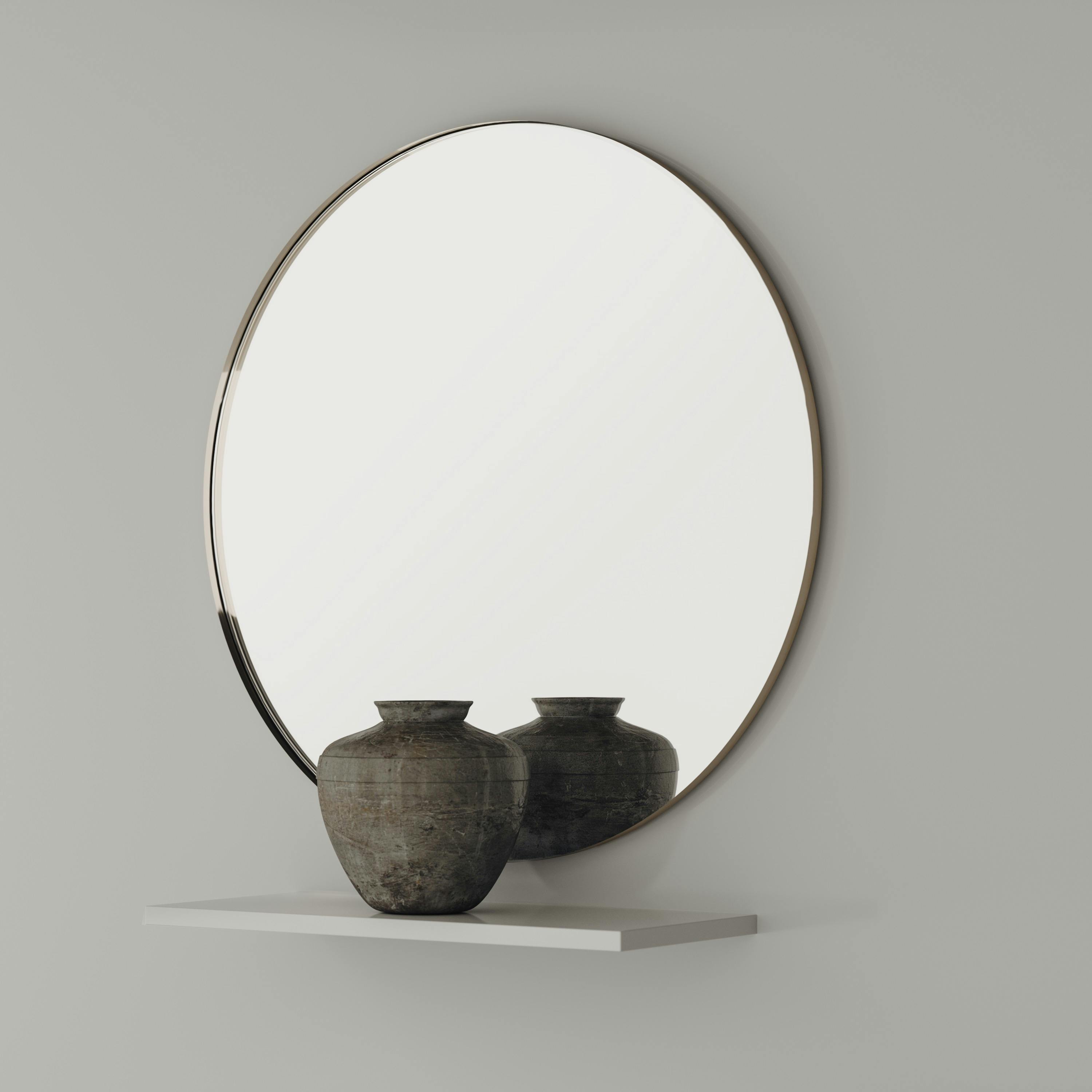 Round mirror with elegant rose gold metal frame
---
1/6
Extra Large Round Mirror
Extra Large Round Mirror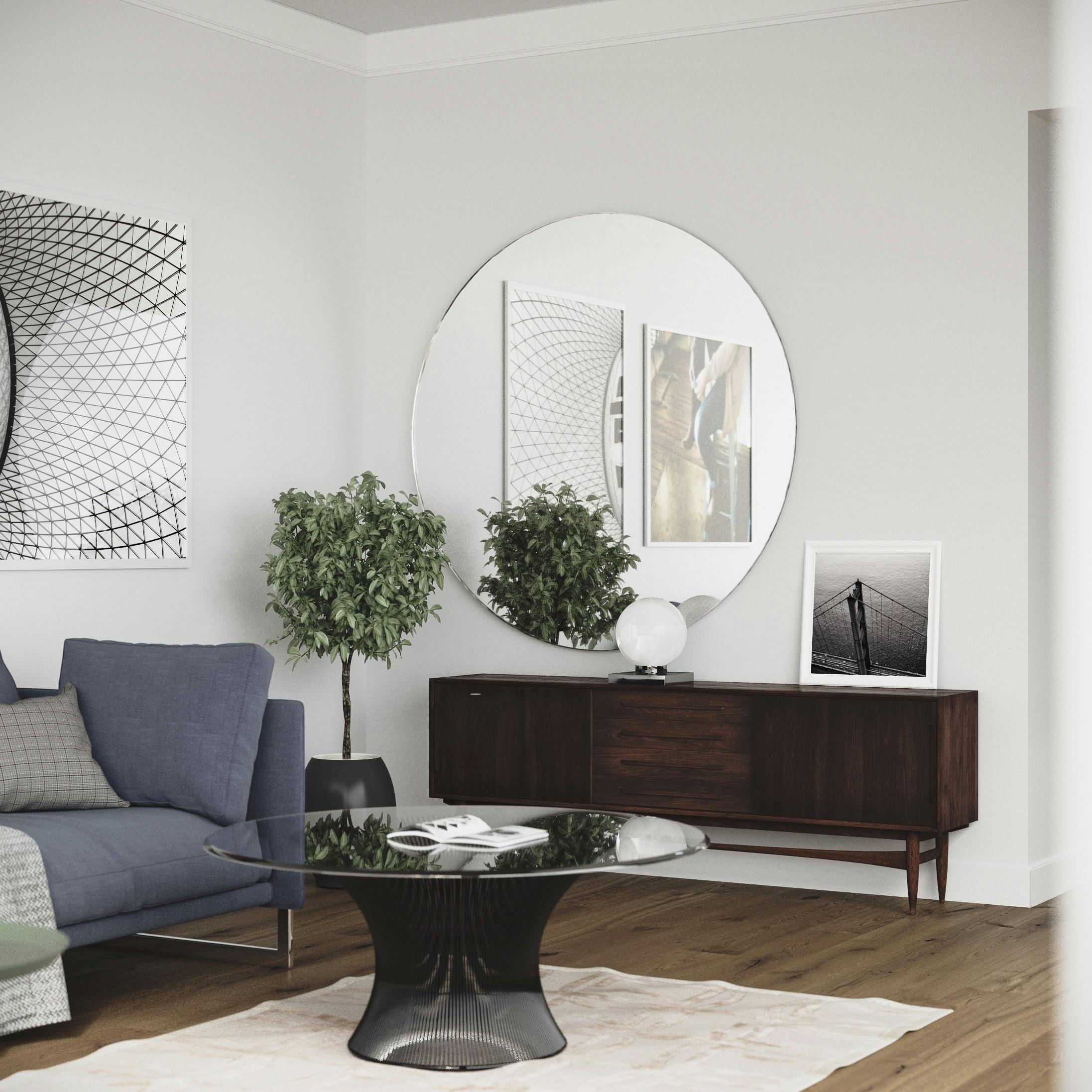 Frameless round wall mirror in midcentury home
---
How to Frame a Round Mirror
Want to frame your own round mirror?
Well, it's not that hard. As long as you have some basic handyman knowledge (don't try this if you've never touched a jigsaw), it's pretty easy.
To start, you'll need a few tools:
Round mirror panel
Plywood (at least the size of your mirror panel)
Jigsaw
Construction clamps
Wood glue
Mirror adhesive
Sandpaper
Paint/stain of your choice
From there, you're basically going to trace your mirror and cut out a frame that fits. Then, you'll decorate it according to your personal taste.
Sarah over at Ugly Duckling House has created a great "How to Frame a Round Mirror" instruction guide that walks you through the whole process. Check it out here!
Decorating With Circle Mirrors
We must admit:
In the mirror kingdom, square and rectangular mirrors reign supreme. You're far more likely to see a geometric mirror in someone's home than you are a round one.
But, round mirrors are out there. And they also look amazing, especially if you know how to use them properly.
There are several benefits to decorating with circle mirrors. These benefits include:
They create the illusion of more space in a room.
They offset the geometry of the walls.
They're a quirky and unexpected piece of decor.
In this article, we've profiled a number of our favorite round mirrors. Hopefully, it helps you find the perfect round mirror for your home!
What Is The Best Way To Clean Large Mirrors?
When taking care of large mirrors, the best way to attack it so to speak, is to set up a schedule and maintain that schedule. Clean mirrors are very important in businesses.
It is best to use homemade solutions such as vinegar and water because vinegar is very effective in cleaning glass. For a large surface, also use a commercial grade squeegee. This is important because paper towels and a cheap squeegee will leave streaks and become a time consuming process
Round Mirror Trend
As you can see interest in round mirrors has grown a ton over the years