In a world of square and rectangle furniture, a round mirror just might be the shape that can shake up your dull room.
Not only will a round mirror bring all the advantages that a mirror brings (like reflecting light and creating the optical illusion of more space), but its large size and irregular shape can provide the needed contrast its rectangular relative can't achieve.
Large, round mirrors when positioned over your other furniture like the couch, bed, or fireplace, will not just grab attention but free up light and space throughout the room.
Best Traditional Round Wall Mirror
Best Traditional Round Wall Mirror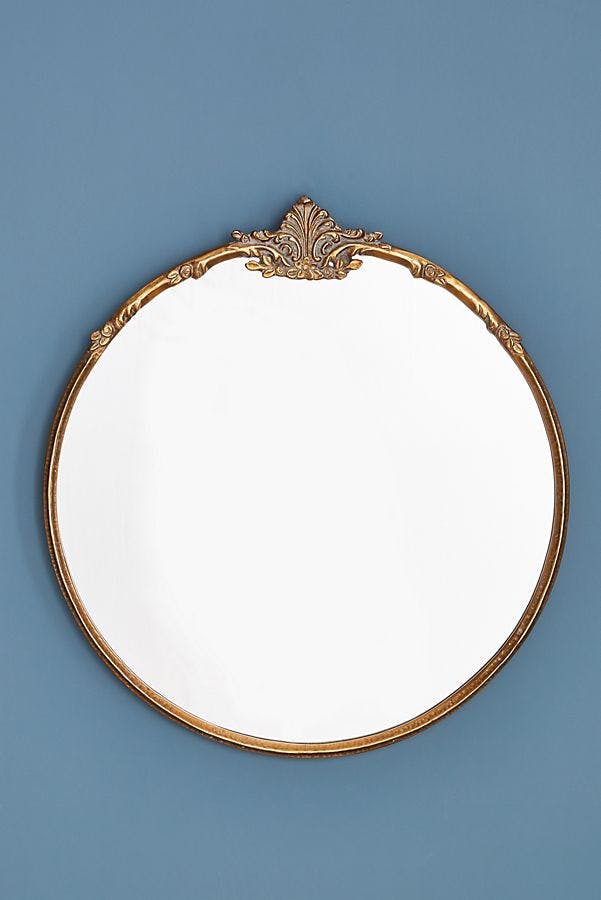 Anthropologie Madeleine Mirror $348.00
30″ round mirror with baroque inspired frame in painted gold. If you have a traditional space in your home, this mirror is the perfect addition
The Best Round Mirrors Explained
A few of our favorite round mirrors and what makes each special
16/16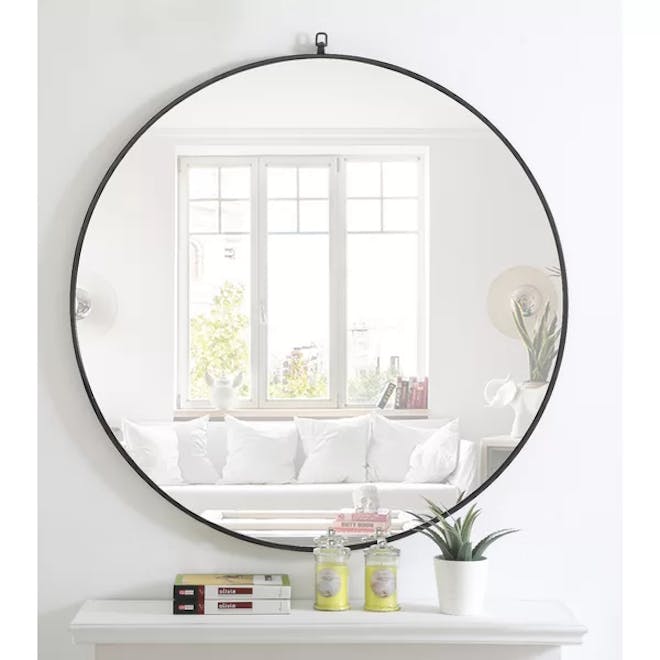 All Modern Yedinak accent mirror $92.00
This Bellaterra Home Round Wall Mirror is another great option for bohemians. If you can't tell, it's made from a section of a tree trunk, giving it a natural, woodsy aesthetic.
We just LOVE how this homeowner has decorated her Southwestern patio and we think that this mirror is a great addition. The way that the mirror reflects the seemingly endless landscape is dazzling. We understand that it may not be to everyone's liking, particularly if your style is more subdued.
If you're going for a rustic or woodsy aesthetic, though, this one seems like a must-have. Perfect for putting in your barn, on your back porch or even in your living room if you like that ski lodge look.
---
15/16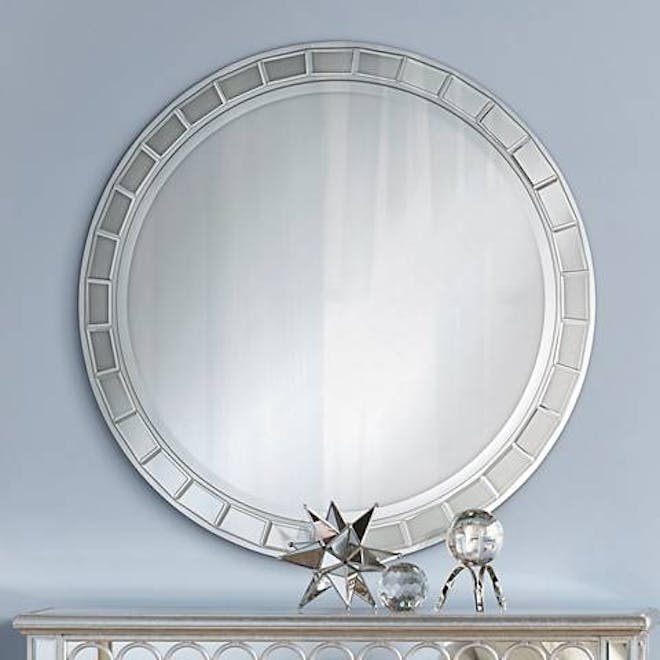 Lamps Plus Kesha Antique Silver Beveled 36″ Round Wall Mirror $299.00
Some folks want a mirror that's a little more ornate without being too gaudy. If that sounds like you, this Kesha antique silver beveled mirror could be what you've been looking for.
This round wall mirror is framed with 2 3/4"-wide mirrored tiles that give it an elegant border without being too extravagant. The structural frame is silver, as well, which helps to create a seamlessly sleek aesthetic. It would look great in any bedroom, bathroom, living room or wherever else you want to put it.
If reflective or metallic surfaces are your thing, this is the wall mirror for you.
---
14/16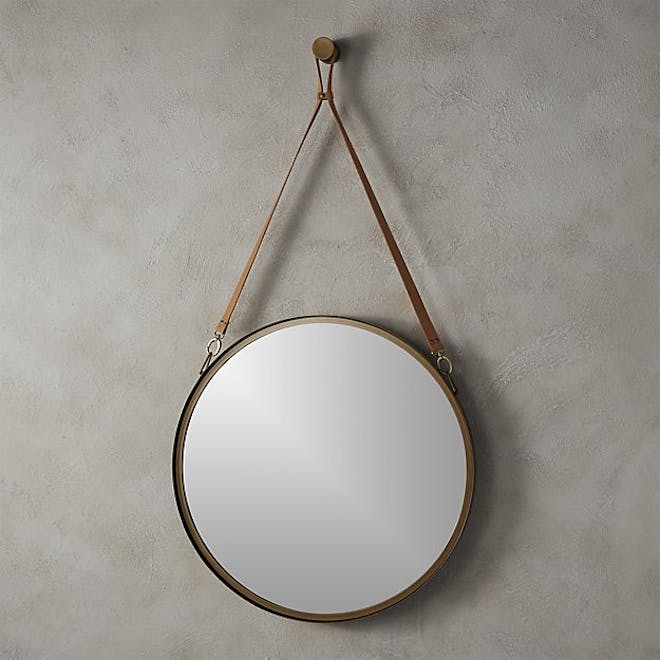 CB2 White Marble Wall Mirror $279.00
It's relatively easy to give any wooden mirror a handmade touch. This round wall mirror has a leather strap attached to its frame that serves both a functional and aesthetic purpose.
---
13/16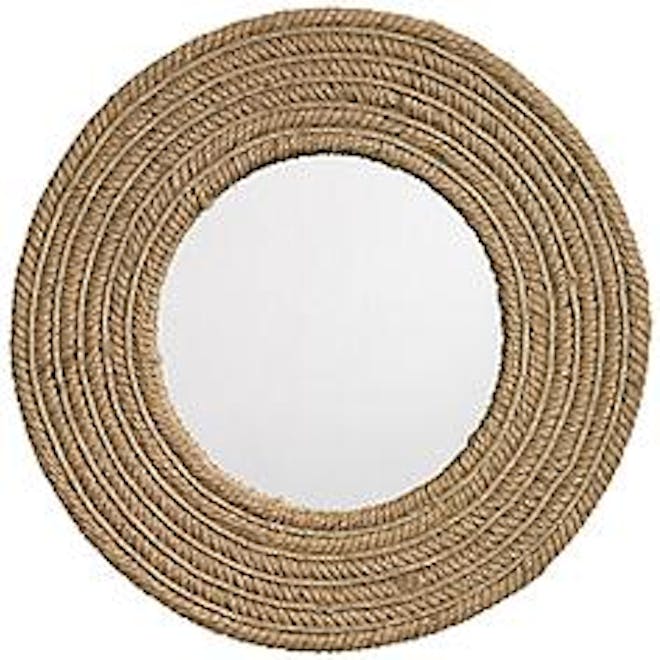 Jamie Young Jute Mirror $437.00
Jute is a natural fiber used for all different types of industrial purposes. Farmers love jute sacks because they're so strong and sturdy and upholsterers love the material because it lasts for decades. We love it because it looks AMAZING!
This round wall mirror is framed with a jute rope border that gives it an organic, hippyish vibe you can't find anywhere else. You don't have to be a Grateful Dead fan to appreciate this mirror though. It would look just as good in a farmhouse as it would in a bohemian dorm room. Plus, the earth-toned color will pair nicely with furniture of any color.
---
12/16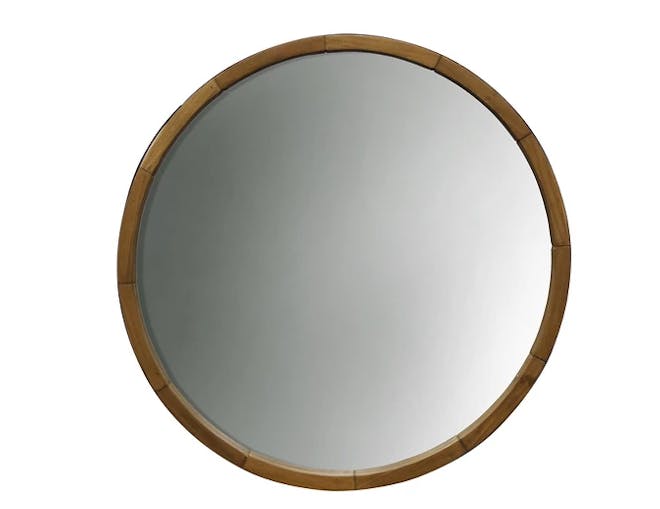 Threshold Round Mirror Wood Barrel Frame 24″ $45.00
It can be tough to find the perfect mirror for a rustic-style home. A metal frame is too sleek and an ornate wooden frame doesn't fit the aesthetic.
Luckily, this barrel-framed round wall mirror finds the perfect balance! It's crafted from the same wood used to make beer barrels (like the root beer candies your grandma used to have) and finished with a gorgeous honey-colored lacquer. Place it in your living room, your bedroom or behind a bar to give your space a rustic, Napa Valley-style vibe. And, at roughly 24", it will make your space look bigger without taking up the entire wall.
---
11/16
Best Convex Mirror
Best Convex Mirror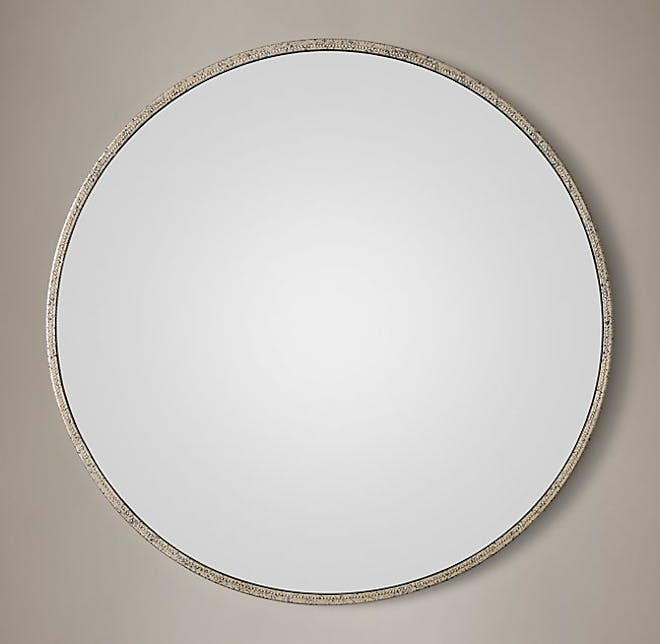 Restoration Hardware Wallscape Convex Mirror $605.00
Think regular mirrors make your room look bigger? Wait until you get a convex mirror!
These mirrors are just round, they also come outward, giving you a full 180-degree view of the surrounding area. It's a relatively new trend but it's one that we're seeing a lot more people embrace, particularly those with small apartments.
Like antique mirrors, these probably aren't going to be your go-to mirror for getting ready in the morning. The distorted reflection makes it a bit difficult to grasp what you're actually looking at. However, if you want a mirror that also functions as a cool decoration, this could be what you need.
They come in a ton of different sizes and have different frames to choose from, so we're sure that you'll find something that looks awesome in your room.


---
10/16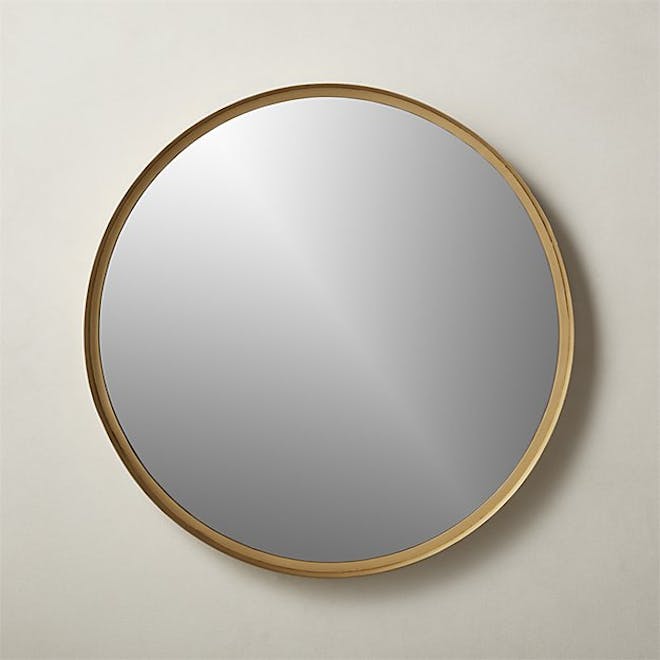 CB2 Croft Round Brass Mirror $329.00
A cowhide mirror? Now that's stylish.
This round wall mirror has a wooden frame that's been painted with an off-white based and then wrapped in cow's hide. It's not tacky either (something about the words "cowhide mirror" just sounds a bit tacky).
Instead, this has a sleek, elegant frame that will look great in bedrooms, living rooms, and bathrooms alike.
It would be particularly nice in a room with a lot of pinks or pastels. However, it's neutral enough that it will pair well with nearly everything. Definitely not the wall mirror for vegans, but a unique product nonetheless.
---
9/16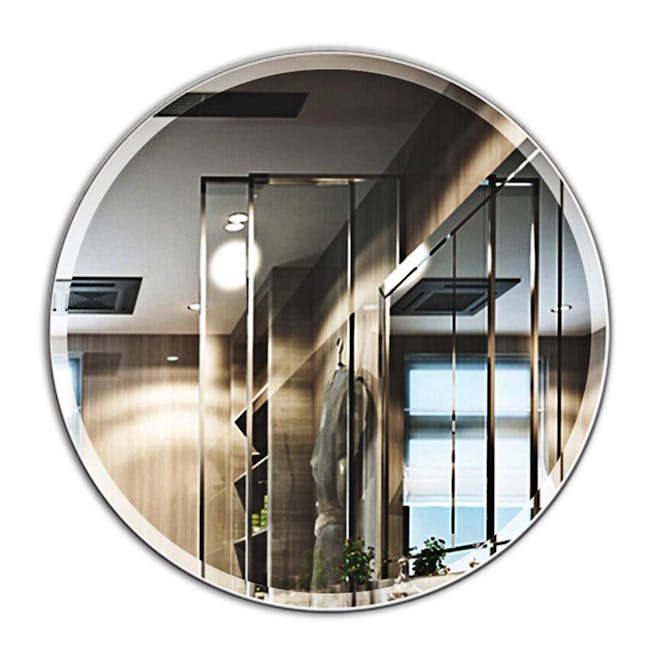 MirrorTrend 28-Inch Round Frameless Mirror $99.00
---
8/16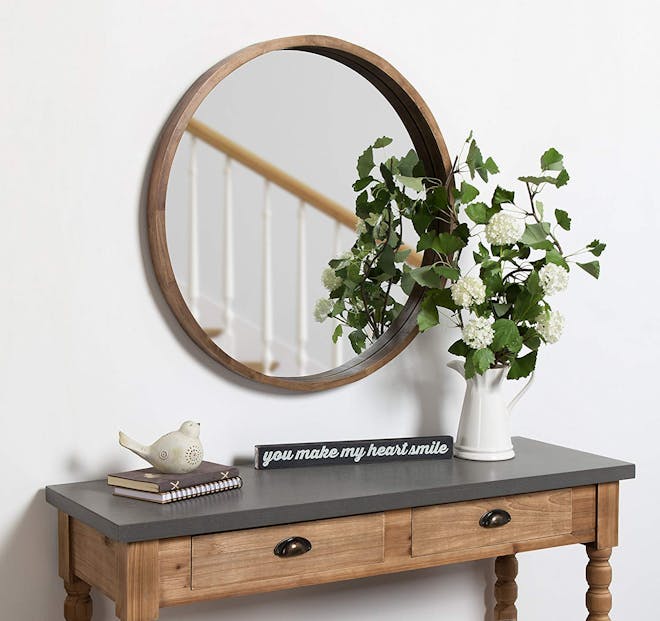 Kate and Laurel Hutton Accent Mirror $129.00
With an outside frame diameter of 30 inches, the sleek round shape and size of the Kate and Laurel – Hutton Mirror is a beautiful addition to an understated room with an abundance of style and charm. Within the frame, the mirror is 28.5 inches in diameter and the wooden frame is 2 inches deep with a .75 inch profile
---
7/16
Best Modern Round Mirror
Best Modern Round Mirror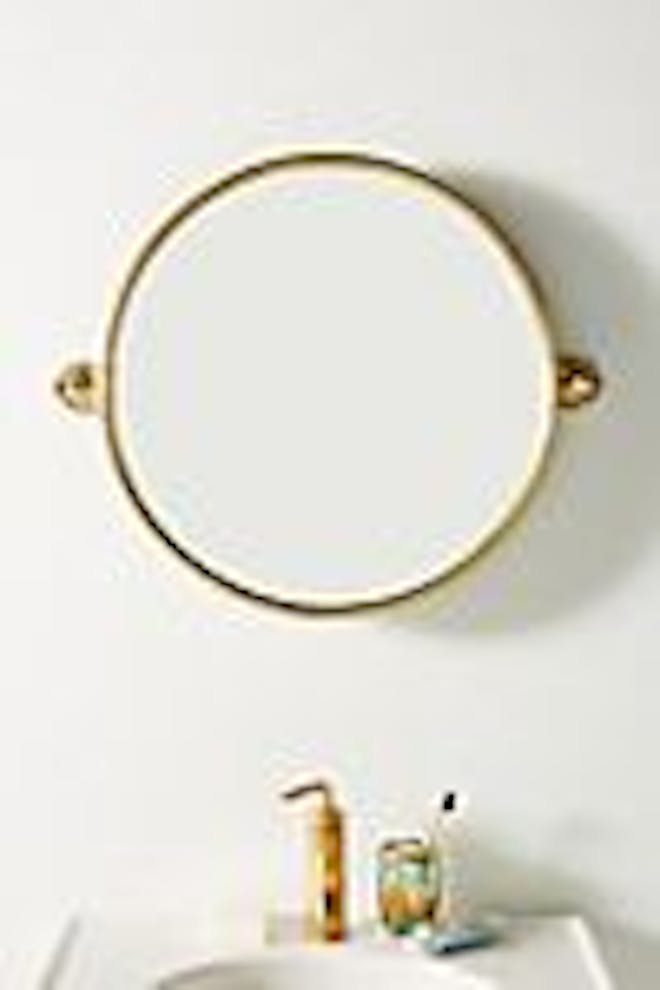 Anthropologie Hale Swivel MIrror $248.00
Another gorgeous mirror from Anthropologie. This piece features an unmistakeable mid century modern vibe that would look great in a washroom or foyer.

---
10/16
Best Round Framed Mirror
Best Round Framed Mirror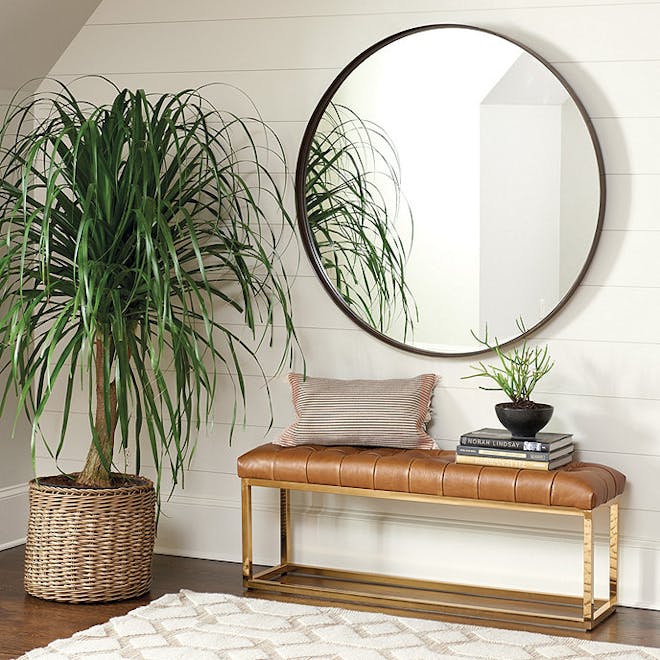 Ballard Designs Thomas Round Mirror $349.00
With its clean, unadorned lines, the Thomas Round Mirror epitomizes modern simplicity. The flat metal frame creates a light-filled, banded border with just enough depth for contrast with the clear mirror.
---
6/16
Large White Round Mirror
Large White Round Mirror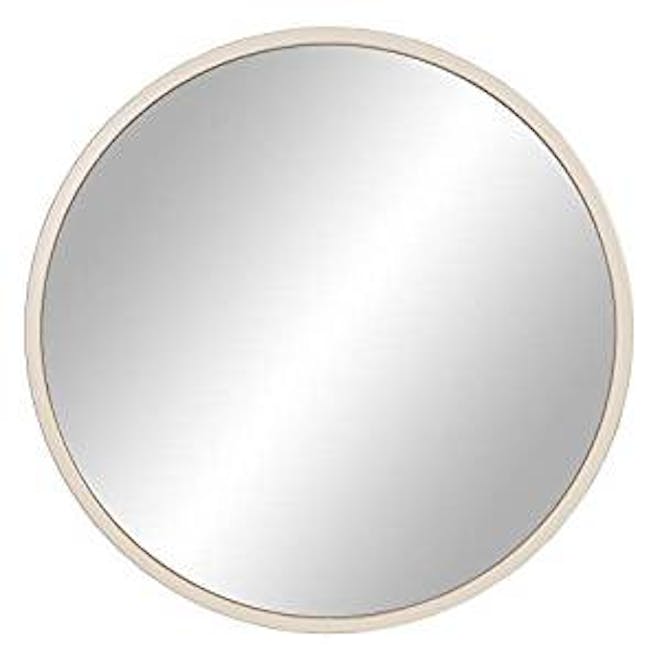 Patton Wall decor large white round mirror
This distressed white round mirror is a great addition especially if you are going for that rustic home look. SUre to go with anything and make a wall pop.

---
5/16
Large Round Mirror With Wood Frame
Large Round Mirror With Wood Frame
Backus round mirror Round mirror with wood frame
This Bakcus round mirror is a great choice for just about any room type or color. The wooden accents on the frame are rustic and give a homey feel to any room in your home

---
4/16
Large Round Bathroom Mirror
Large Round Bathroom Mirror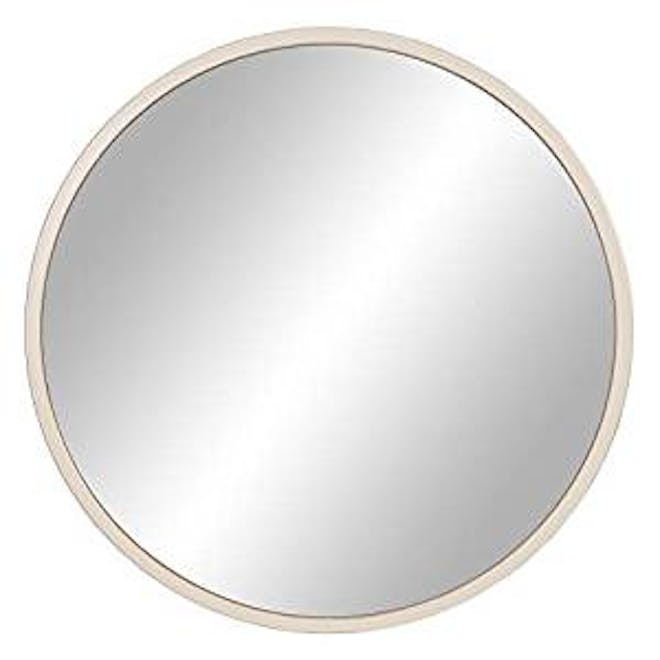 The Better Bevel Mirror round bathroom mirror
This large round mirror for the bathroom is simple elegance and is easy to hang and mount. This is a great addition for your bathroom.

---
3/16
Large Round Brass Mirror
Large Round Brass Mirror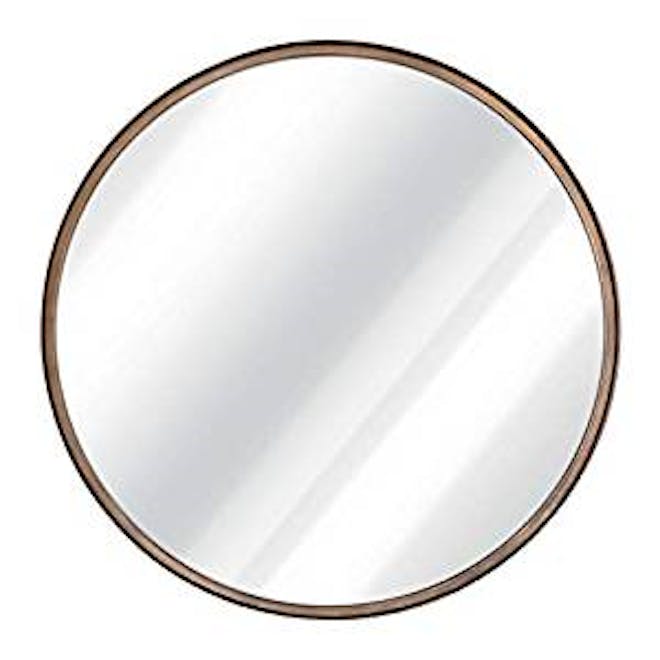 HBCY Creations large round brass mirror
This 27.5″ round brass mirror, is a great addition to your bathroom, entryway, or any other room in your home. Simple and sturdy design is sure to bring beauty wherever it hangs.

---
2/16
Large Round Silver Mirror
Large Round Silver Mirror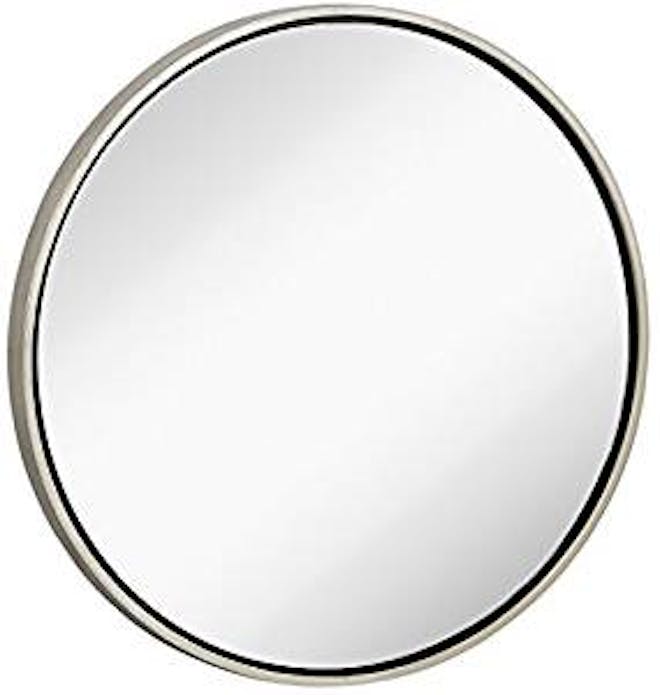 Hamilton Hills large silver mirror
This 32″ silver mirror is a perfect addition to styles and elements to make any room look great. A great addition for any room that you want to spruce up and add some elegance to.

---
1/16
Large Round Black Mirror
Large Round Black Mirror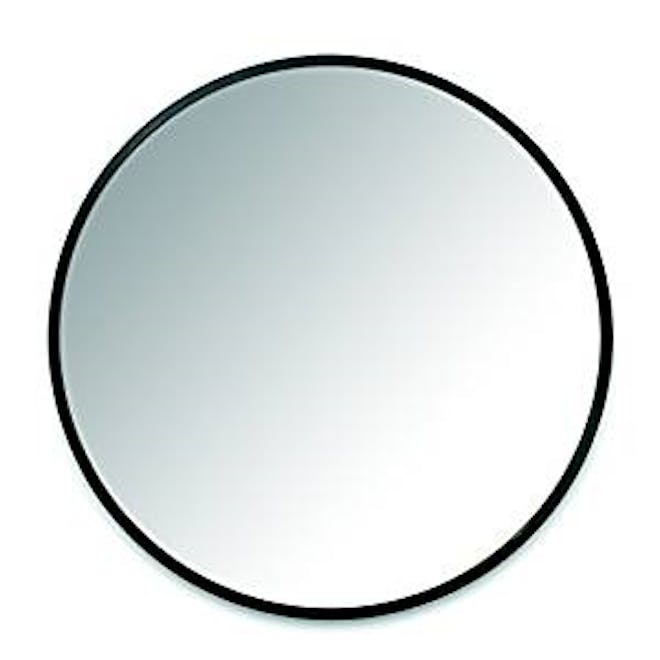 Umbra large round black mirror
This is a 37″ mirror with a rubber frame that doubles not only as a clean finish but a protector as well. Looks great anywhere, and you can dress it up or down

---
Research / Frequent Questions
How to Frame a Round Mirror
Want to frame your own round mirror?
Well, it's not that hard. As long as you have some basic handyman knowledge (don't try this if you've never touched a jigsaw), it's pretty easy.
To start, you'll need a few tools:
Round mirror panel
Plywood (at least the size of your mirror panel)
Jigsaw
Construction clamps
Wood glue
Mirror adhesive
Sandpaper
Paint/stain of your choice
From there, you're basically going to trace your mirror and cut out a frame that fits. Then, you'll decorate it according to your personal taste.
Sarah over at Ugly Duckling House has created a great "How to Frame a Round Mirror" instruction guide that walks you through the whole process. Check it out here!
Decorating with Circle Mirrors
We must admit:
In the mirror kingdom, square and rectangular mirrors reign supreme. You're far more likely to see a geometric mirror in someone's home than you are a round one.
But, round mirrors are out there. And they also look amazing, especially if you know how to use them properly.
There are several benefits to decorating with circle mirrors. These benefits include:
They create the illusion of more space in a room.
They offset the geometry of the walls.
They're a quirky and unexpected piece of decor.
In this article, we've profiled a number of our favorite round mirrors. Hopefully, it helps you find the perfect round mirror for your home!
what is the best way to clean large mirrors?
When taking care of large mirrors, the best way to attack it so to speak, is to set up a schedule and maintain that schedule. Clean mirrors are very important in businesses. It is best to use homemade solutions such as vinegar and water because vinegar is very effective in cleaning glass. For a large surface, also use a commercial grade squeegee. This is important because paper towels and a cheap squeegee will leave streaks and become a time consuming process
Last Updated on