Whenever Art Deco comes up, many clients ask how to furnish their space with an Art Deco mirrors without being tacky. This article discusses popular designs and colors for art deco mirrors. We also mention the best ways to find buy fab mirrors…Ready? Let's go!
A Little Art Deco History
Are you a fan of 1920's aesthetics? Do you watch The Great Gatsby and wish you could share in some of the gilded-age excesses. Art Deco spoke to luxury and prosperity in a way that only an era of great prosperity could.
If you are unfamiliar with the term, Art Deco is the name of an aesthetic developed in the early years of the 20th century. It came about as the result of several factors.
First, technology was expanding at a rapid pace. People were seeing sleek, machine-made objects for the first time. The cool, rigid aesthetic of mass-produced products was a huge influence on Art Deco as a movement.
Second, other cultures around the world began influencing Americans and European designers. Many designers served in the military during World War I and were able to experience works of art and design that Americans previously hadn't seen. The shiny, organically-shaped design objects (think of Egyptian busts and Chinese vases) produced by Eastern cultures were massively influential on Art Deco.
In short, this combination of rigid, geometric shapes with strange, exotic objects is what characterizes Art Deco. It had a huge impact on every type of design from architecture and furniture to fashion and jewelry.
Where to Find Vintage Art Deco Wall Mirrors
Eggshell Deco Mirror on 1st Dibs
Furniture from 80 years ago is hard to come by, regardless of the style. Put another way, finding vintage Art Deco furniture can be tough because of how rare it is.
What's more, price can be prohibitive. Vintage pieces that have survived were typically commissioned pieces to being with. In other words, someone decided to start taking care of the furniture from the moment it was created. As you can imagine, these pieces tend to be expensive & also are not very functional.
In short, your best bet if you are in love with the Art Deco style and want something from the actual era is 1st Dibs — a collection of high-end furniture dealers online.
The downside is that you will pay top dollar for any piece you buy, as the furniture will require expensive shipping and maintenance.
Custom Art Deco Wall Mirrors
Fantail style mirror by MirrorCoop
As I mentioned, this piece has been adapted in the past to accommodate different shapes colors and sizes, so if you are looking for something similar, please reach out and I can walk you through building a similar piece.
I'm john@mirrorcoop.com
If you have looked through all the vintage Deco mirrors online, there are a few companies out there that create "reproduction" Art Deco pieces. In the past, we've worked with Color + Mirror before and their pieces have been excellent.
Our Favorite Art Deco Mirrors
1/13
Best Bathroom Art Deco Mirror 🌟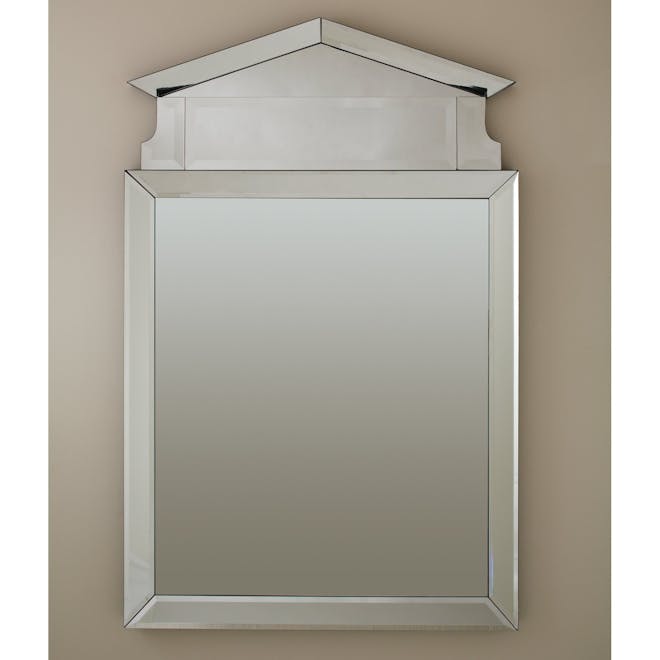 Global Views Governors Palace Mirror $895.00
Beautiful, decorative in the Art Deco style with thick bevelled edges and an interesting shape.
2/13
Best Framed Art Deco Mirror
Wayfair Metal accent mirror $445.00
Another slightly over-the-top design (the kind that makes us love Art Deco), this mirror features a unique frame design. The frame is comprised of four thin frames that intersect one other at various points. Anyone who's going for the orthodox Art Deco look is going to love this one.
---
3/13
Best Modern Mirror
West Elm Faceted Wall Mirror, Emerald Cut $239.00
An abstract, artistic mirror with the silvery glamour of the 1920s. This deco-inspired mirror's faceted border reflects more light than a typical mirror. It's perfect for creating the illusion of extra space in smaller rooms, corners and hallways.
---
4/13
Best Classic Art Deco Style
Houzz Burbank Deco Mirror $146.00
This one is oddly-shaped, but we love it nonetheless. It has the strange, organic-yet-geometric feeling that Art Deco fans seem to love. The description says that it's intended for bathroom walls, but we could imagine a true Deco fan hanging this in any room of their house.
---
5/13
Best Art Deco Bathroom Mirror
Abbyson Living Fairmont Rectangle Wall Mirror $227.00
Like the Rosdorf mirror, this one is also framed in reflective glass. It has two separate layers of mirrored frame that give it a classically elegant appeal. This one is much less ornate than some of the Art Deco wall mirrors out there. Its sleekness would make it appealing to anyone, even those with more minimal sensibilities.
---
6/13
Best Mirror for the Money
Wayfair Beveled Beaded Accent Mirror $112.00
This beveled mirror is framed in glass, making the entire decoration reflective. It has gold beads around the inner and outer perimeter of the frame, which gives it that extra bit of glitziness. This Art Deco mirror would look great in any dining room, bedroom, or even bathroom.
---
7/13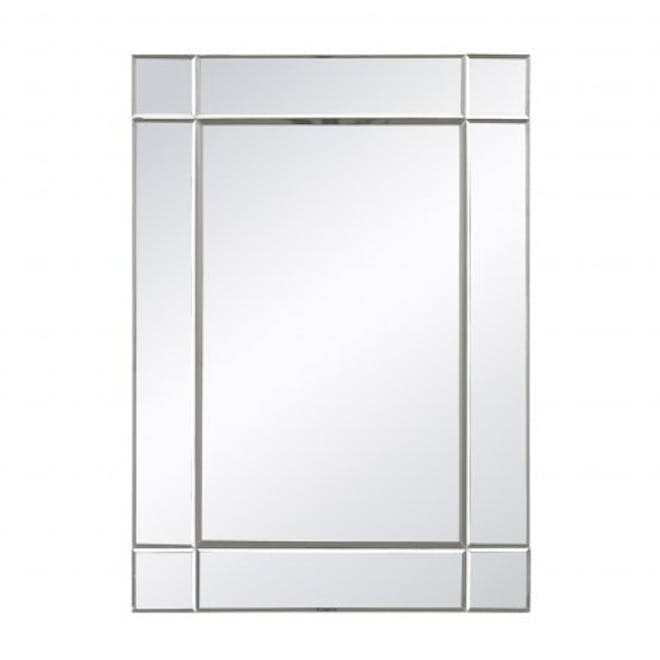 STERLING Blair Decorative Mirror $167.00
Simple, geometric construction and elegant design give this mirror both class and sophistication


---
8/13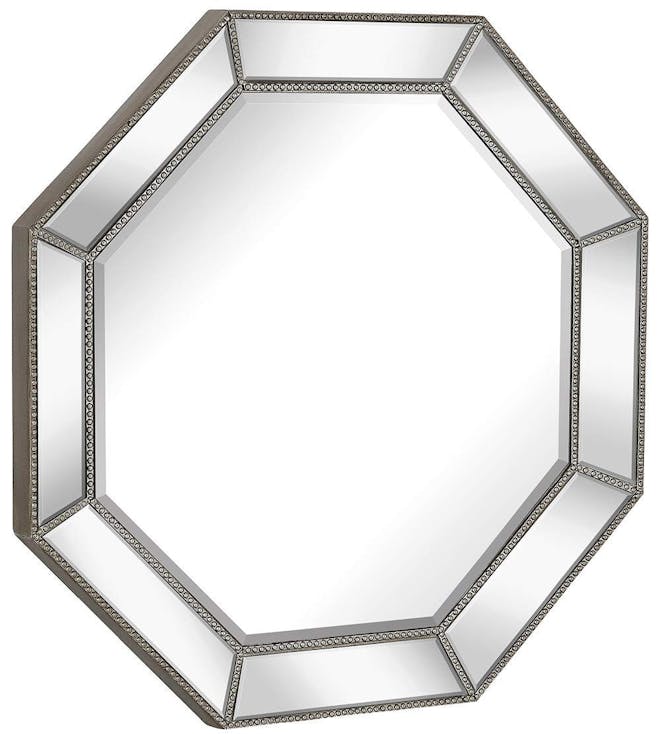 Hamilton Hills Octagon Mirror $200.00
Octagon shape and decorative mirror panel frame has an unmistakable Art Deco vibe.


---
9/13
Our Pick for Best Amazon Mirror
Our Pick for Best Amazon Mirror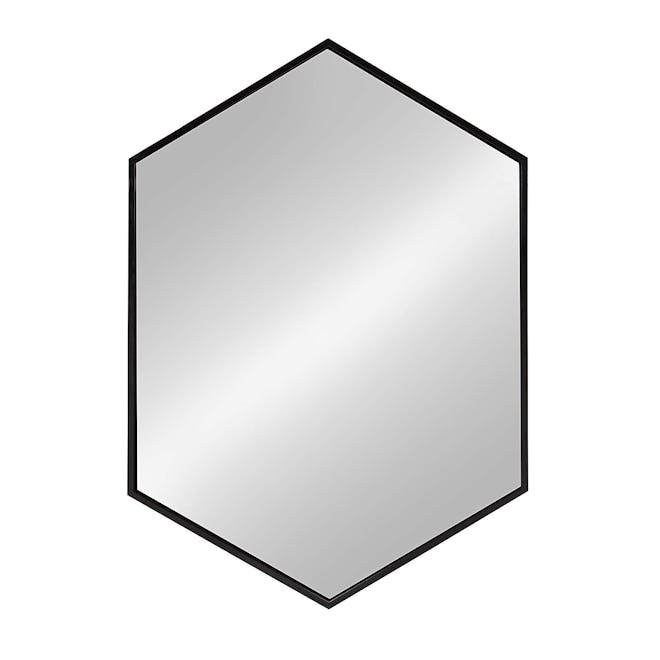 Kate and Laurel McNeer Hexagon Mirror $120.00
An attractively framed mirror is the affordable way to decorate your wall while bringing light and space into a room.
---
10/13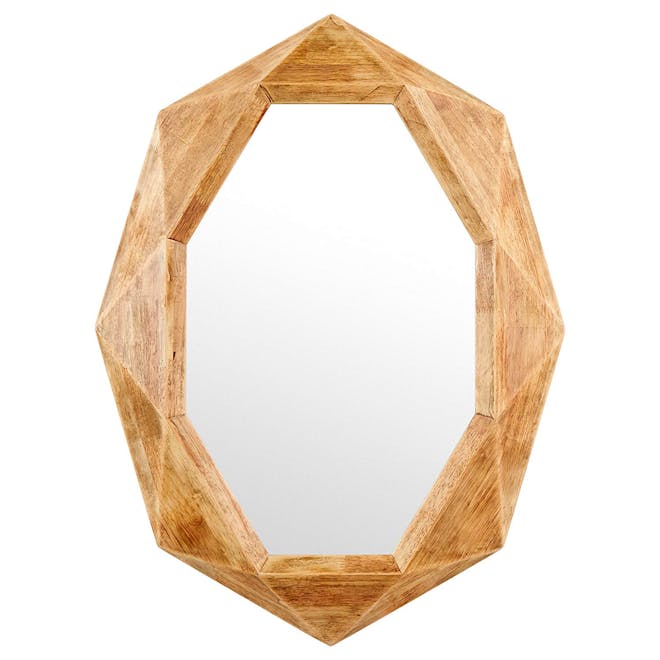 Rivet Modern Octagon Wood Mirror $99.00
An on-trend octagonal shape is softened by a wood frame with a warm, variegated finish. Hang anywhere you want to add an element of fun and style.


---
11/13
Black Art Deco Bathroom Mirror
Black Art Deco Bathroom Mirror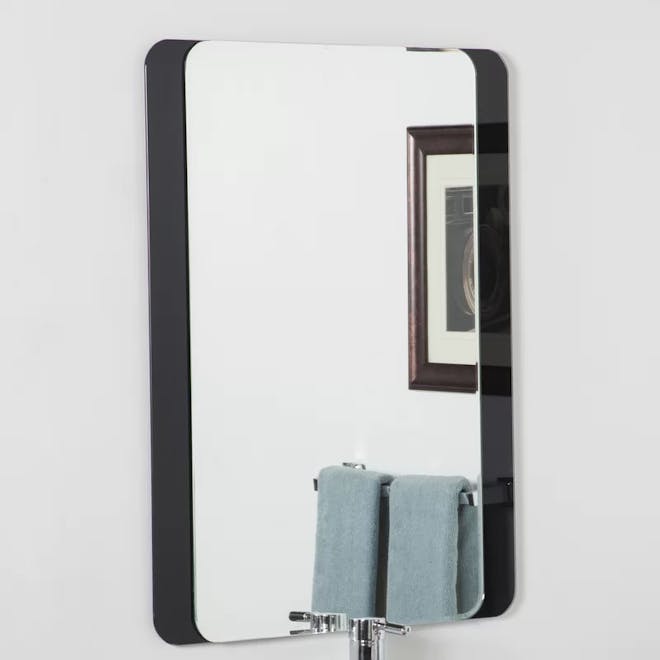 All Modern Skel Mirror $165.00
Subtle, refined mirror with black accents and silver center. This mirror is perfect for a decorative mirror that actually needs to be used.
---
12/13
Best Lighted Bathroom Mirror
Paris Mirror Round Harmony $799.00
Elegant, lighted solution for your bathroom. This mirror's round shape is reminiscent of the 1920s and the Deco aesthetic in general
Want More Design Inspiration?
Subscribe to our newsletter to see stories like this one every day.