We may earn compensation through affiliate links in this story.
History of Trumeau Mirrors
The tradition of these mirrors dates back to the earliest days of mirrored glass. Back then, the average person did not have access to mirrors. Imagine that…these days, most people can't walk down the street without checking themselves out.
Because mirrored glass was so expensive at that time, the royal people who owned them wanted to show them off. Oftentimes, royal families would have large panels of mirrored glass built directly into the walls of their homes.
Best Trumeau Mirrors
1/1
Mirrors
Mirrors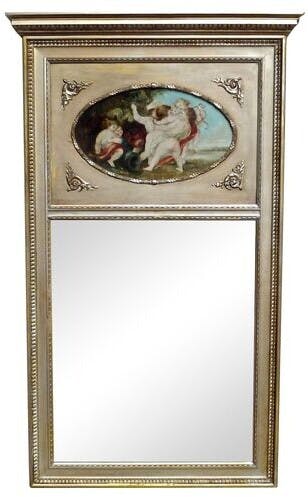 from One Kings Lane Vintage $2,275.00
Louis XVI-style cherub oil painting trumeau mirror with an oil painting of frolicking cherubs in a garden.
---
Define the word Trumeau
A trumeau is a mirror that has a painted or carved panel above or below the glass in the same frame.
In architecture, it is a column supporting a tympanum of a doorway at the center.
how to make a trumeau mirror
this will not load
www.CrownandColony.com
This antique dealer specializes in authentic pieces. But, they get a lot of reproductions, too. If you're looking for something specific, give them a call to see if they can find what you need. Or, just browse through their catalog until you bump into something you like.
Cottagechic.com
They carry a ton of reproduction Trumeau mirrors. Some of their stuff is a bit pricey, but they have a lot of deals, as well. You may have to wait until they get something in your price range, but something will eventually come your way.
www.chairish.com
Chairish: Honestly, Chairish is one of the best resources for aspiring antique collectors. Their prices are fair and their inventory is amazing. They're sure to have the Trumeau you're looking for.