A shower mirror makes it a lot easier to shave in the shower.
Think about it.
With a mirror in your shower, you can combine the two activities into one.
But, there are a ton of different products out there. From standalone mirrors to hanging mirrors, each is made to suit different needs.
Heres how to choose the perfect shower mirror for you.
Editor's Choice for Fogless Shower Mirror
Editor's Choice for Fogless Shower Mirror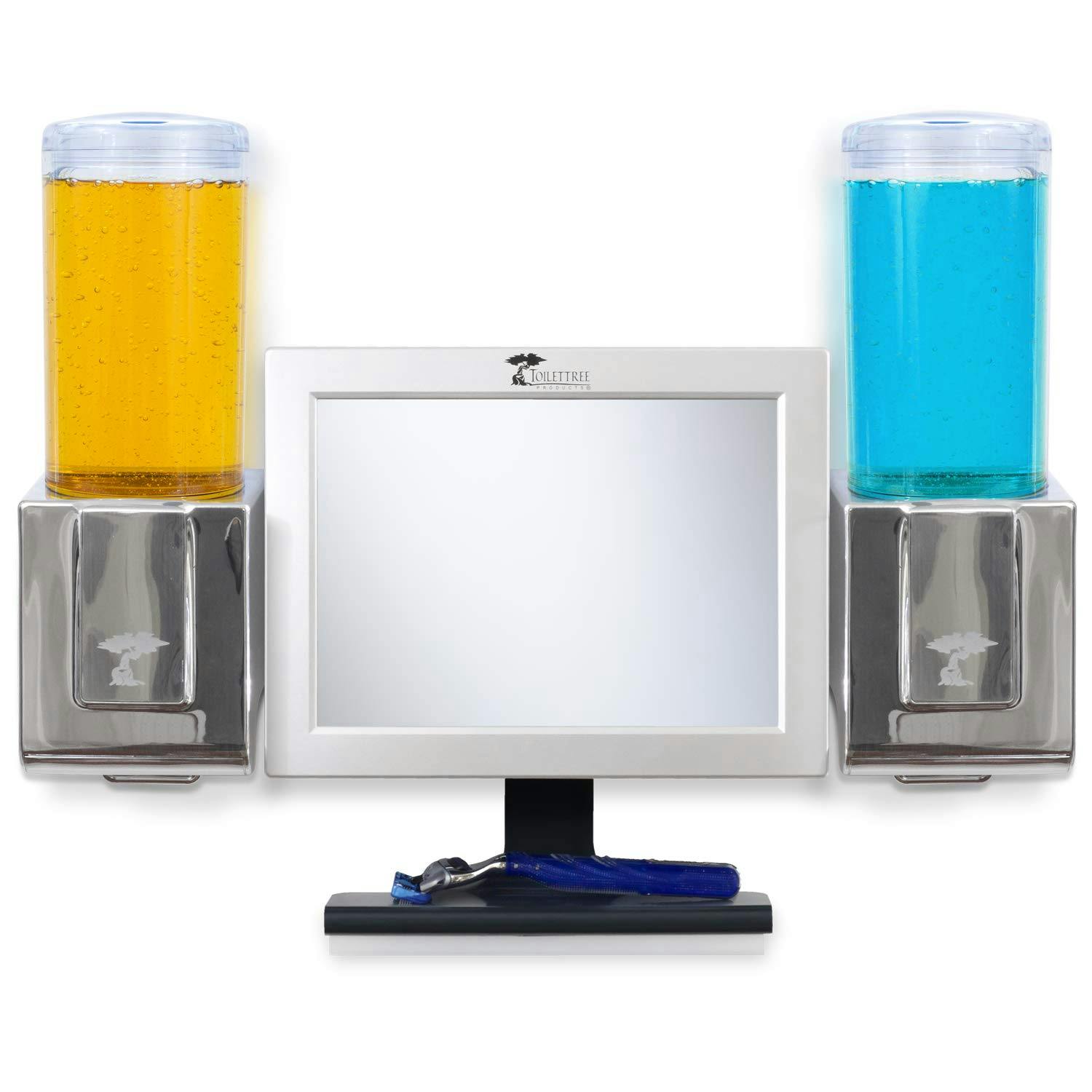 Our pick for fogless shower mirror, includes containers for soap and shaving cream.
The Best Shower Mirrors
Our favorite shower mirrors, including a little about whats makes each special…
1/3
Best Economy Fogless Mirror
Best Economy Fogless Mirror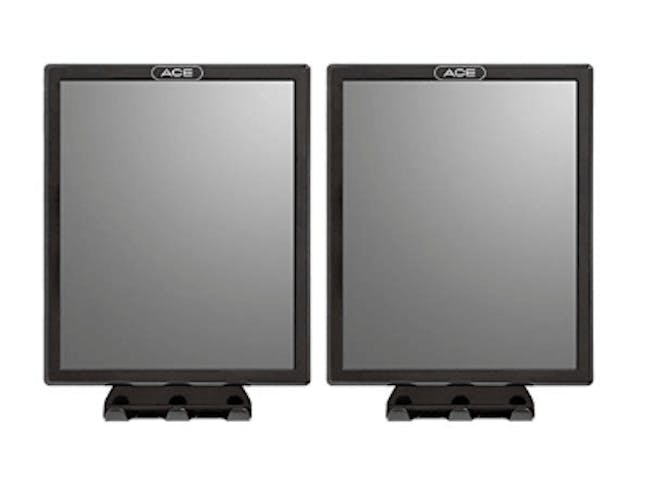 NYD Packs Ace Fog Resistant Shower Mirror $12.00
Durable suction cup offers secure hold to shower wall
Mirror holds two razors for easy access. Economical price and razor holding stand make this a solid choice.
Reasons We Love These Shower Mirrors
Double mirrors provide more coverage than single
Shaving tray makes holding your razor while shower simple.
Price below many of the other mirrors mentioned…so perfect if you are looking for something in a pinch.
Things to Look Out For
Many reports that the plastic construction was very cheaply made.
Other reports that the suction cup failed after a month or so of use.
The mirror fogs a lot than the other brands mentioned on this list.
---
2/3
Best Non-Shatter Fogless Mirror
Best Non-Shatter Fogless Mirror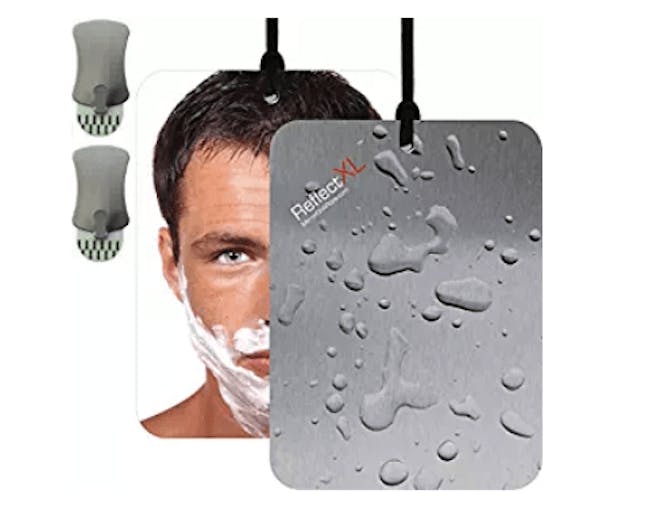 Mirror On A Rope ReflectXL Shower Mirror $17.00
Simple acrylic mirror that you pre-heat to keep fog off of. A little more work than some of the others but a simple and durable solution.
Reasons We Love These Shower Mirrors
The mirror does not fog up like glass mirrors because it is a plastic.
The mirror is thin, lightweight, and it includes options for hanging.
Though acrylic, the image quality is still very sharp (like a regular mirror).
Things to Look Out For
The sticker on the product was very difficult to remove.
There is a very noticeable difference between a plastic mirror and glass mirror, with the latter looking and feeling much more robust.
Wear on the acrylic can cause the reflective surface to dull over time.
---
3/3
Best Innovative Design Shower Mirror
Best Innovative Design Shower Mirror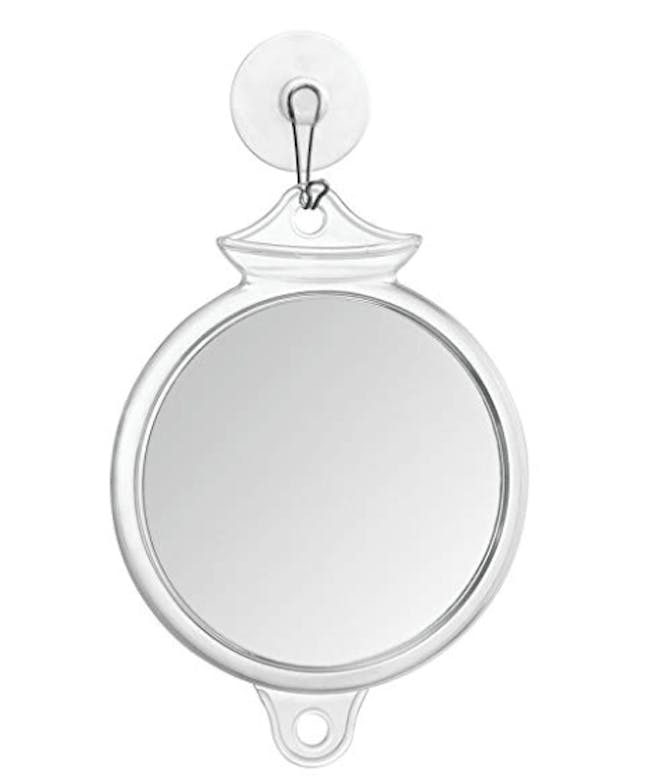 InterDesign Suction Fog Free Shower Shaving Mirror $16.00
6″ mirror with innovative design that requires no heater to create a fogless, clear surface to shave with.
Reasons We Love These Shower Mirrors
The mirror is bigger than many of the other mention. It also uses the shower's water to maintain a constant temperature, making it clearer for longer.
The mirror height is adjustable via its suction cup. ,
Still one of the less expensive mirrors on the list, even considering the design, size, and usability.
Things to Look Out For
The distortion caused by the magnification is very high.
The mirror surface itself doesn't last long. A few months of use and the mirror started to flake and deteriorate.
The product won't last long. It works well for the first 6-8 months.
---
Research / Frequent Questions
Do Fogless Shower Mirrors Work?
Fogless shower mirrors do work. They utilize either a protective chemical surface or an internal heating system to prevent condensation from building up.
However…
You have to buy a good one. If you get a bad fogless mirror, it's not going to work very well. In that case, it might as well be a regular old bathroom mirror.
How Do You Make A Mirror Fog Free?
Fogless mirrors are made to prevent water droplets from building up on the surface of the glass. Typically, this involves some kind of anti-fogging chemical treatment.
In other cases, it may involve an internal heating mechanism. Heated mirrors have a tubing system built into the back that warms the surface to prevent water accumulation.
Unfortunately, you probably won't be able to build a heated mirror on your own (unless you have some serious technical savvy).
But, you can actually use anti-fog spray turn any mirror into a fogless mirror.
Best-Selling Anti-Fog Mirror Spray
Best-Selling Anti-Fog Mirror Spray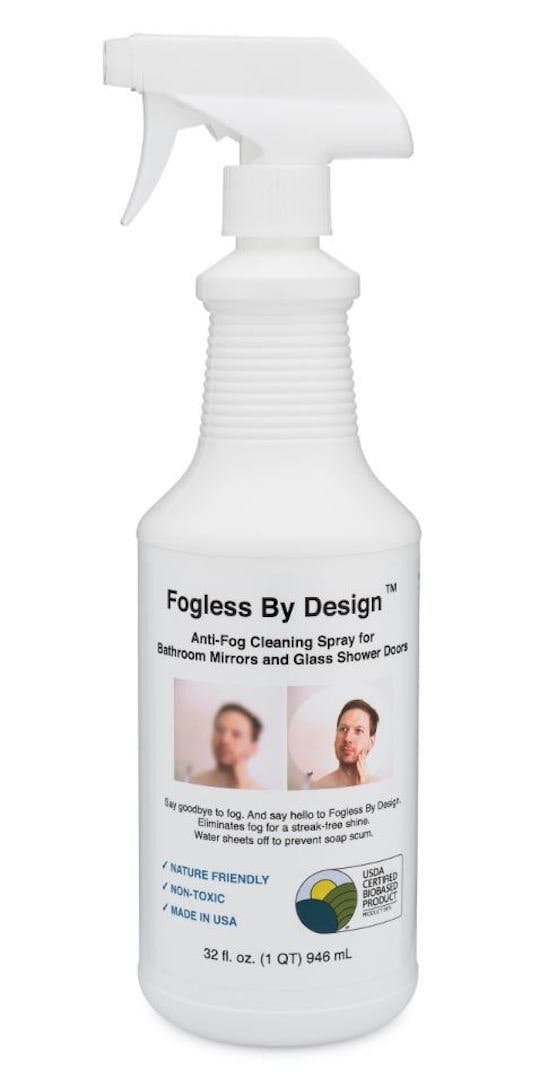 Fogless By Design 32 fl. oz Bathroom Mirror Anti-Fog Spray
With Fogless By Design's spray, you can waterproof any piece of glass. Spray it on your bathroom mirrors, glass shower doors, and even glass floor tiles. It's super easy to use and leaves no streaks at all.
One great thing about this product is that it's almost 100% organic. You don't have to worry about fumes so it's safe to spray around kids and pets.
---
Why Does A Heater Mirror Stay Clear?
In a way, heater mirrors seem like magic. I mean, how does the glass stay crystal clear as the rest of the room fills with steam?
Well, it's actually quite easy to explain.
The reason why normal mirrors get foggy is that fog comes from clashing temperatures. If you place hot water droplets on a cold surface, condensation appears.
By heating up the mirror, therefore, you eliminate this temperature clash. No condensation happens and no fog is created.
Why Does Your Mirror Fog During A Hot Shower?
What happens is the steam that is hot from the shower travels in the bathroom, hits the mirror and fogs and the condensation occurs. This is a prime example of hot hitting cold and we see the immediate effect.
Last Updated on