We may earn compensation through affiliate links in this story.
If you've ever had the unfortunate experience of having your rear view mirror fall off then you know re-attaching it can be a pain. I've gone over the best products and steps for fixing your rear view should you have this issue.
Let's go!
Editor's Choice
Editor's Choice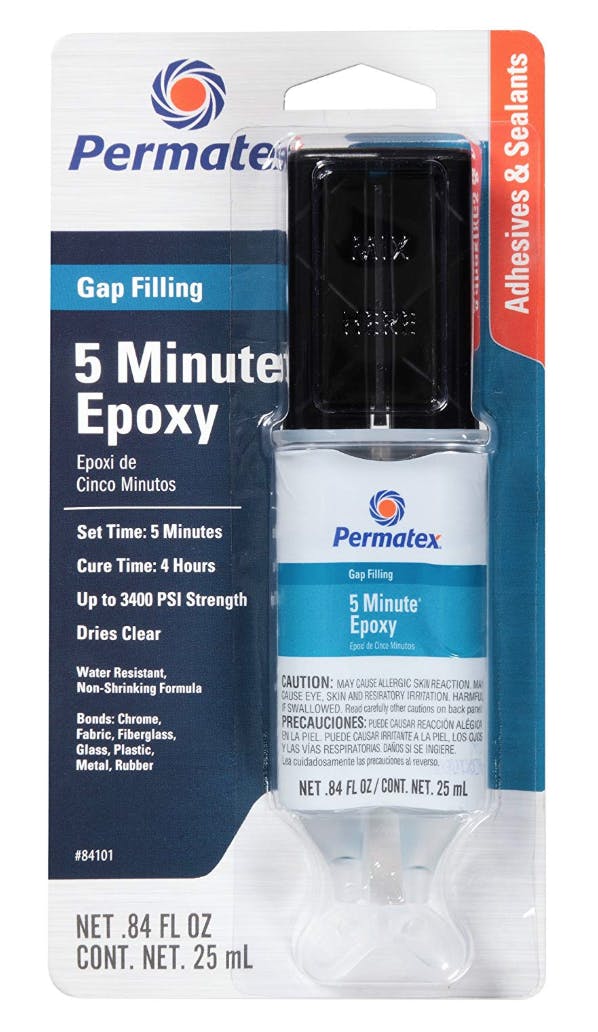 Permatex Permatex 84101 PermaPoxy 5
Fast setting epoxy (strong glue) that will stay in place forever.
How To Re-Glue Your Rear View Mirror With The Best Rear View Mirror Glue
Mirror fell off? Trying to reattach it? It's easy!
With some glue, a razor blade, and some cleaning supplies, you can re-adhere your mirror to the window. And it only takes a few minutes!
Here's what you need to do:
Step #1: Detach the mirror from the mounting button – The mounting button is the baseplate that attaches to your windshield. If yours is attached with a screw, you'll need a screwdriver to remove it.
Step #2: Clean the old glue off the windshield – Before you can re-glue your rear view mirror, you'll need to clean the old adhesive off the glass. Spray it with Windex and use a razor blade to gently scrape it away.
Step #3: Apply the glue – Typically, mirror adhesive comes in two parts. One part is applied to the glass and the other is applied to the mirror button. Follow the instructions on your kit.
Step #4: Attach the mirror to the button – After a drying period (5-10 minutes), you can reattach the mirror to the mounting button. If it holds, you're good to go!
Research & Frequent Questions
Best Ways To Re-Attach Your Rear View Mirror
Here are the products I've found work best when re-attaching your mirror.
1/1
Best Glue For Rear View Mirror
Best Glue For Rear View Mirror
Photo from Amazon. Click to See on Amazon
---
How To Remove Rear View Mirror Glue
Sometimes, it's tricky to remove the rear view mirror glue. If you're having trouble getting it off, there are a few things you can do…using the best rear view mirror glue.
Here are a few tips:
Goo-Gone-Pro-Power-Adhesive is a cleaning product that helps remove glue without leaving any scratches. It's perfect for removing rear view mirror glue.
If you can't get a specialty glue-removal product, nail polish remover works. Make sure that you have proper ventilation so you don't get a headache.
Sticker removal tools give you some leverage when you're scraping the glue. Tip: DO NOT use a box cutter, as it's likely to leave scratches in your windshield.
How Do You Glue A Side Mirror Back On A Car?
When you need to blue a mirror back on a car, there are two kinds of adhesive you can use. Same function for the most part. Gorilla glue is a great choice. You can fix just about anything with gorilla glue and it adheres nicely to a number of surfaces.
There is also a glue called Loctite. This is pretty much the adhesive of all adhesives. They use this on airplanes as well. It adheres to numerous surfaces and dries quickly.
How Do You Stick A Rear View Mirror To Windshield?
You have to make sure that you clean the area well and get the old adhesive off the window.
Get your rearview mirror glue and firmly apply the mirror to the window with the adhesive on it.
Let it set a couple hours.
Best to do this out of the sun so that the adhesive dries throroughly.
Does Gorilla Glue Work On Glass
If you are looking for a great rear view mirror glue, look no further than Gorilla. It is affordable as well as a reliable, quality product.