If you are looking for vintage blue Art Deco mirror look no further. As you know, cobalt blue was one of the most popular colors of the 1920s and 1930s. Remnants of that design period can be seen in the wall mirrors, coffee tables, and other furniture pieces that still use the signature blue mirror.
Below I'm going to show you where to find Art Deco style cobalt mirror today.
Ready? Let's go!
Decorating With Art Deco Blue Mirror
If you have a piece of furniture that you think would look great with cobalt mirror, consider the following. Colorful mirror is a unique, appealing way to increase the amount of light in a space and also increase how chic your space is.
👍 Rule of Thumb While it looks great, blue mirror can often be 4 x 5 times as expensive as regular mirror, so it's not the right choice for every project.
Where to Find Blue Art Deco Mirror
If you are just starting your search, then you are in luck. After the 1950s, production of blue — and all colorful mirror — fell off. This was in part due to style and in part due to safety considerations. &That said, you can still find cobalt blue mirror today through select craftsmen.
1. MirrorCoop
At MirrorCoop, we've perfected our blue mirror to have that same deep, rich color as a 1920s blue mirror. The mirror we make is called "reproduction" mirror, since it's a facsimile of the mirror of the Art Deco period.
Here is an example of one of our blue wall mirrors
2. Color + Mirror
If you are looking for vintage cobalt mirror (mirror actually from the Art Deco period) Color + Mirror is a antique cobalt blue glass supplier that carries it.
Cobalt Blue Table Tops
One of the most popular uses of blue mirror is as a table top. Many coffee tables (old and new) use this decorative blue mirror as a top, giving the entire table a chic, Art Deco look.
If you are looking for a piece of blue mirror for your table, you can email me directly with the size (john@mirrorcoop.com) and I can send you a quote. We do make custom sized blue mirror, so just let me know and I can ship you a piece.
Our Favorite Art Deco Blue Wall Mirrors
Best Round Blue Mirror
MirrorCoop 36″ Blue Mirror $1,595.00
Hanging wall mirror made with unique blue mirror. Deco mirror perfect for an interesting, modern living space.
---
MidCentury Style Blue Mirror
The Apartment Italian Style Blue Mirror $2,100.00
Vintage mirror with blue glass frame.
---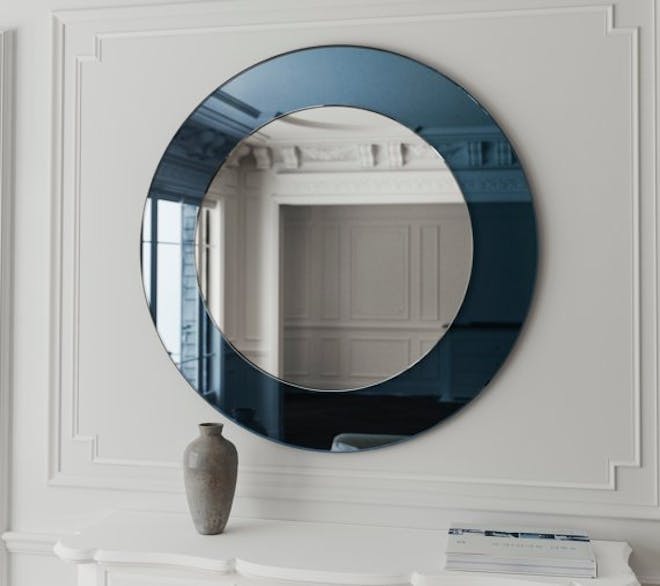 MirrorCoop Dark blue mirror $1,486.00
Hanging blue mirror. Blue wall mirror measures 30″ in diameter but can be made to a custom width.

---
Want more design inspiration?
Subscribe to our newsletter to see stories like this one every day. If you are looking for more blue glass art, Artful Home has an excellent collection.
Looking for a blue wall mirror?