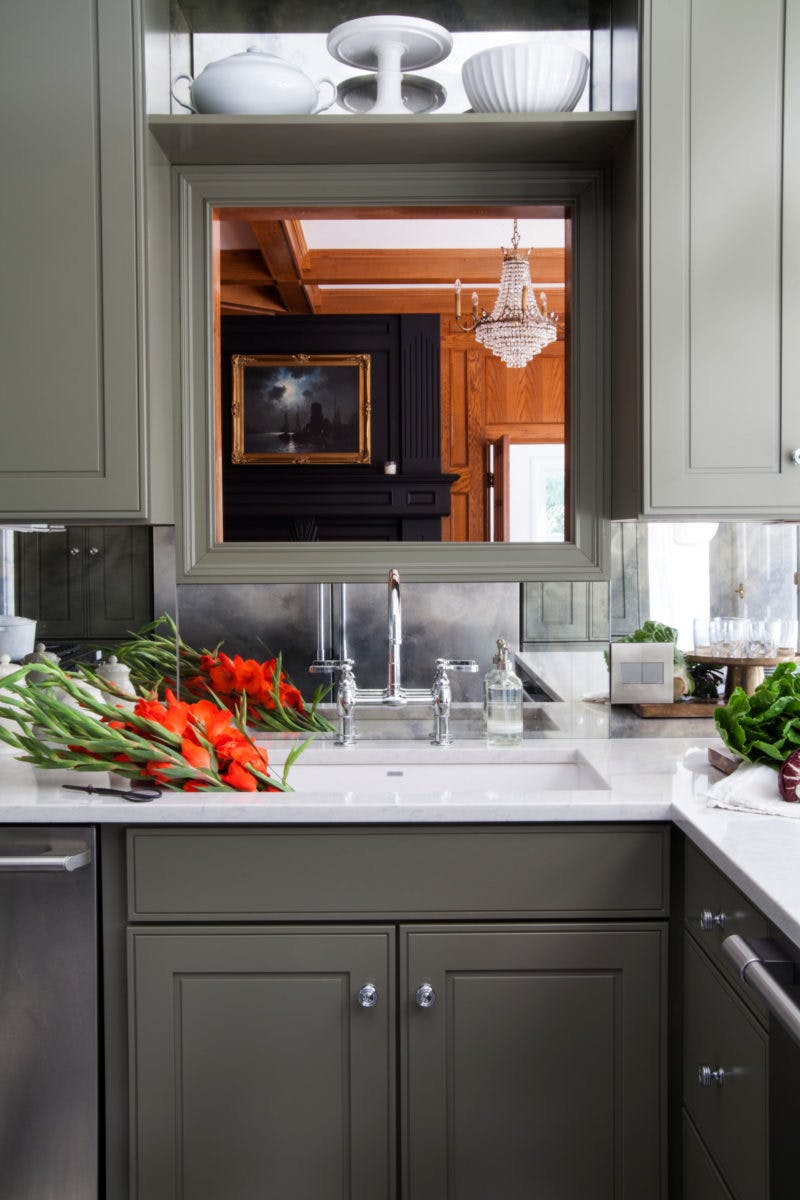 Photo: The Makerista
The backsplash is one of the most unconsidered parts of a kitchen.
People spend lots of time picking out appliances, cabinets, furniture, and even paint colors, but often fail to consider their backsplash.
In reality, a carefully-designed backsplash can do a lot for your kitchen.
So, if you're doing a remodel, you may want to think about adding a mirrored backsplash. It can completely transform one of the most important rooms in your home.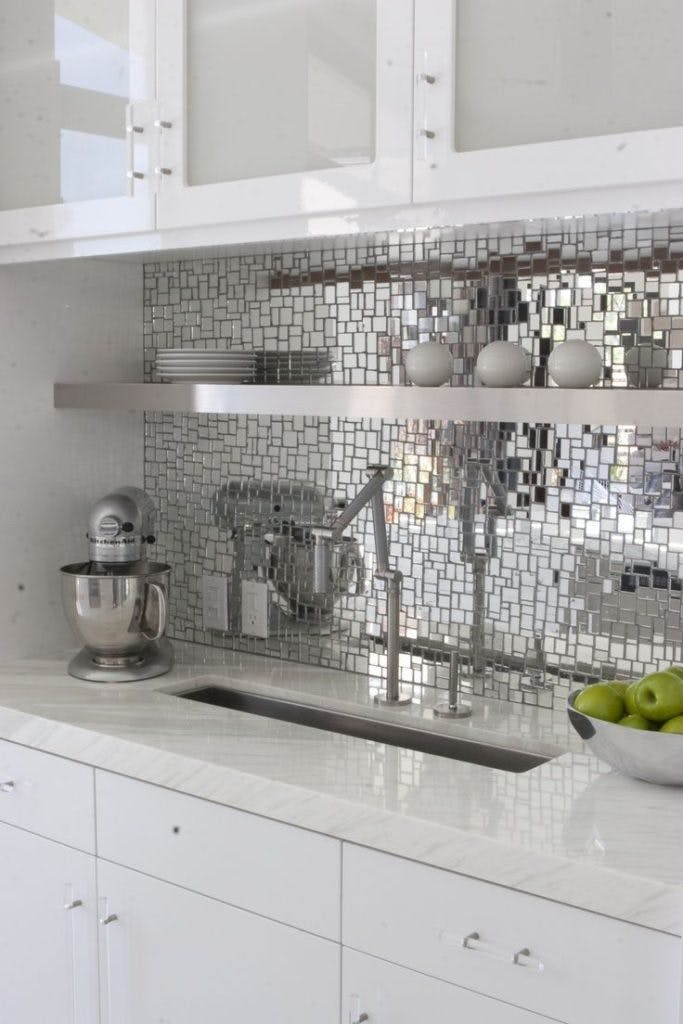 Photo credit: Helen Hunt
The mirrored backsplash is a staple in interior design. It not only makes the wall behind your counter easier to clean, but it can make your room look bigger, too.
With so many styles and tile patterns to choose from, though, how do you pick the one that's right for you?
Well, we've collected some of our favorites from around the internet to give you some inspiration.
Traditional Backsplash
Bob Vila Traditional Mirrored Backsplash
This may be one of the most traditional mirrored backsplashes you'll find, but that doesn't make it any less beautiful.
Stretching wall-to-wall across the kitchen, this backsplash opens up the small space by reflecting the rest of the room around it. And, there's still plenty of room for the cabinets up above, too.
Simple Backsplash
Bonita Glass Shoppe Rectangular Mirrored Tile Backsplash
The person who designed this backsplash used brick-shaped mirror tiles to decorate the space under the cabinet.
We love how they paired the mirrored tiles with the marble counter. But, we're particularly impressed by the way they made the counter seem bigger by making this relatively small adjustment.
And the flowers are obviously a nice touch, too.
Window Backsplash
Elegant Cabinets Inc Window Backsplash
Not all mirrored backsplashes are reflective.
This window backsplash, while not a traditional mirror, serves all the functions of a mirrored kitchen wall. It's both easy to clean and opens up the room.
But, it also provides the homeowner with a beautiful view of the surrounding landscape. What a great idea!
Gold-Tinted Backsplash
Brynn Olson Design Group Gold-Tinted Backsplash
Another slightly traditional backsplash, this designer added a personal touch by using gold-tinted mirror panels. It's a great addition that goes perfectly with the brown marble counter.
Furthermore, this backsplash perfectly compliments the blue and gold cabinets that surround it. Paired with the x-shaped wine rack up above, the whole ensemble has quite a regal look to it.
Beveled 3D Mirrored Tile Backsplash
Beveled 3D Mirrored Tile Backsplash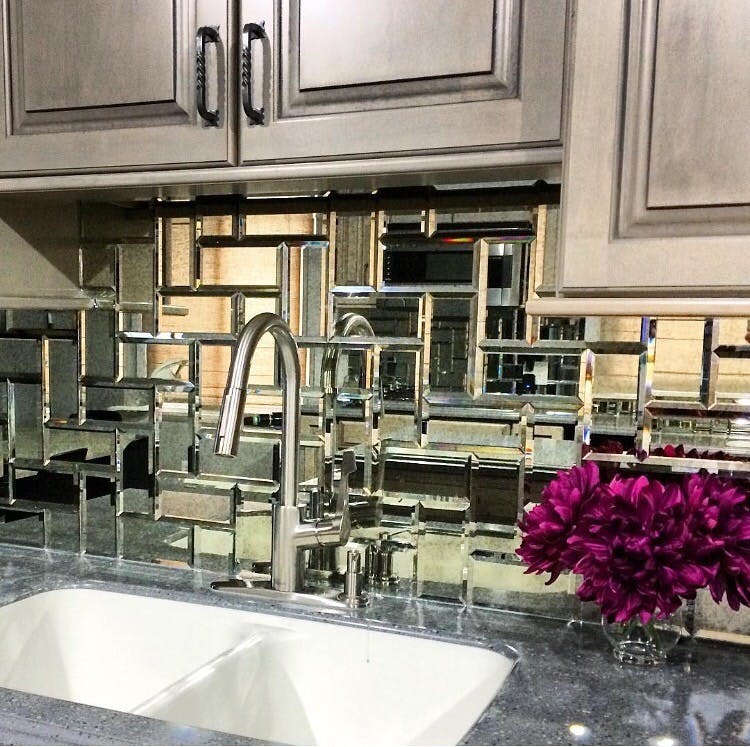 tilebar Beveled 3D Mirrored Tile Backsplash
Your backsplash doesn't have to be a single panel or some gridded tiles. Plenty of designers do all kinds of experimental things with this part of the kitchen.
These tiles from tilebar, for example, put an exciting twist on a traditional idea. They're framed with a three-dimensional, beveled edge that makes them really pop off the wall!
5 Mirrored Backsplash Ideas
Want to decorate your kitchen with a mirrored backsplash? You'll probably want some ideas.
From colored mirrored tiles to metallics and antique mirrors, there's no end to what you can do!
So, before you start picking out tiles and building your dream kitchen, take a look at these mirrored backsplash ideas. Hopefully, these will give you the inspiration you're looking for!
Try Colored Mirror Backsplash
Try Colored Mirror Backsplash
---
Go with a Mosaic Tile Design
Go with a Mosaic Tile Design
---
Experiment with Tile Patterns
Experiment with Tile Patterns
---
Opt for Antique Mirrored Tiles
Opt for Antique Mirrored Tiles
---
Go for the Subway Look
Go for the Subway Look
---
Last Updated on