We may earn compensation through affiliate links in this story.
Photo from MirrorCoop
The backsplash is one of the most unconsidered parts of a kitchen.
People spend lots of time picking out appliances, cabinets, furniture, and even paint colors, but often fail to consider their backsplash.
In reality, a carefully-designed backsplash can do a lot for your kitchen.
So, if you're doing a remodel, you may want to think about adding a mirrored backsplash (from a single piece of mirror to mirror tiles). It can completely transform one of the most important rooms in your home.
In This Article
Looks we love
Terrazzo Counter Top
The mirrored backsplash is a staple in interior design. It not only makes the wall behind your counter easier to clean, but it can make your room look bigger, too.
With so many styles and tile patterns to choose from, though, how do you pick the one that's right for you?
Well, we've collected some of our favorites from around the internet to give you some inspiration.
Paneled Mirror Backsplash
Textured white glass backsplash
Gold mirror tiles
Geometric Style Tiles
MirrorCoop is a custom glass, mirror, and wall mirror design team. If you are interested in custom mirror, click here to tell us more…
5 Mirrored Backsplash Ideas
Want to decorate your kitchen with a mirrored backsplash? You'll probably want some ideas.
From colored mirrored tiles to metallics and antique mirrors, there's no end to what you can do!
So, before you start picking out tiles and building your dream kitchen, take a look at these mirrored backsplash ideas. Hopefully, these will give you the inspiration you're looking for!
Try Colored Mirror Backsplash
Try Colored Mirror Backsplash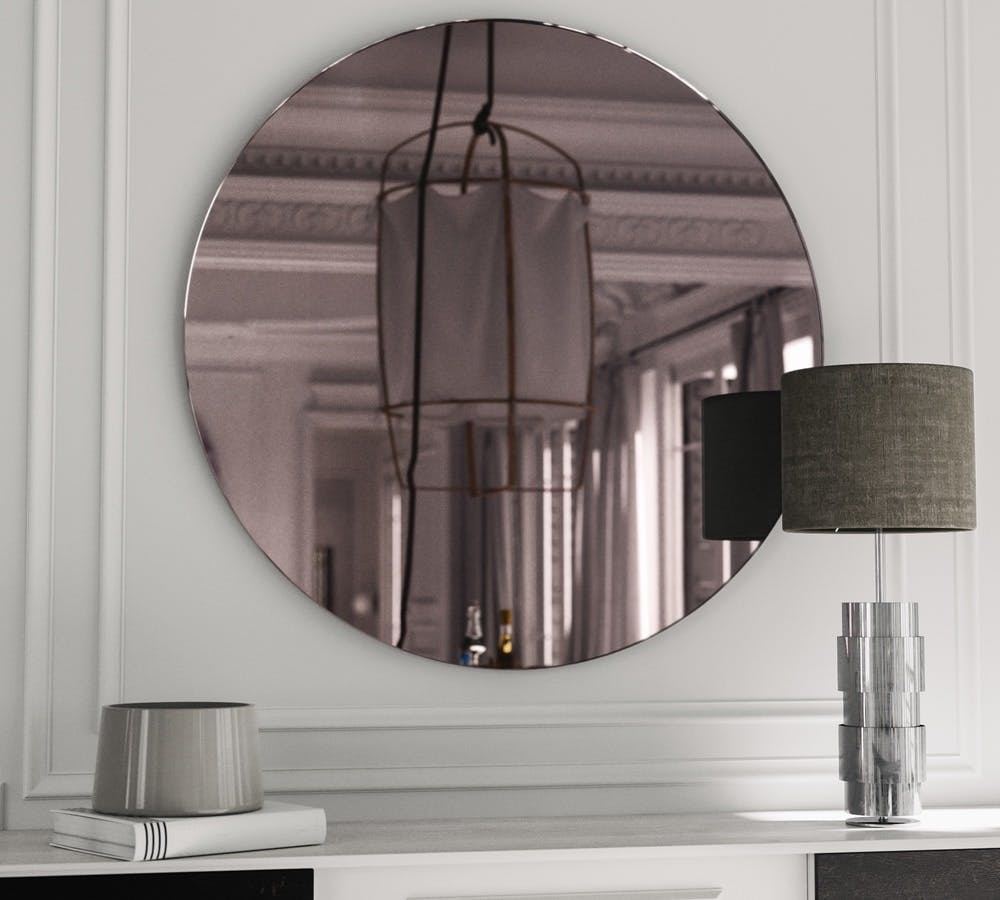 Your backsplash doesn't have to be made from a plain old mirror. Sometimes, the best backsplashes are colored!
You can add some light to your kitchen by incorporating a yellow, pink, or sky blue backsplash to the counter. And, you can coordinate it with the floor tiles, cabinets, and wall paint to create a unified, cohesive look.
You'll love cooking breakfast in your kitchen when it has a bright and shiny backsplash in it!
---
Go with a Mosaic Tile Design
Go with a Mosaic Tile Design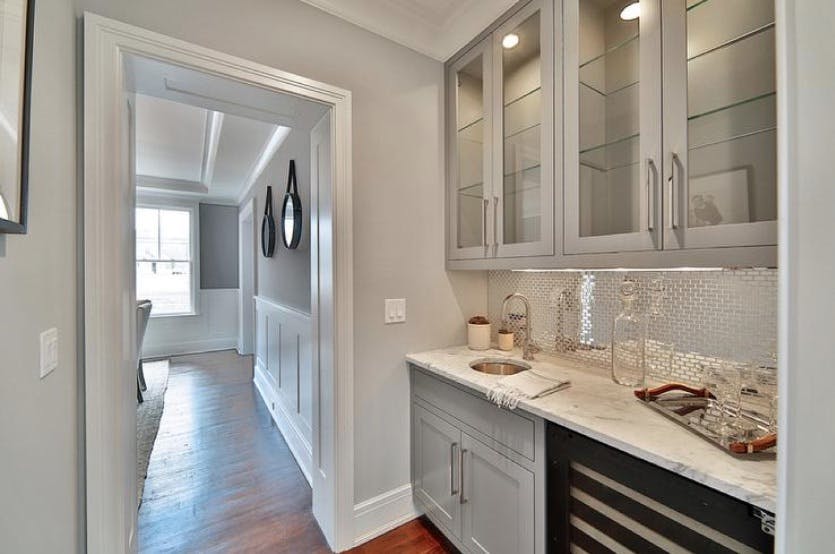 We see a lot of mosaic tile backsplashes. However, you don't have to make yours from traditional, opaque towels.
Small mirrored tiles can also be used for mosaic backsplashes. This creates a cool, industrial look on your kitchen counter.
Mirrored mosaics look great in the bathroom, too. They're particularly stylish when paired with marble or stone.
---
Experiment with Tile Patterns
Experiment with Tile Patterns
---
Opt for Antique Mirrored Tiles
Opt for Antique Mirrored Tiles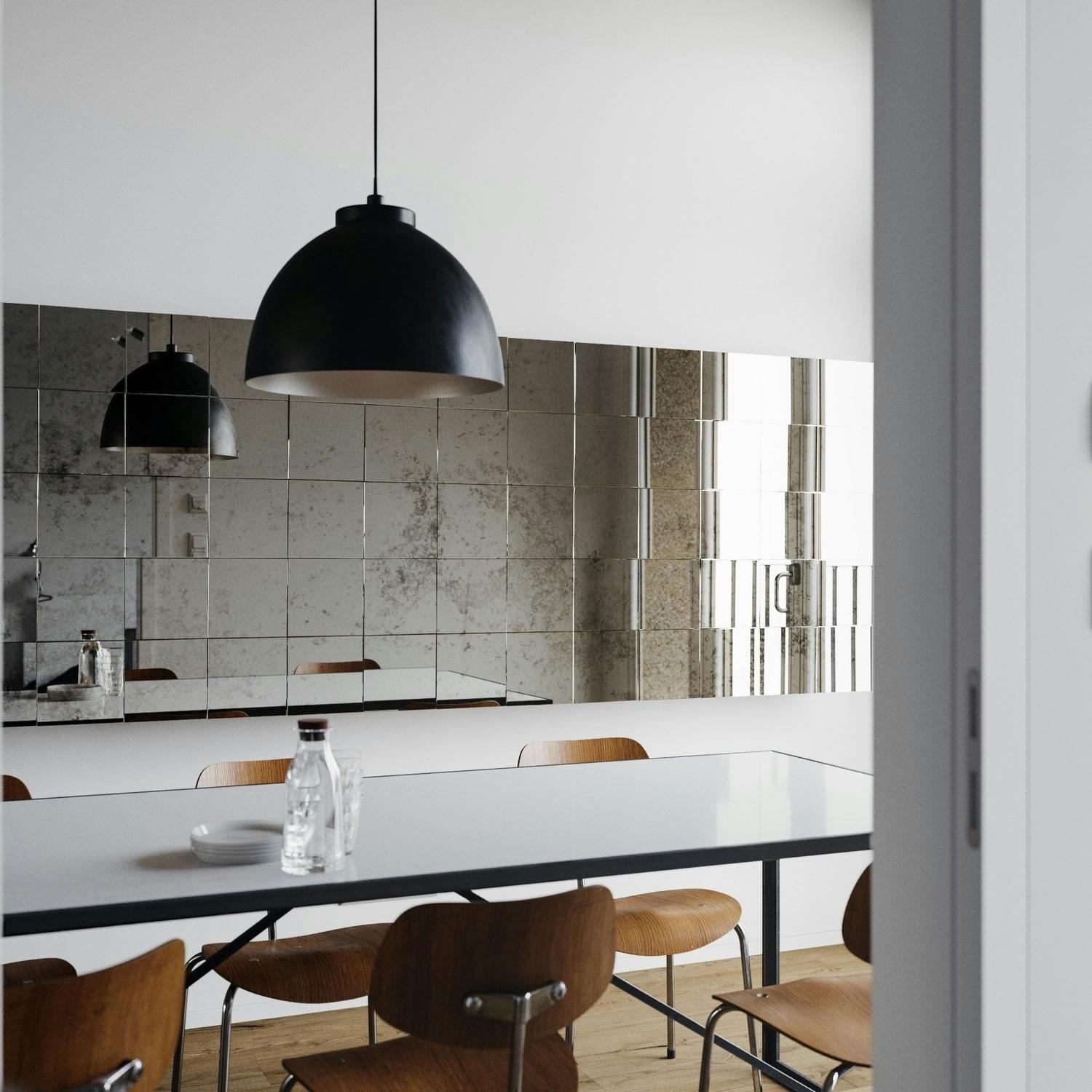 Sometimes, antique tiles look much better than new ones. This type of tile is tinted with a cloudy filter that gives them a rustic, vintage look.
Antique tiles come in all shapes and sizes and can be cut according to your needs. As you can see here, we've used square tiles to create a mirror with a cool, industrial look. This type of design looks great as a backsplash!
---
Go for the Subway Look
Go for the Subway Look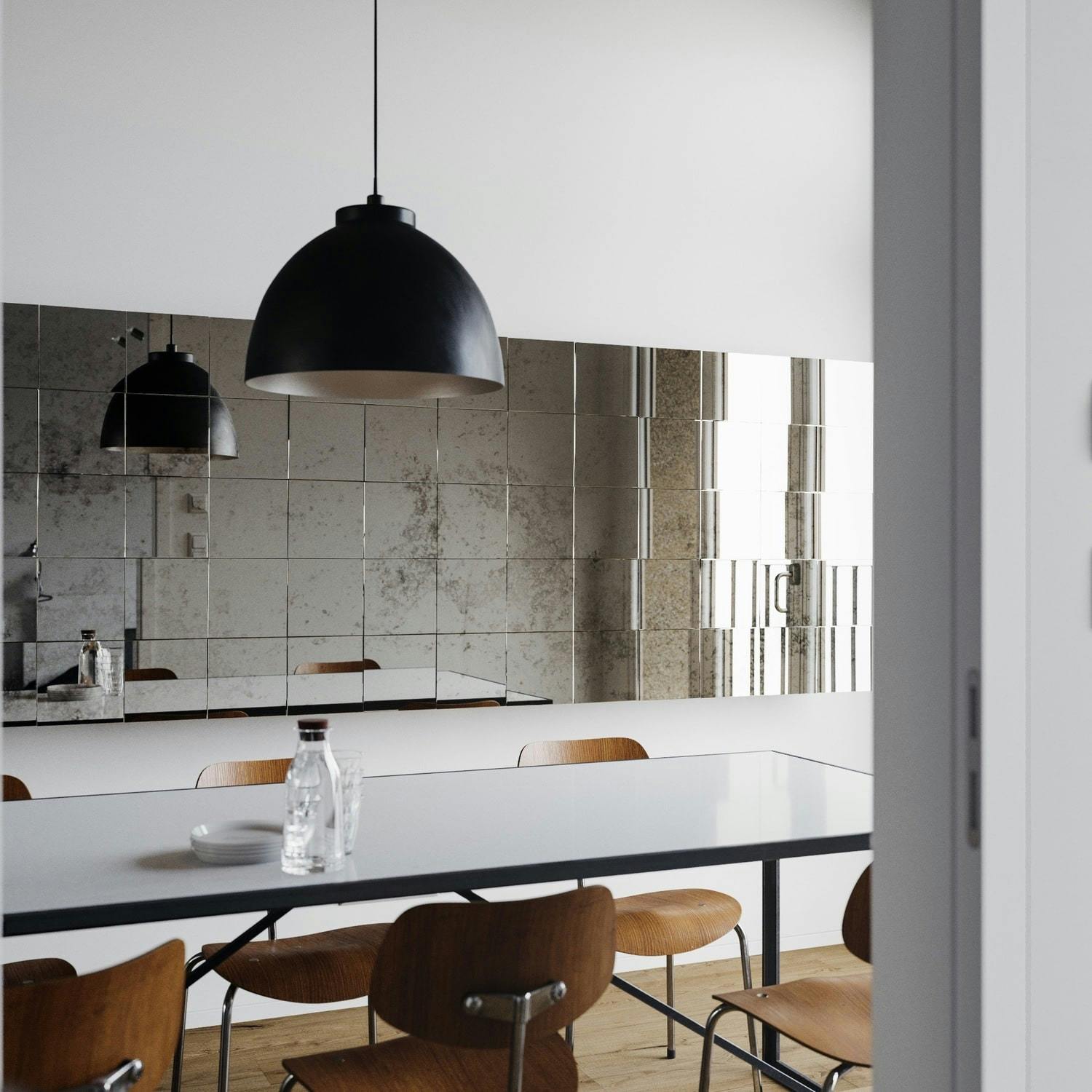 For years, subway tiles have been used to create a raw, rugged look in the home. Typically, this style utilizes non-reflective tiles.
But, but using brick-shaped mirrored tiles, you can create a subway tile backsplash that's also reflective. This technique combines the sleekness of a mirrored backsplash with the industrial look of a regular subway tiled design.
---
Mirror Backsplash Products
So once you've been inspired, now its time to get to the brass tacks. What to order for your backsplash…
Here are a few ideas
– Mirrored Backsplash
– Tiled Backplash
– Decorative, Painted Backplash
– Stone Backsplash
How much does glass backsplash cost?
This number fluctuates depending on the expense of materials and how large your job is. Although there are many factors that determine the size of your bill, get a quote from at least three different Home Improvement companies to make sure you get competitive bids before making any decisions. Glass Backsplash Cost Factors
Before you start to talk with companies about how much does Glass Backsplash cost, take measurement of your kitchen, the size of the cabinets and estimate the total square footage you'll need. The cost can vary greatly depending on the size and intricacy of your home improvement project.
Glass Backsplash materials are sometimes included in the cost estimates but often times it is not included in this price. You can also find professionals that will give you a free estimate in order to prioritize your budget for other home improvement projects. It's important to know how much money you want to spend prior to contacting local professionals so that you're not surprised by any costs after contacting them.
What is the cheapest kitchen backsplash?
*Wallpaper: Wallpaper isn't just for walls — it can be installed on the lower section of your kitchen cabinets as well. A textured or patterned wallpaper will make a dramatic statement without costing very much at all.
*Tile: Tiles are one of the least expensive backsplash options available for kitchens. Tile can be installed in a variety of shapes, sizes, textures and materials. It's also easy to clean and very durable.
*Backsplash Paneling: If you're looking for something a little different than tile or wallpaper, backsplash paneling is an excellent option that won't cost very much at all. This type of material can be installed on the wall behind your sink or stove in order to add a bit of interest to the look of your kitchen without spending too much money.
*Paint: You don't necessarily need to purchase a whole new can of paint just for a backsplash. Instead, use this cheap backsplash idea in order to give your kitchen a fresh look. Just be sure that you choose a paint that's specifically designed for use in the kitchen — other paint may contain chemicals that are unsafe for contact with food.
Can you use a mirror as a backsplash?
Yes! Mirrors not only give you the illusion of more space, but they also offer a perfect opportunity to add a bit of style and design to your kitchen. They're not for everyone, but the right mirror can be used as a backsplash to reflect light and add a little sparkle to your space.
Mirrors are great because they offer a bit of an illusion in that they give you some extra space, but also brighten up your kitchen. They're not for everyone though; it all depends on where you want to put them and what style you're going for!
What is the most popular backsplash for kitchen?
Ceramic Tile: This material is available in colors such as white, brown and black and comes in different shapes like rectangular and square tiles. This material can have a three dimensional effect when placed together. This material is quite durable and has the option to go with patterns that are all over the wall. It has some natural variations that can be blended or left very plain to create a unique look in your kitchen.
Natural Stone: These stones come in tones of brown, gray and black for a more affordable option. Natural stone is very durable and will not chip or scratch so it is easy to get this type of material installed by professionals. It can be combined with other natural stones such as granite, quartz, marble or slate to make an even better look. There are also more intricate patterns for this kind of stone in order for the backsplash to compliment your décor perfectly.
Can I use mirror as kitchen backsplash?
Yes, you can totally rock a mirror backsplash in your kitchen! Not only will it add a touch of sophistication, but it will also make your space look brighter and more open. It's an easy way to turn your kitchen into a designer's paradise without breaking the bank. Plus, it's an Instagram-worthy look that will have all of your friends asking where you got it from!
What is the disadvantage of glass backsplash?
If you're looking for a way to add a bit of pizzazz and glamour to your kitchen, a glass backsplash may seem like the perfect choice. But, alas, there is a downside to this beautiful home decor accent. Glass backsplashes can be notoriously difficult to clean! No matter how hard you scrub, the glossy surface always seems to attract fingerprints and smudges. So if you don't want to spend your days polishing your kitchen, then you may want to consider a different backsplash option!
More Articles About Backplashes
Backsplashes Archives – MirrorCoop
Your guide to backsplashes … Mirrored Backsplash Inspiration [June 2023] … Backsplash tiles in terms of home improvement refers to the spaces between …
Antique Mirror Subway Tile
Dec 10, 2018 … I personally have never used these tiles but can imaging they would be great for a DIY project (like a mirrored wall or backsplash).
What Is The Most Popular Backsplash For Kitchen?
What Is The Cheapest Kitchen Backsplash?
How Much Does Glass Backsplash Cost?
Mirror Backsplash Trend
Mirror backsplashes have been about as popular now as ever