White mirrors are pretty common. After all, most bathroom vanities have a white fame on them.
But, they don't have to stay relegated to the lavatory. They look just as great in bedrooms, living rooms, and dining rooms.
In this article, we'll unpack the decorative potential of white mirrors. We'll also share a few of our favorites that you can buy for your own home.
Best White mirror
Rustic, woodgrain finish that is great for your bathroom vanity needs. 25.5″hx21.5″s, it is not too big and not too small. Easy to hang with the hardware for hanging included.

What We Love
Great size for a smaller space.
Rustic look is great with many types of décor.
Things to Look Out For
The picture is somewhat deceptive, it looks more white than it is.
Good size, but for a true vanity mirror, would prefer something a bit larger.
Best White Mirrors
A guide to our favorite white mirrors…
1/3
Long White Mirror
Long White Mirror
Longshore Tides Lyla Long Mirror
59″H x 20″W long mirror is a great addition to any area of your home for getting ready for your day. Simply designed to add to any room. You can easily mount this mirror to the wall with the hardware provided.
What We Love
Versatility that looks great in the bathroom or the living room.
Easily mounted to wall.
Things to Look Out For
This is a pricey item, and on sale at $211.00 roughly..and it's a plain design
Not ideal for smaller spaces.
---
2/3
White Floor Mirror
White Floor Mirror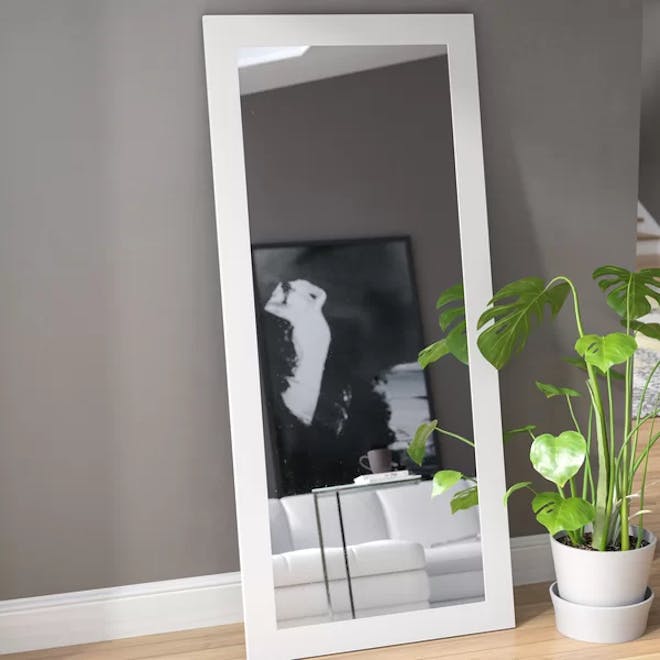 Orren Ellis Polzin White Florr Mirror
59.5″H x 20.5″W full length mirror great for anywhere. Simple design allows you to use this in any room. Comes complete with hardware to mount it where you would like it, or you can use it as a leaning mirror. Real wood finish and simple white or black design available.
What We Love
Simple design allows it to look good anywhere.
Option to hang is nice.
Things to Look Out For
Does not look like a very durable design.
More expensive than a comparable product on other sites.
---
3/3
White Mirror with Dresser
White Mirror with Dresser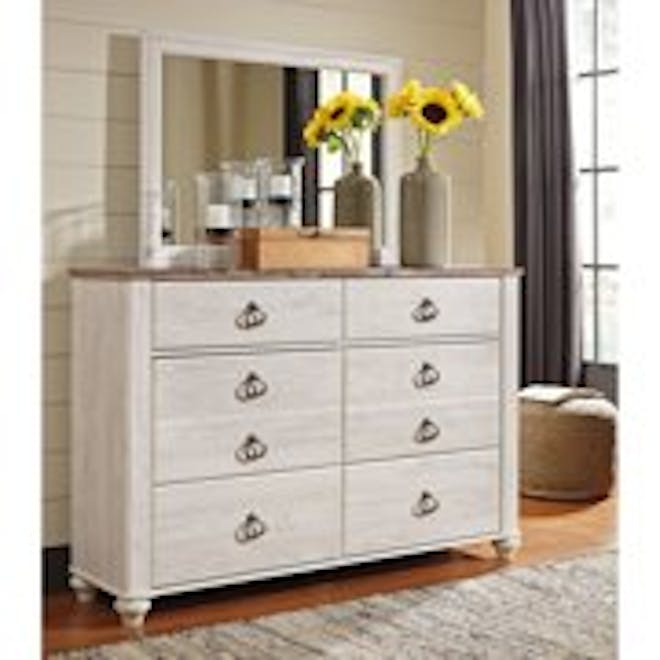 Ashley Willowtown White Mirror and Dresser
31.92″Wx32.48″H optional mirror with six drawer dresser with whitewash finish to optimize woodgrain replication. Dresser is great for any room because the color is neutral. The mirror tops off the versatile ensemble giving a rustic or even modern feel depending on the décor.
What We Love
Design is simple and blends well with most décor.
Like it that you don't have to put the mirror exactly where the dresser is.
Things to Look Out For
The quality with assembled furniture is not always up to par.
The price is a bit high for having to assemble yourself.
---
How To Distress A Picture Frame
For a beginner distressing picture frames, gather the following items needed:
2 colors chalk paint
Vaseline
Clean, dry rag
3 large artist brushes
Paper towels
Choosing the darker color which will show under the finish, paint the whole frame. When it dries, rub the Vaseline in various spots on the frame. Paint on the top layer of the chalk paint. Spray paint can even be used in this process as well. You will be able to see the distressed spots quickly.
When the top layer dries, take your rag and wipe the spots where you put the Vaseline.
You can also dry brush your base color on the frame to accent the distressed areas, this is optional.
Last Updated on