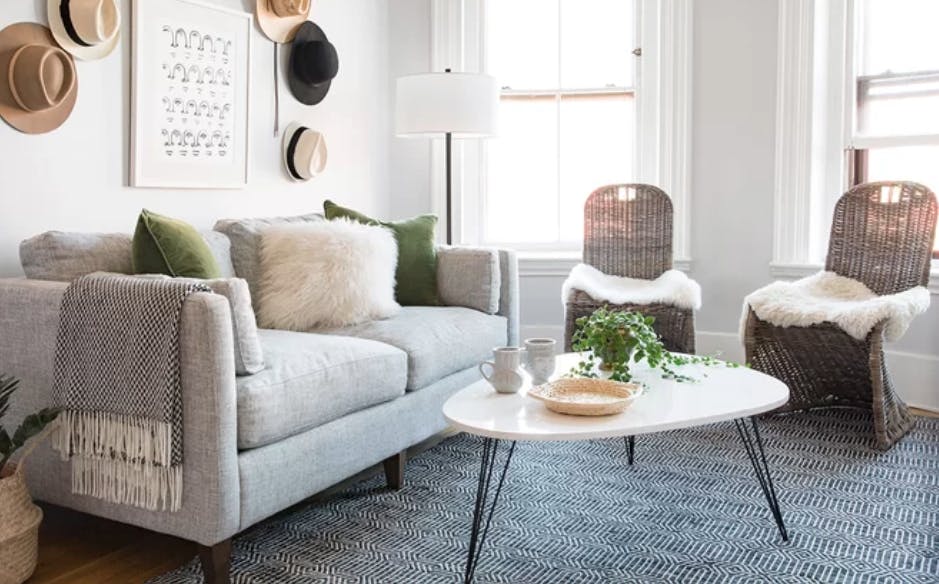 Photo: Wayfair
Since Wayfair was founded in 2002, the online marketplace has earned a reputation as one of the go-to places for furniture and decor.
The company has grown exponentially in recent years, too. With an annual revenue of nearly 5 billion in 2017, the company is going head-to-head with monsters like Ikea and even Amazon in the furniture space.
And, they have an amazing catalog. No matter what you need for your home, Wayfair is sure to have it!
Of everything that Wayfair offers, their fabulous selection of mirrors may be the most stunning.
From traditional, wood-framed wall mirrors to leaning mirrors with contemporary metal frames, Wayfair has it all.
So, whether you need something minimal or something king of wacky, you'll find a mirror you love in Wayfair's enormous catalog.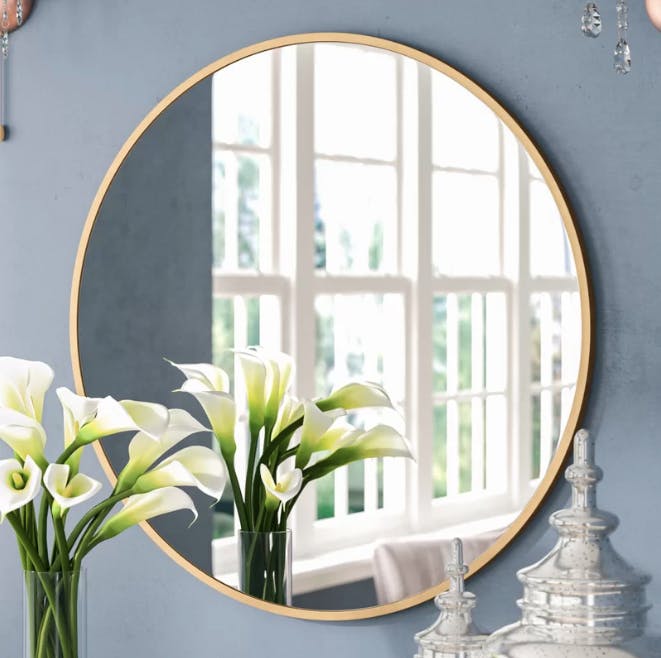 Everly Quinn Katsikis Accent Mirror
This oversized round mirror mixes traditional design with a unique, modern touch. Its metal frame is finished with a gold coat, giving it a glisten that's hard to find elsewhere.
So, no matter if you're seeking a stylish mirror for your living room or a fashionable addition to your bedroom, this one by Katsikis might be great for you.
---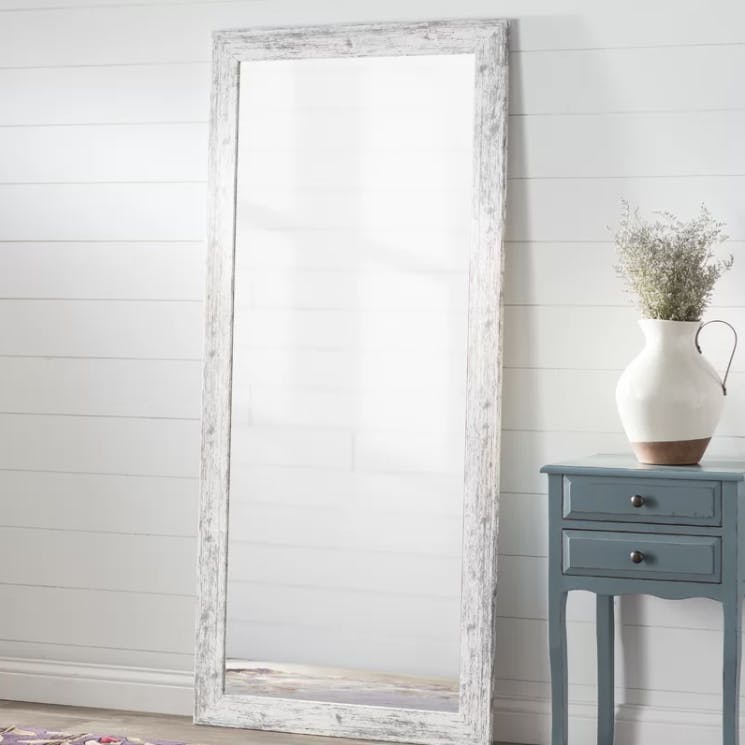 August Grove White Weathered Farmhouse Wall Mirror
Not all mirrors have to hang on the wall. In fact, some of the best ones are meant for leaning!
This weathered wood design by August Grove is a great example of just how beautiful leaning mirrors can be.
It's both rustic and minimal, with a sleekness that looks just as good in a midwestern farmhouse as it would in a New York City loft.
---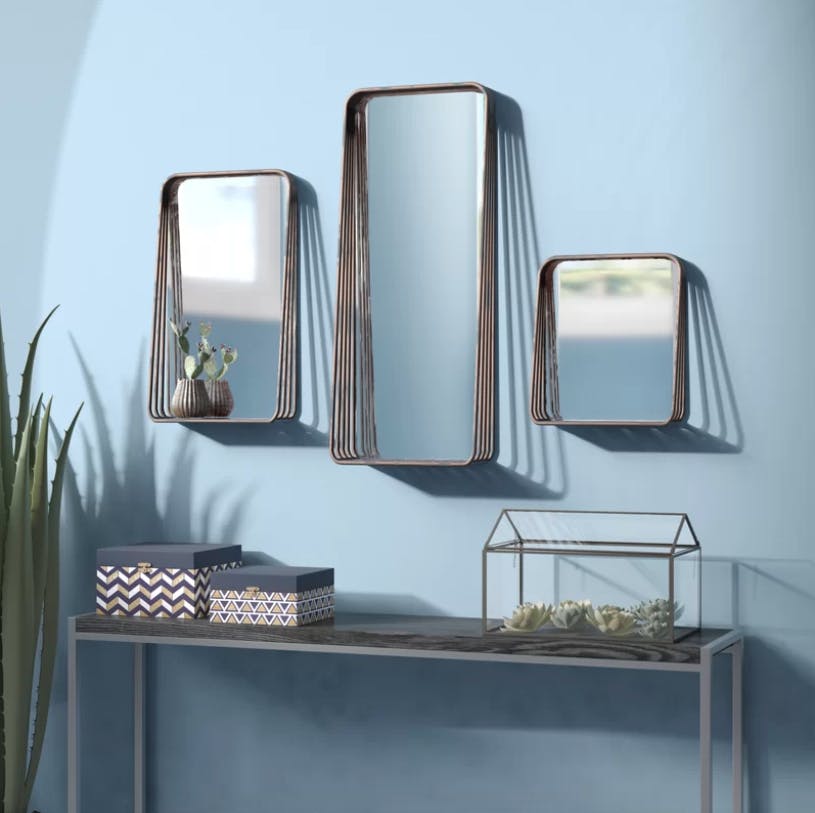 Wrought Studio Eide 3-Piece Framed Mirror Set
Sometimes it's nice to have a matching set of mirrors instead of just individual pieces. If you've been looking for a few mirrors with similar designs, this set might be perfect for you.
Each of these rectangular mirrors is designed with a slanted frame that leads downward to a metal shelf, giving you a little extra space to store plants and other decor.
---
Editor's Choice for Wayfair Mirror
Editor's Choice for Wayfair Mirror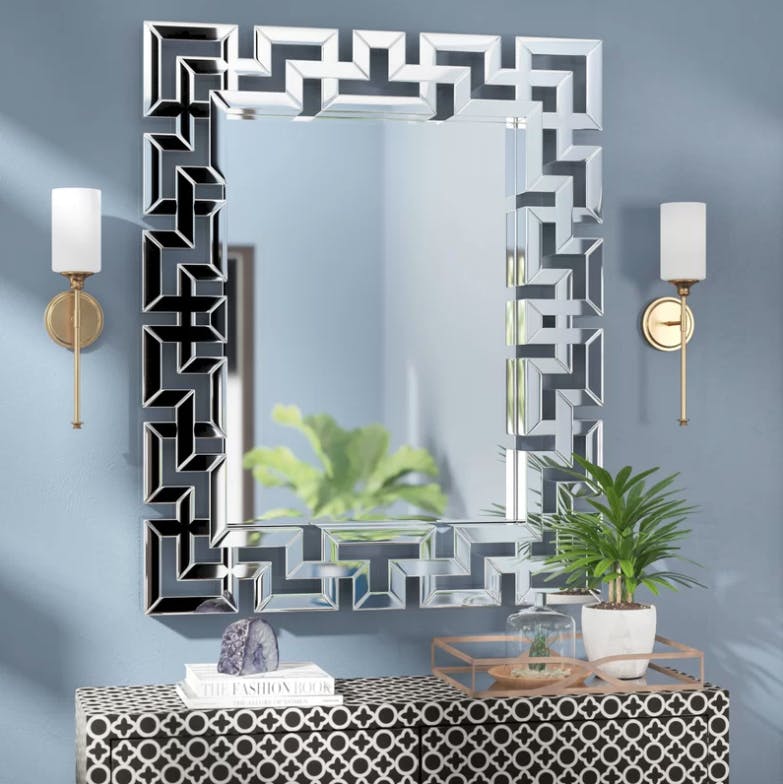 Willa Arlo Interiors Rectangle Ornate Geometric Wall Mirror
Although Wayfair carries a ton of minimal, midcentury-style mirrors, they've got a wide selection for the Art Deco folks, too.
So, if offbeat, geometric patterns are your thing, it's worth having a look around.
This ornate glass mirror by Willa Arlo Interiors has a unique design that's a rarity in today's minimally-designed landscape.
---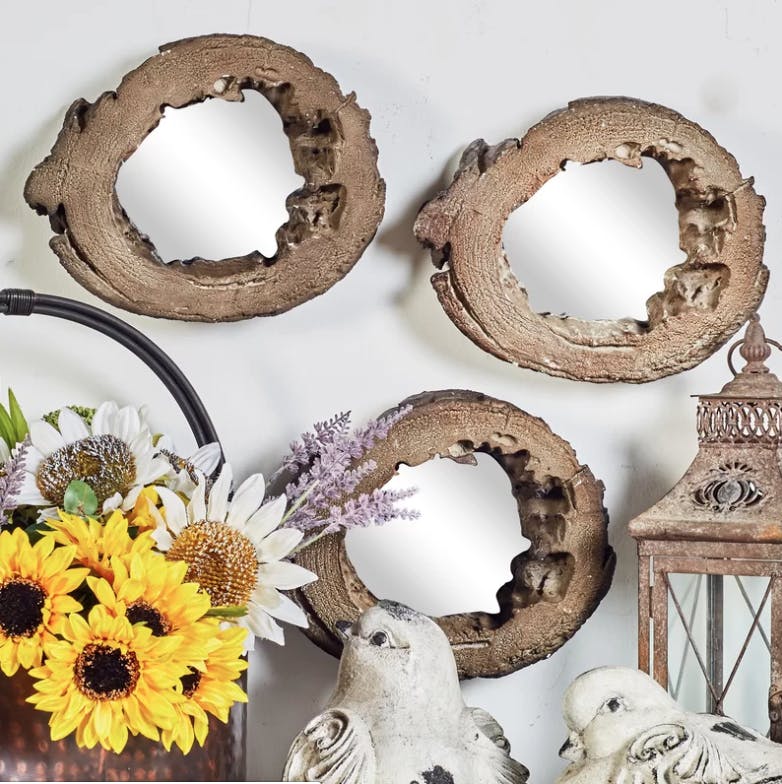 Cole & Grey 4-Piece Wall Mirror Set
While you can find plenty of products on Wayfair that cost well over a grand, they carry plenty of affordable things, too.
For example, this four-piece mirror set by Cole & Grey is both stylish and affordable. Elsewhere, these polystone frames would run far higher than a mere $75.
And, they come in a group, so you can hang them together or distribute them throughout the house!
---
6 More Wayfair Mirror Recommendations
Ok, we have more.
Honestly, Wayfair is just so great that it's hard for us to only showcase five mirrors. It's a good thing that Wayfair doesn't have brick-and-mortar stores (otherwise we'd be spending way too much money there).
Here are a few more mirrors that we love. We think that you'll love them, too.
Take a look!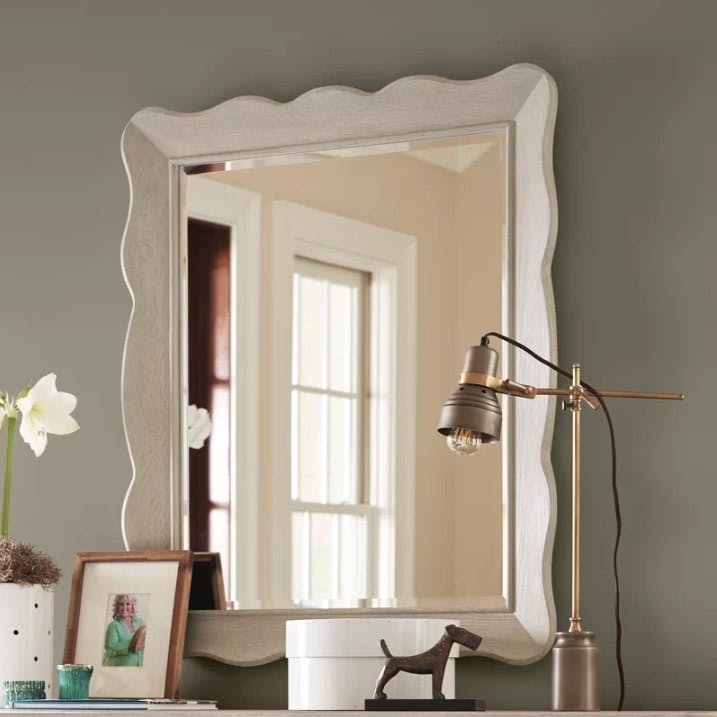 One Allium Way Pennock Accent Mirror
This wavy-framed mirror both elegant and subtly eccentric. The organic roundness of the frame clashes beautifully with the rectangular panel to create a lovely tension.
Made from distressed wood, it features a beveled glass frame that will help to add depth to any environment.
It's available in several different colors, too, so you can find one to match your decor no matter what you're home looks like.
---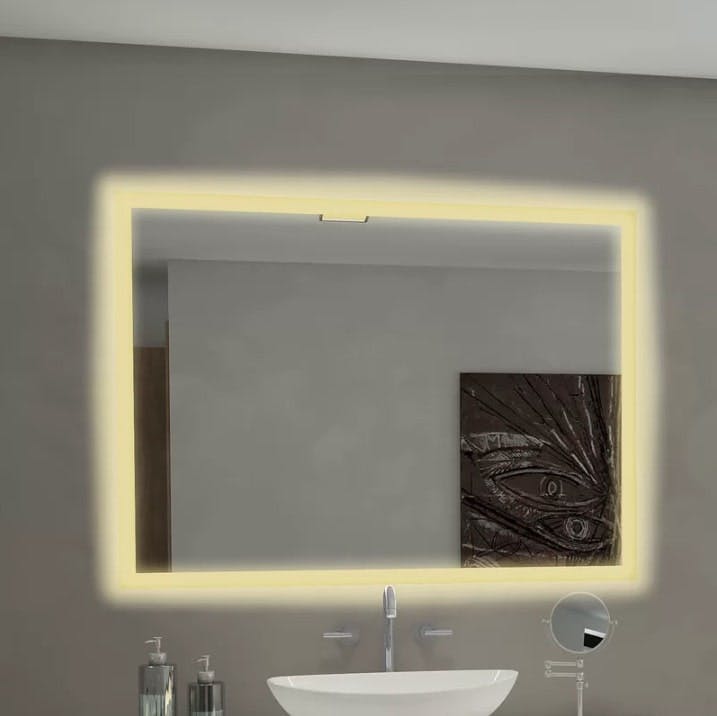 Brayden Studio Goetsch Backlit Bathroom Vanity Mirror
Another illuminated mirror, this one is backlit with a bright yellow light. It's perfect for anyone who wants to bring the sunshine indoors!
Your selfies will look as good as ever in the warm, yellow hues of this mirror. And for less than $500, you'll be hard-pressed to find an illuminated mirror that looks this good!
*Note: The Goetsch Backlit Vanity is a little on the heavy side (45 lbs), so make sure that you ask someone to help you install it.
---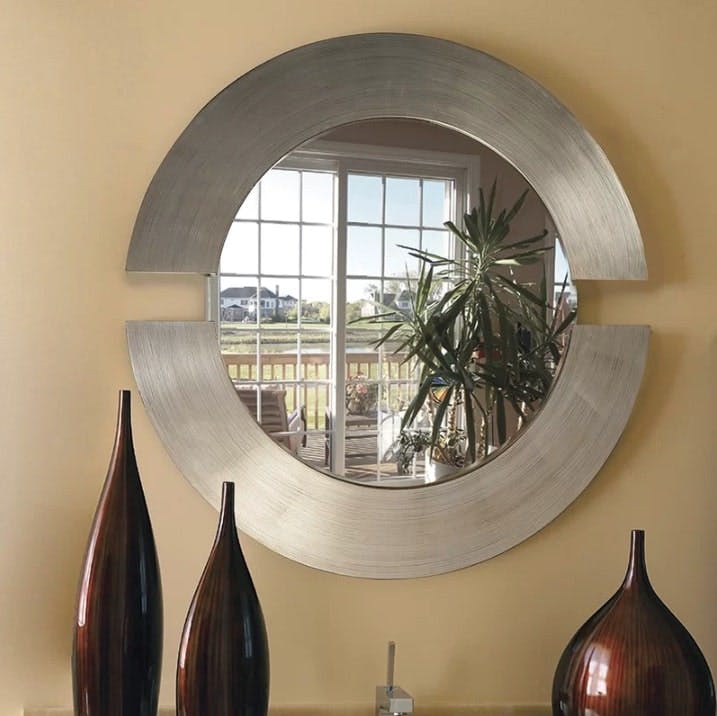 Wade Logan Matthew Round Accent Mirror
Combining a round drop shadow with a polished frame, this mirror has a fun aesthetic that Art Deco enthusiasts will love. It'd look perfect alongside all kinds of midcentury modern decor.
This is one of those mirrors that would not only compliment paintings and sculptures, but actually looks like a work of art in its own right. The smooth finish and unique design are certainly something to be hold.
---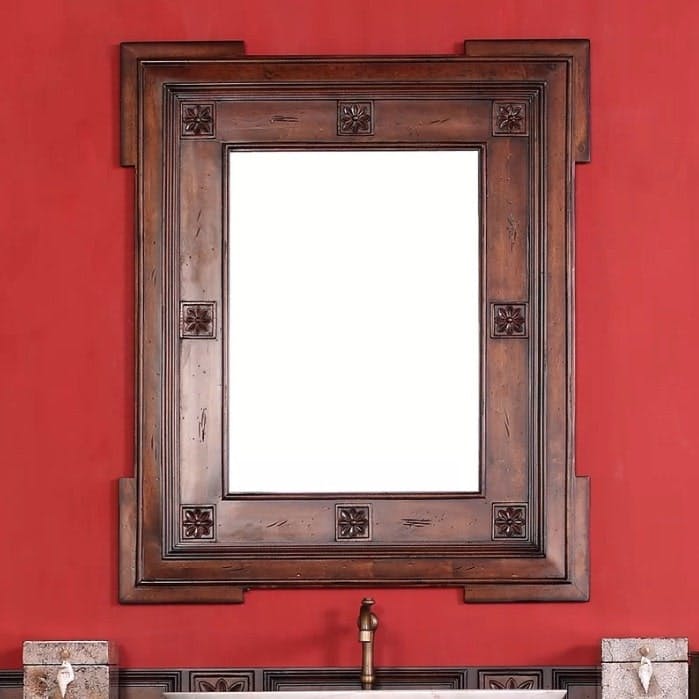 Bloomsbury Market Lady 30″ Rectangle English Burl Accent Mirror
If you're looking for something more traditional, this wooden accent mirror by Bloomsbury Market might suit your liking.
With a classic, carved wooden frame, it has the old-timey feeling of an Irish pub. But, it would look just as good alongside a hardwood wardrobe or chaise lounge.
For such a sturdy mirror, it's relatively light. At only 18 lbs, it shouldn't be hard for one person to hang by themselves.
---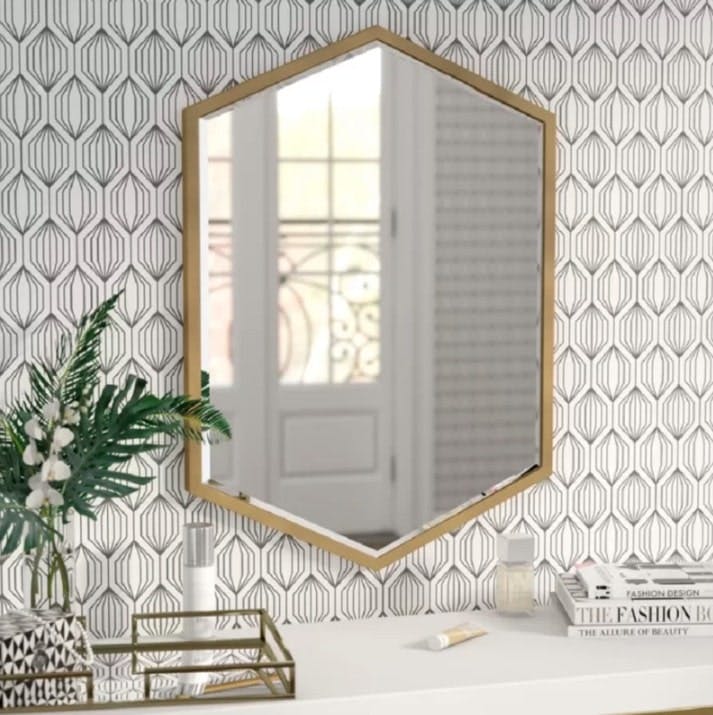 Wrought Studio Libby Accent Mirror
The hexagonal shape of this Wrought Studio mirror is just eccentric enough to grab your attention while remaining subdued enough to fade into the background. Perfect for folks who enjoy unique, midcentury-inspired decor.
Although it's a reproduction, it has a classic, minimalist aesthetic that's on-par with the originals. But, because it's sold through Wayfair, it's far cheaper than the mirrors you'd find in an antique marketplace.
---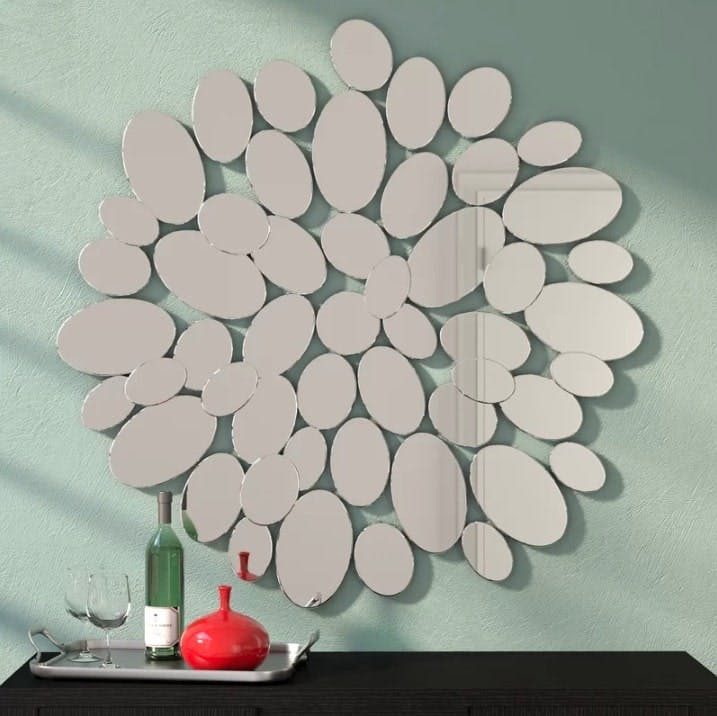 Orren Ellis Odonnell Wall Mirror
We've all seen tiled mirrors, but this floral design is something truly unique. Comprised of a few dozen oval-shaped panels, this mirror embodies a fun, Boho aesthetic.
Typically, multi-paneled mirrors like this would have some kind of frame. On this mirror, however, there are no frames in sight. It hangs directly on its MDF support, which gives it the look of floating off the wall.

Can Decorative Mirrors be Used in Bathrooms?
Decorative Mirrors can be used in bathrooms. The only bad thing is that while they are great for decorations, they are not always ideal for function because they are usually smaller than most regular functional mirrors. They are a wonderful go to in a bathroom when trying to create a theme for the bathroom.
Last Updated on