We may earn compensation through affiliate links in this story.
Fitness can be expensive.
If you add up the gym memberships, clothing, protein supplements and all of that other stuff, it costs quite a bit to stay in shape.
But it doesn't have to.
You can eliminate some of the costs by getting equipment like a doorway chin up bar. It mounts directly to your doorframe and allows you to work out without a gym membership.
But there are a ton of them out there, making it hard to find the right one…
Our Recommendations for The 5 Best Chin Up Bars
Working out at home is far more convenient (and less expensive) than going out to the gym.
After all, it's pretty hard to drag yourself to the fitness center after a long day at work.
With a doorway chin up bar, you can get all of the upper body training you need without leaving your bedroom.
We've compiled a few of the best chin up bars we could find to help you get started.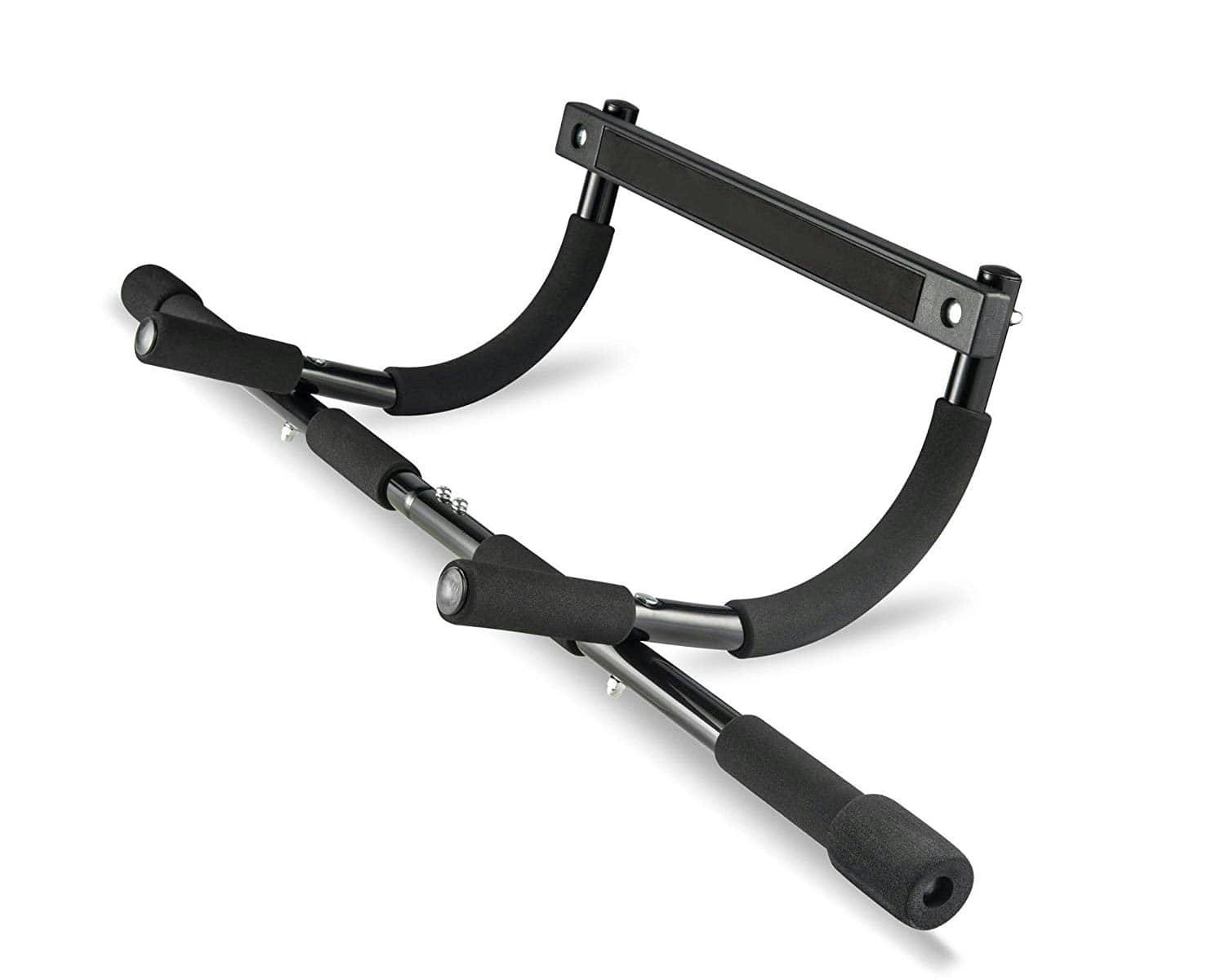 Sagler Doorway Heavy Duty Chin Up Bar Trainer
This is by far the best chin up bar for less than $25. It's not easy to find high-grade equipment at such a low price.
And it's easy to install, too! It uses leverage to pin the bar against the door frame, so you don't have to worry about drills, screws or nails.
Feel like taking it down? No problem! Just unhang it from the door frame and take it wherever you need to. You won't even be able to tell it was ever there!
---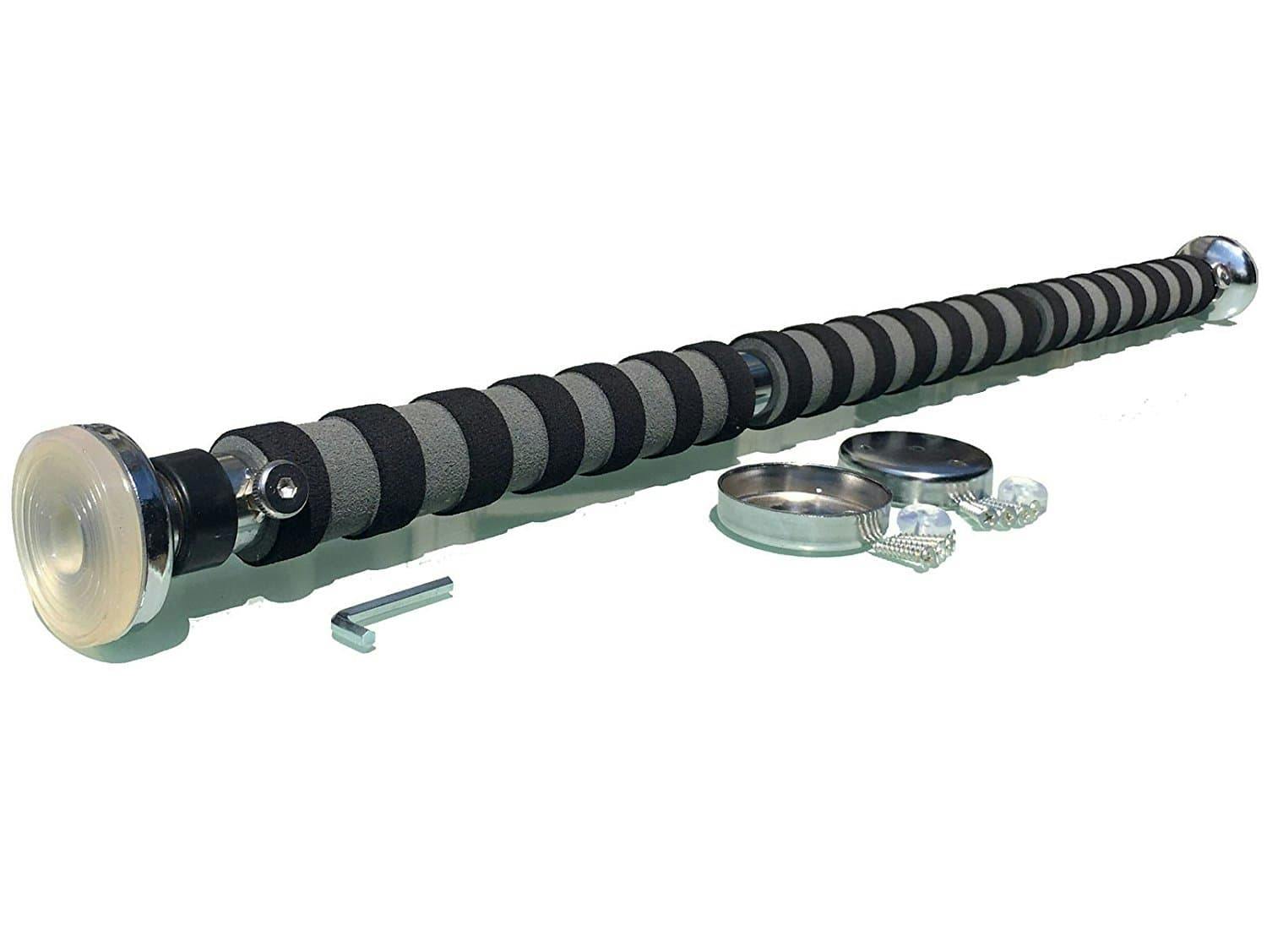 Garren Fitness is slowly gaining steam as one of the most popular home fitness brands. With high-quality products and affordable prices, it's no wonder that exercise enthusiasts are gravitating to this company.
Their Miximiza Plus pull-up bar embodies everything great about the brand. Despite being super easy to install, it's capable of supporting up to 330 lbs. Just hang it up, use the included allen wrench to adjust it, and get to work!
---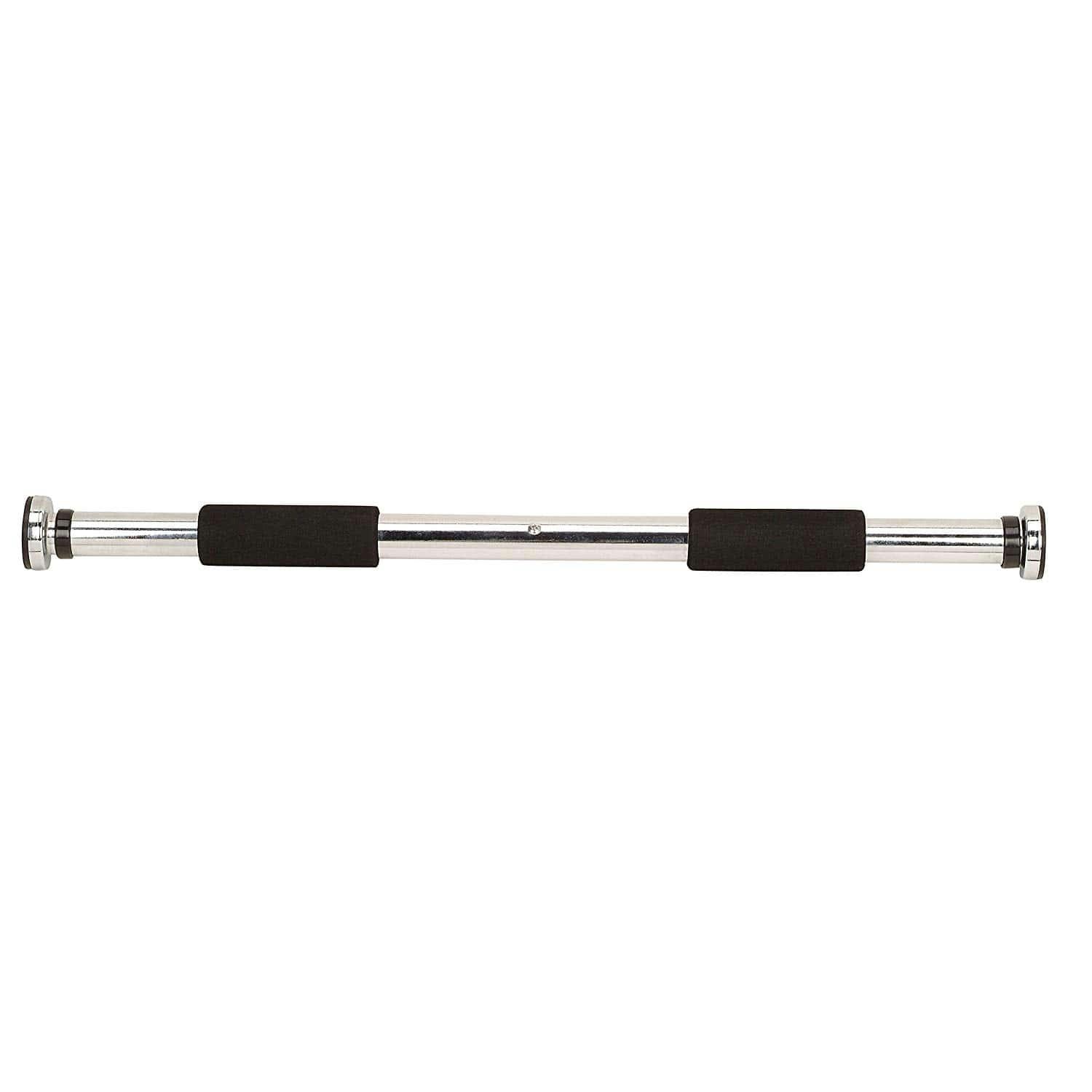 Sunny Health and Fitness Doorway Chin Up and Pull Up Bar
SHF's doorway chin up bar requires a bit more installation (you'll need a power drill). But, it's only $16 and certainly packs a punch.
Equipped with padded hand grips to prevent slippage, this bar will make you feel like you're training in a real gym.
Our one concern is that it doesn't hold as much weight as other models (only 220 lbs). But, if you fall short of that weight, this could be a perfect piece of equipment for you.
---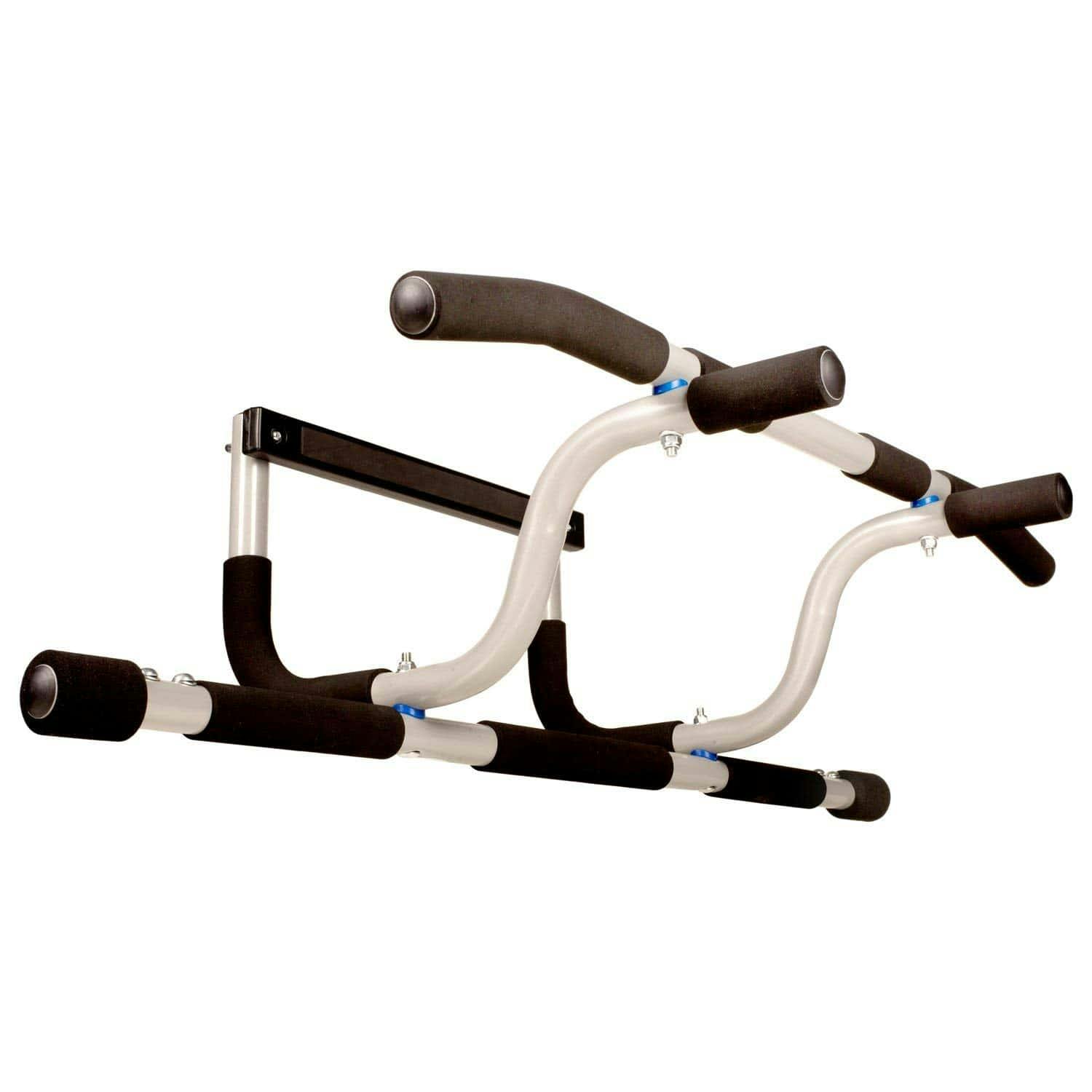 Ultimate Body Press XL Doorway Pull Up Bar
UBP's XL bar features a slightly more complex design that allows for intensive workouts.
The elevated bar enables users to work out their biceps, triceps, and other upper body muscles to the fullest extent.
One great thing about this product is that it can be taken off the wall and used for floor exercises, as well. Essentially, it's like a full upper body workout packed into one compact piece of equipment!
---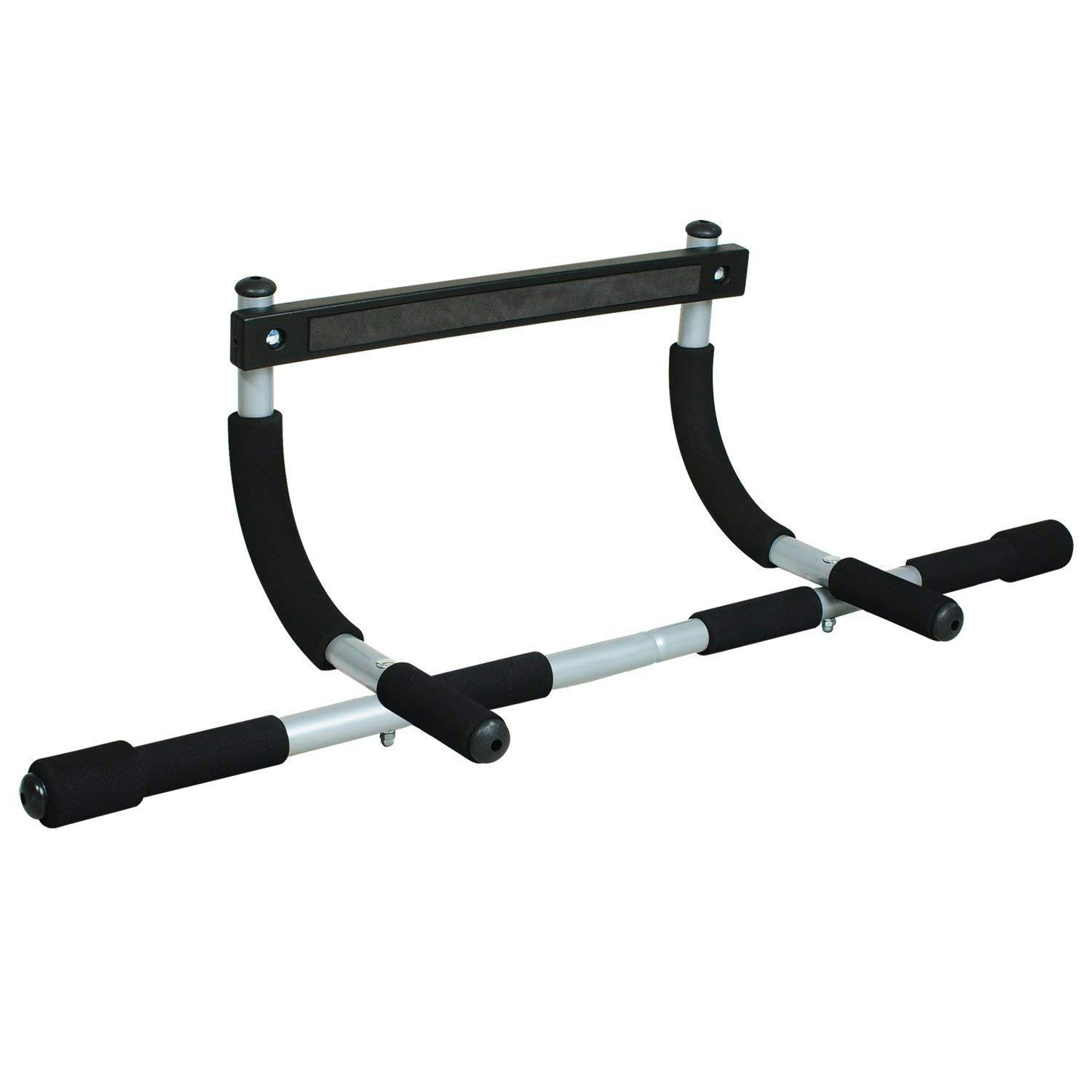 Iron Gym Total Upper Body Workout Bar
One of the best-selling pieces of exercise equipment on Amazon, this pull up bar is designed to fit almost any doorway.
Much like the Sagler bar shown up top, it's a bare-bones design made for anyone who wants to work out at home. With no frills (except the hand grips), it's easy to move and even easier to install.
Spend a few hours a week on this thing and you'll have biceps like Dwayne Johnson in before you know it.
---
do door pull up bars damage?
Pull up bars are built for durability. As long as it's a high-quality product, your bar shouldn't deteriorate for many years.
However, some pull up bars damage your door. They have to be bolted in. So, they'll leave screw holes that have to be plastered over when you remove it.
Luckily, there are a bunch of pull up bars out there that don't have to be mounted. If you buy a product like the Ikonfitness Pull Up Bar Max, you don't have to worry about damaging the wall.
How much weight can a doorway pull up bar hold?
Most doorway pull up bars hold up to 300 pounds. This is the case with the Iron Gym Total Bar and most of the other best-selling bars on Amazon.
There are a few pull up bars that hold more than 300 lbs. The AbleFitness Heavy Duty Bar, for example, holds 330.
Unfortunately, there aren't any bars that hold much more than that. If you're pushing 350 or even 400 lbs and you want a bar, you'll need a pull up tower instead.
Can pull up bars break door frames?
Usually, a pull up bar won't break your door frame. However, there are some cases in which your bar can cause damage.
For example, your pull up bar will damage the door if it's a poorly built frame. If the wood is deteriorating, it may not be fit for bearing weight.
Excessive weight can also cause damage. Most bars are built to hold 300 pounds. So if you put more weight on it, the bar could rip the wall out.