We may earn compensation through affiliate links in this story.
You've purchased your dream mirror, and you can't wait to hang it on the wall. But how? If you don't measure up the right way, making a mistake can be costly! It's not always as simple as drilling a hole and putting in a nail or screw.
In the post below, we tell you everything you need to know about hanging mirrors on hollow core doors. We include step-by-step instructions and photos, as well as tips from our readers.
How To Install Mirror On Hollow-core Doors
Place the mirror in the position you desire it.
Mark the location for hanging the hardware
Drive the hollow wall anchors into the door.
Place the hollow anchors clip and hang the mirror
how to hang a heavy mirror on a door?
Place the mirror in the position you want to hang it.
Make marks where you want to hanging hardware
Drive the wall hollow anchors in door with a hammer at locations.
Put hollow wall anchor screws into mirror clip and hang mirror.
How Do You Hang a Mirror Behind a Door?
The back of the door is a great place to hang a mirror. It's especially a good spot if you have a small bedroom.
Unfortunately, you can't just mount a screw to the back of a hollow door. These doors don't have wood inside to grip the screw. So, the screw is just going to pop out if you try to drill one into the door.
Instead, you should buy an over-the-door mirror. These mirrors come with metal brackets that clip to the top of your door frame and hold the mirror in place.
Here are a few over-the-door mirrors you might like: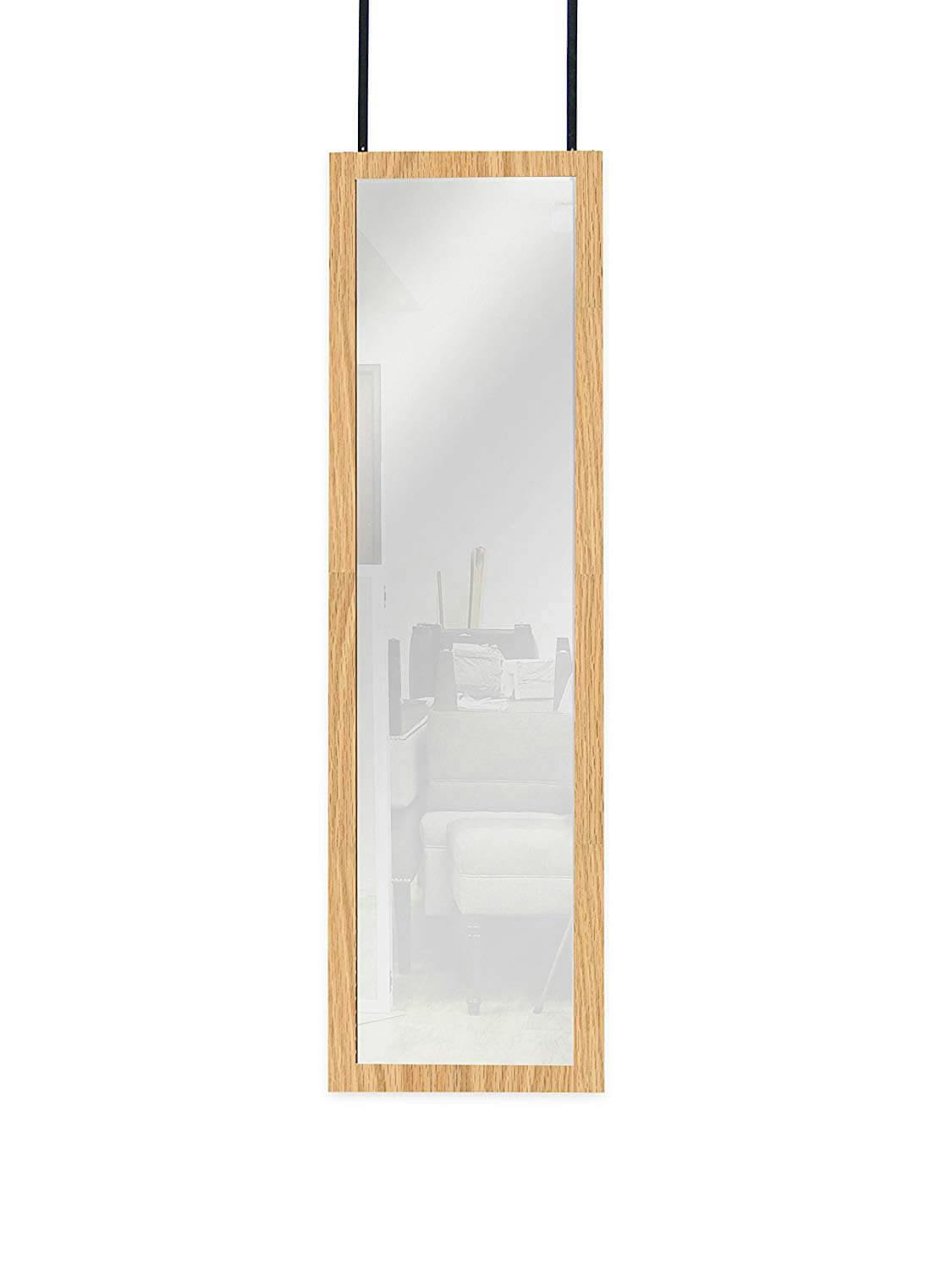 Mirrotek Over the Door Full-Length
This wood-framed mirror comes with mounting hardware that makes it easy to hang on your door.
It's lightweight (only 7 lbs) and simple to install. Installation only takes 5 minutes! Perfect for anyone who wants to avoid using power tools. And, it's reasonably priced ($40), so it won't drain your wallet.
This mirror features a lovely oak-stained wood frame that'll look great in your bedroom or bathroom.
---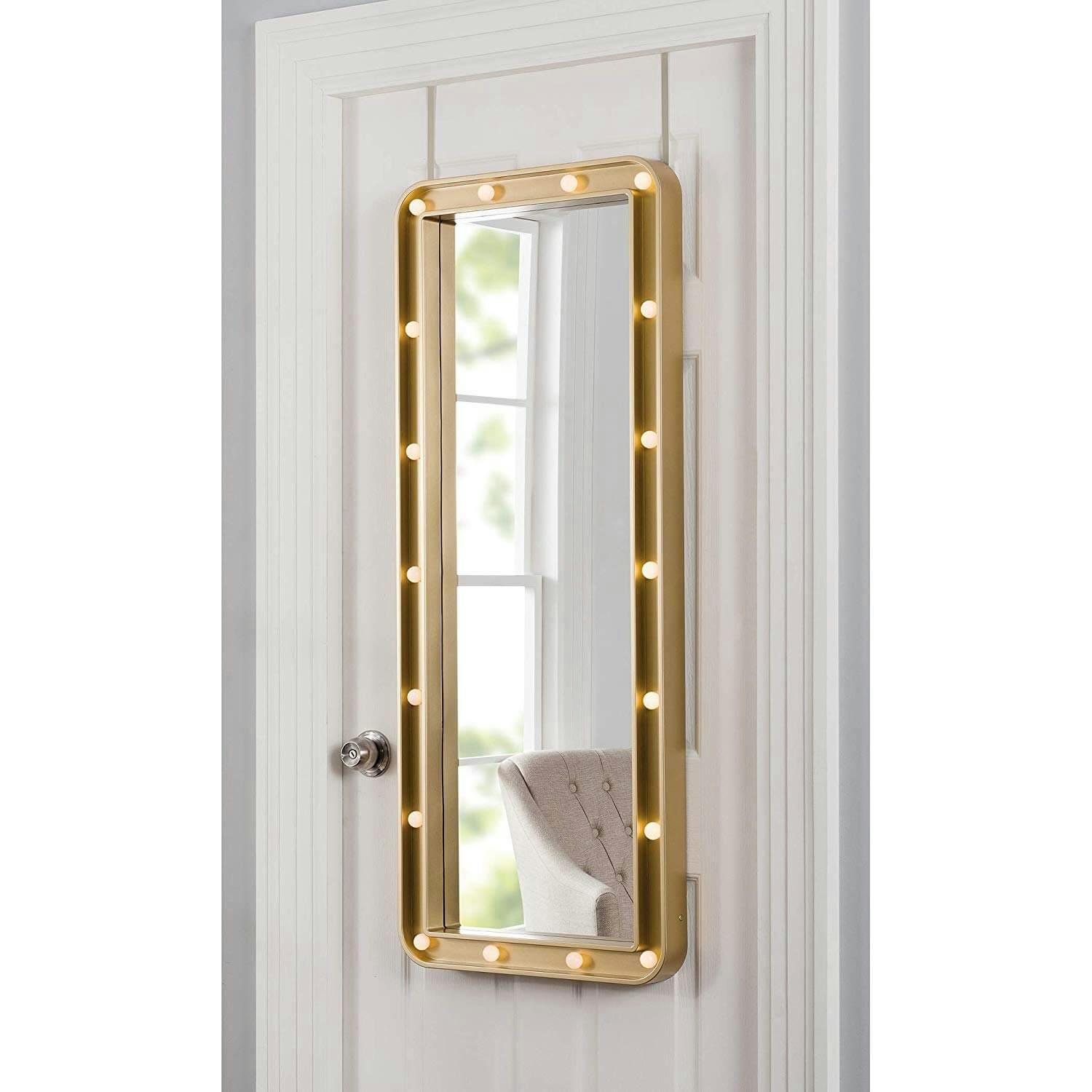 Add some light to your life with this gold marquee mirror from MCS!
The frame features 18 LED lightbulbs that create the perfect lighting environment for taking selfies. The lighting system operates on AA batteries (not included) and runs on a timer to avoid battery drainage.
It's super easy to install and fits doors up to 1.8″ wide. If you're looking for a mirror that's a bit more glamorous, then you'll totally love this one!
---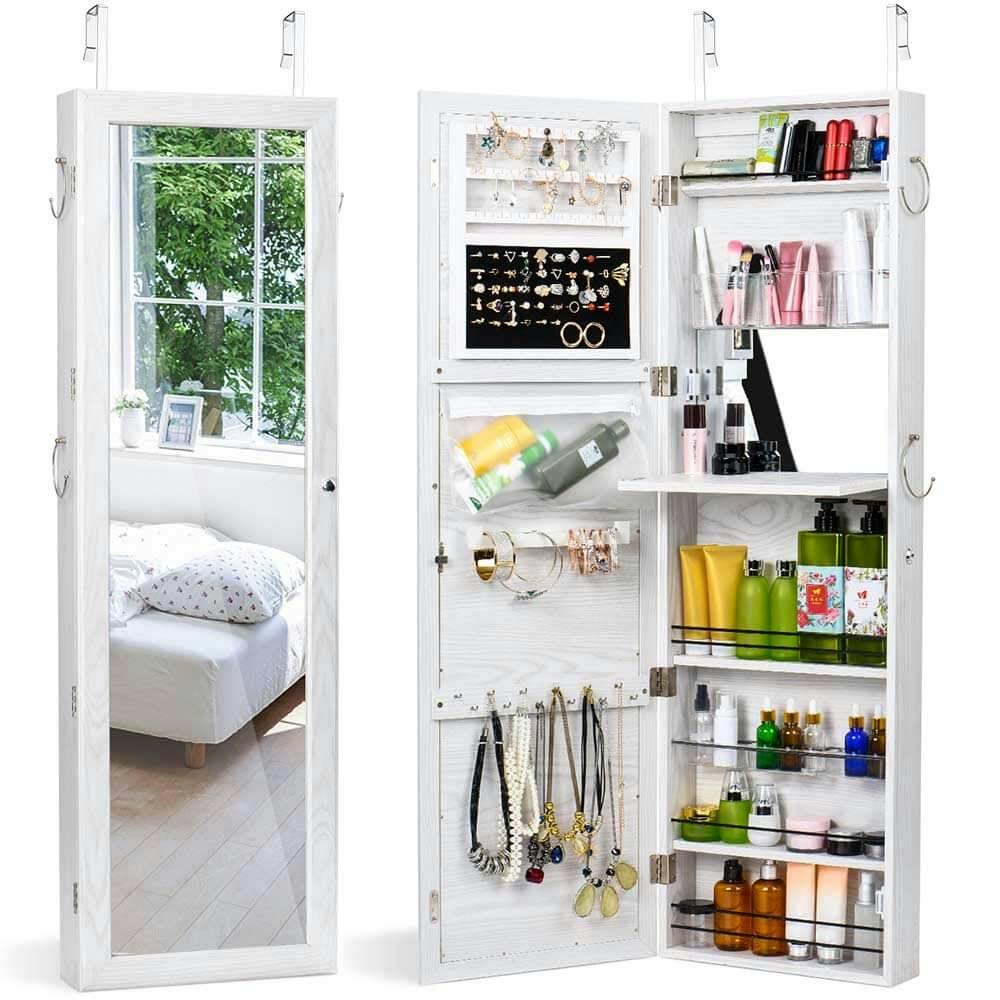 TWING Wall-Mounted Jewelry Cabinet with Mirror Door
If you need extra storage and a mirror, this jewelry cabinet is exactly what you're looking for. It's actually a wall-hanging jewelry cabinet that features a mirror on the door and storage space on the inside!
This product comes with brackets for door-hanging, but can also be mounted to a wall. And, it's thick enough to stand up on its own. Move it around and find the spot that works best for you!
---
hang a mirror without hooks
Take a 2×4 and make it the width of the frame.
Cut it down the middle and make it 2x2s
Notch the 2×2 3/4 inch x3/4 iinch
Plance the shiplap joint onto the wall
Apply glue to the end of the joint and place the hanger1/3 of the way from top of the frame.
Use screws to attach the wall hanger and screw into the wall on a stud