We may earn compensation through affiliate links in this story.
Sick of scrubbing your bathroom mirror? Worried that the constant moisture in your bathroom will ruin a nice, wooden frame?
Well, a brushed nickel framed mirror could be just what you need.
These stainless mirrors are framed with nickel, making them easy to clean and even easier on the eyes. They have a sturdy, industrial look that matches nearly any decor you pair them with.
Pair this with a midcentury sconce & euro-style glass shower door and you have the recipe for the perfect bathroom.
Our Recommended Mirrors
Brushed nickel came into popularity during the early-to-mid 1900's. At that time, designers were really excited about having access to mass-produced metals for the first time. So, we tend to see a ton of vintage mirrors framed in brushed nickel.
Unfortunately, authentic vintage mirrors can run pretty expensive. We've seen mirrors that cost several thousand dollars.
But, luckily there are a ton of great reproductions out there. Here are a few of our favorites.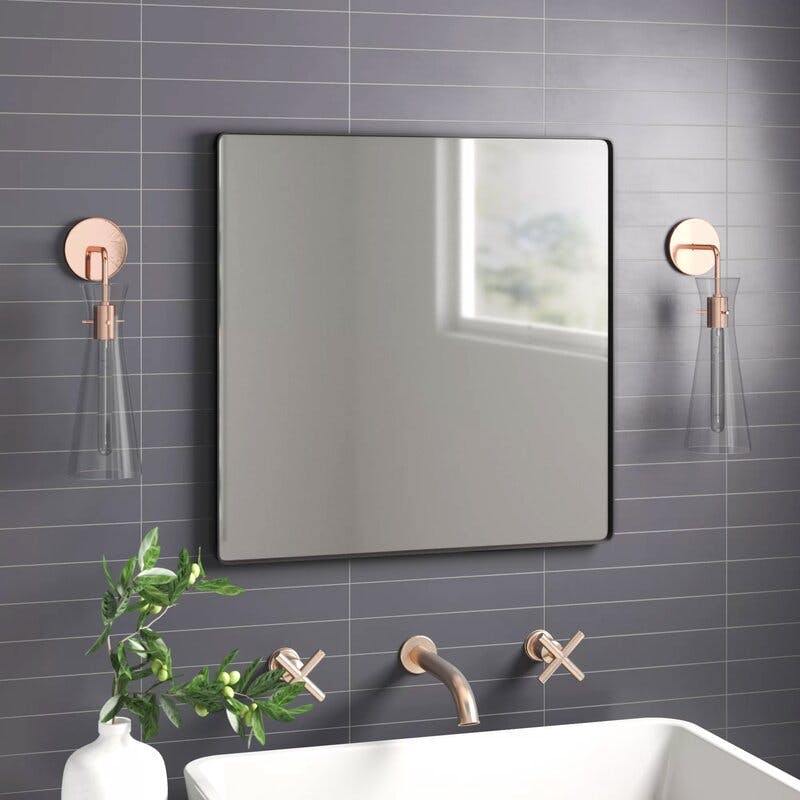 Theodore Modern & Contemporary Accent Mirror
Slight radius corners and modern aesthetic make this the perfect choice for midcentury modern or modern bathroom.
---
1/4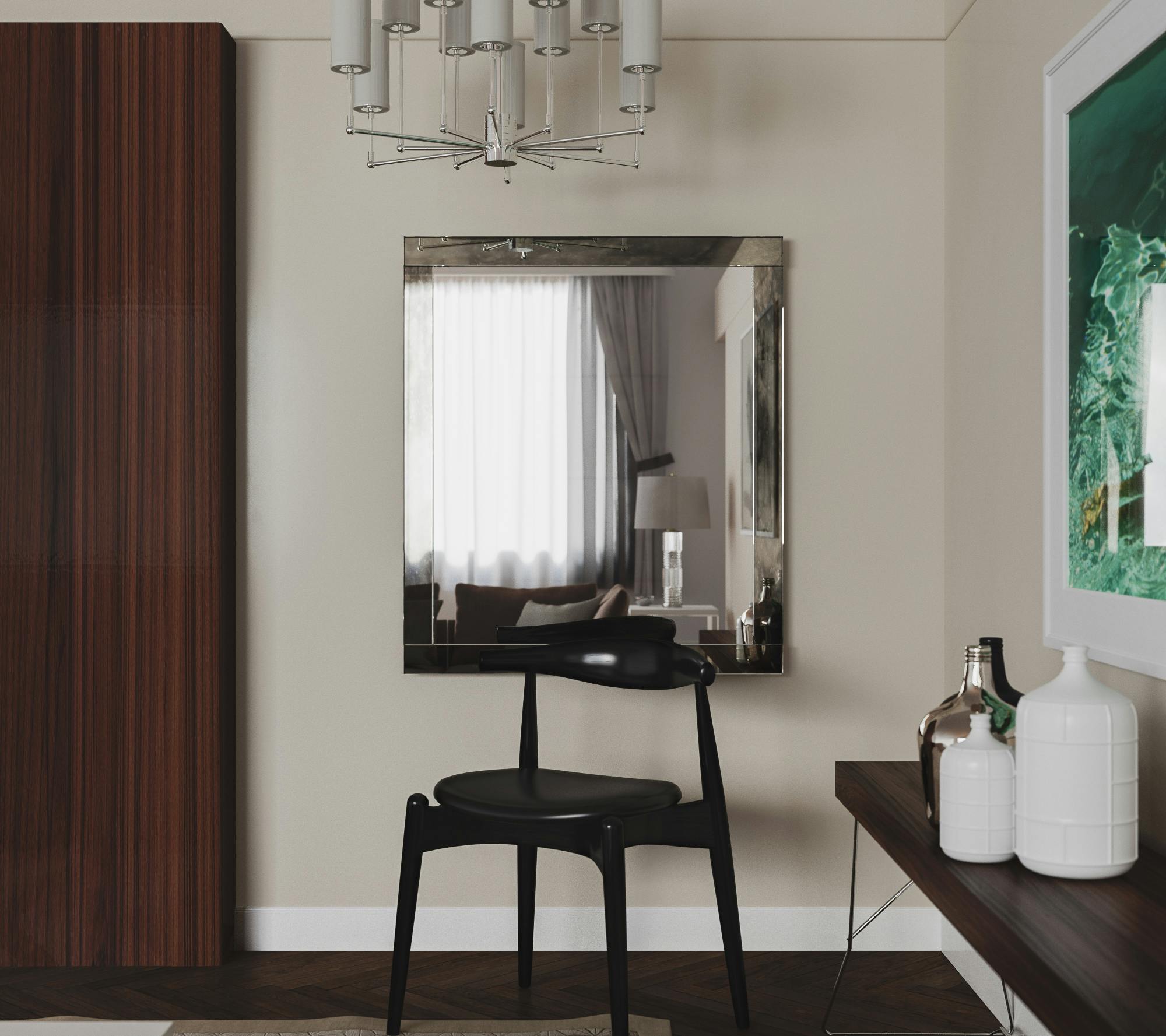 Framed Antiqued Mirror from MirrorCoop
Elegant framed antiqued mirror, perfect for vanity
---
1/4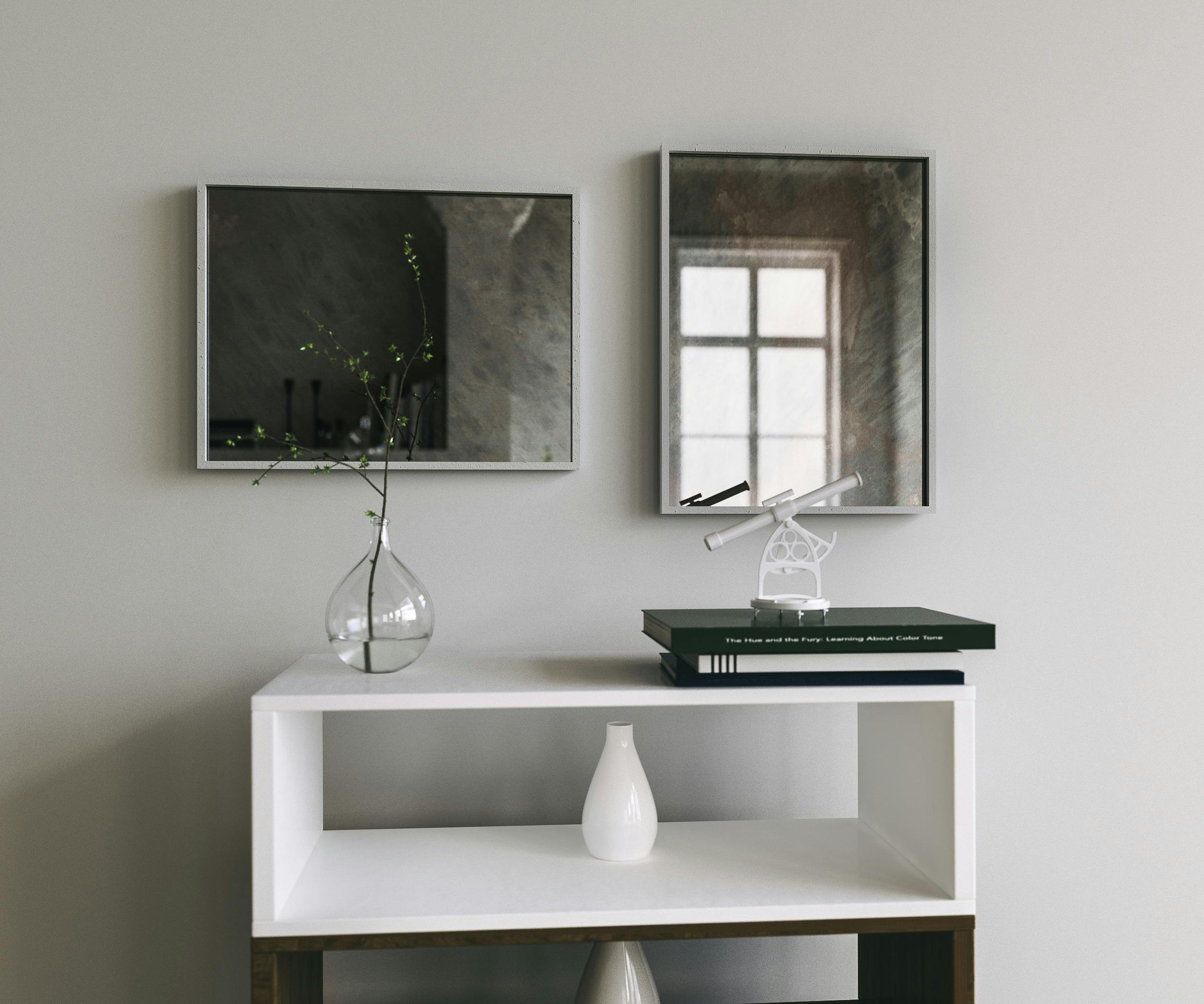 White Framed Orange Antiqued Mirror from MirrorCoop
Photo shows two framed antiqued wall mirrors
---
1/4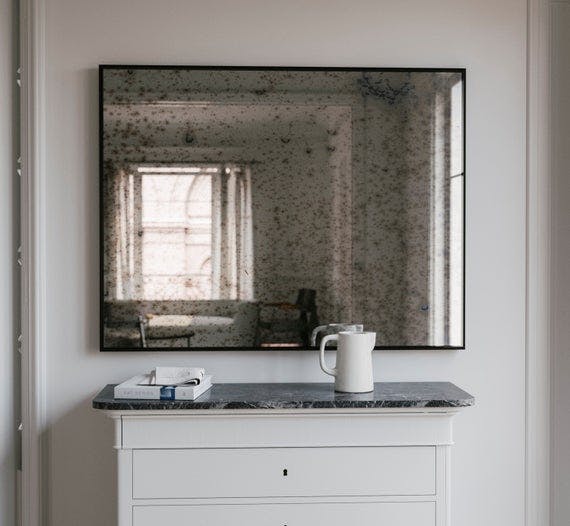 Subtle Framed Spotted Mirror from MirrorCoop
Framed antiqued mirror with spotted or "mercury" pattern. Frame is a thin, 1/8″ border along the edge of the piece.
---
1/4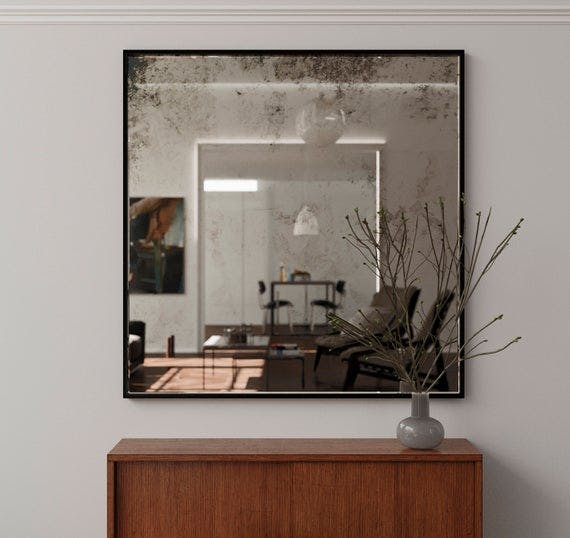 Square mirror with hand made antiqued and MidCentury style. This mirror has a 1/8″ steel frame with a black finish.
---
Are There Special Mirrors For Bathrooms?
Bathroom mirrors are specifically designed to live in the lavatory. These mirrors are moisture resistant, so they don't bend or warp over time. Sometimes, their crevices are typically sealed with silicon to prevent mold from growing over inside of them.
In other words, you can't just buy any mirror and put it in the bathroom. If you do, you'll find that it deteriorates far quicker than a bathroom-specific mirror.
Online Conversations About Brushed Nickel Vanity Mirrors
Here's a Reddit thread that has some great suggestions for brushed nickel fixtures
[Amazon] 30% Off OWOFAN Single Handle Touch On Kitchen Faucets with Pull Out Sprayer, Brushed Nickel for $74.64
Brushed Nickel Bathroom Mirror Trend
After being very popular in 2004, brushed nickel mirrors have slightly increased in popularity…
More Articles About Bathroom Mirrors
Bathroom Mirrors Archives – MirrorCoop
Brushed Nickel Bathroom Mirror [June 2020] · Start Here | About Mirror Coop |
Contact Us | Mirror Tiles + Sheets · Tools | Backsplashes | Recently Updated
Best Magnifying Mirror
Best Nickel Finish Magnifying Mirror … your bathroom, especially if you have a
brushed nickel finish …