We may earn compensation through affiliate links in this story.
We may earn compensation through affiliate links in this story.
We may earn compensation through affiliate links in this story.
Pink mirrored glass has been hard to find since the 1950s. Before then, in the Art Deco period, pink mirror was very common in furniture pieces, wall decor, and interior installations (like mirrored walls). After the 1950s, however, the original practice for creating pink mirror was exposed as dangerous and other materials came in to fashion.
Below, I show you where you can find pink glass mirror today for any application — wall mirrors, custom sized pink mirror for a backsplash, or a custom piece for furniture…Ready? Let's go!
Editor's Choice for Pink Wall Mirror
Editor's Choice for Pink Wall Mirror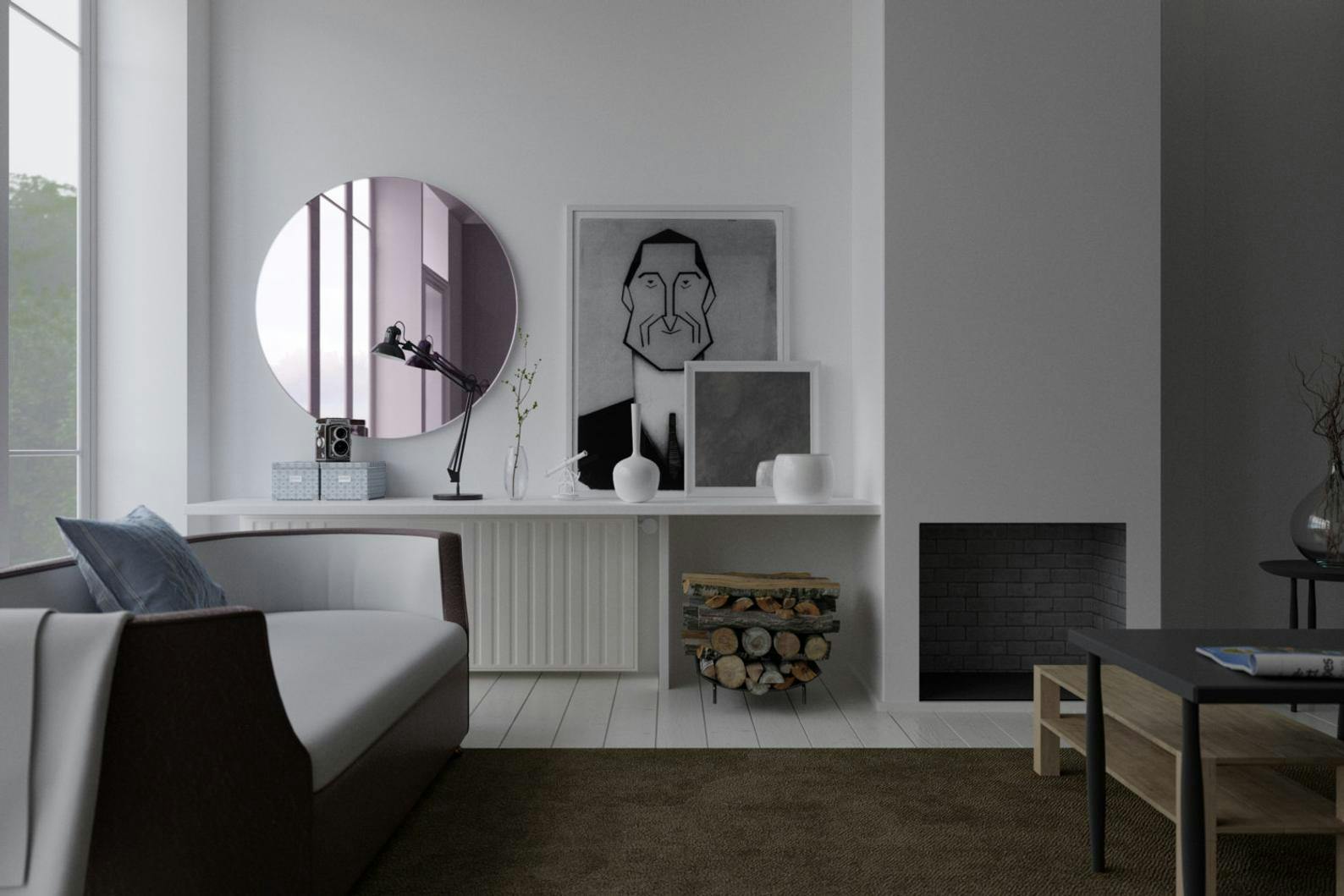 MirrorCoop Pink Wall Mirror $1,180.00
Classic Art Deco style pink wall mirror featured in Architectural Digest
Research / Frequent Questions
What is pink glass?
Colored glass is made by mixing chemicals into the glass during the molding process.
Pink glass, for example, is produced through the introduction of a chemical called selenium. This chemical causes the glass to turn red. By using larger or smaller amounts, glassmakers can create glass in various red shades.
This process is somewhat expensive in comparison to the process used to create other colors. That's partly why pink depression glass is so valuable.
what color of depression glass is most valuable?
Certain colors of depression class are more valuable than others. Cobalt blue and green, for example, are among the rarest types of depression glass. So, they're valued higher and collectors are usually willing to pay more for them.
It's pink, however, that takes the title of Most Valuable Color.
When it comes to depression glass, dealers and collectors are willing to pay far more for pink pieces than any other color. A simple set of plates goes for as much as $250!
is pink Depression glass valuable?
How valuable is pink depression glass, exactly?
Well, here are a few examples to give you an idea.
This depression-era ashtray is currently going for $180 on eBay.
And this vintage centerpiece set? It's going for $250!
As you can see, pink glass is pretty valuable. If you've got a few unused pieces laying around the house, you could make a good amount of money by selling them at auction.
Our Favorite Pink Framed Mirrors
Our recommendations…including a little about what makes each special
5/8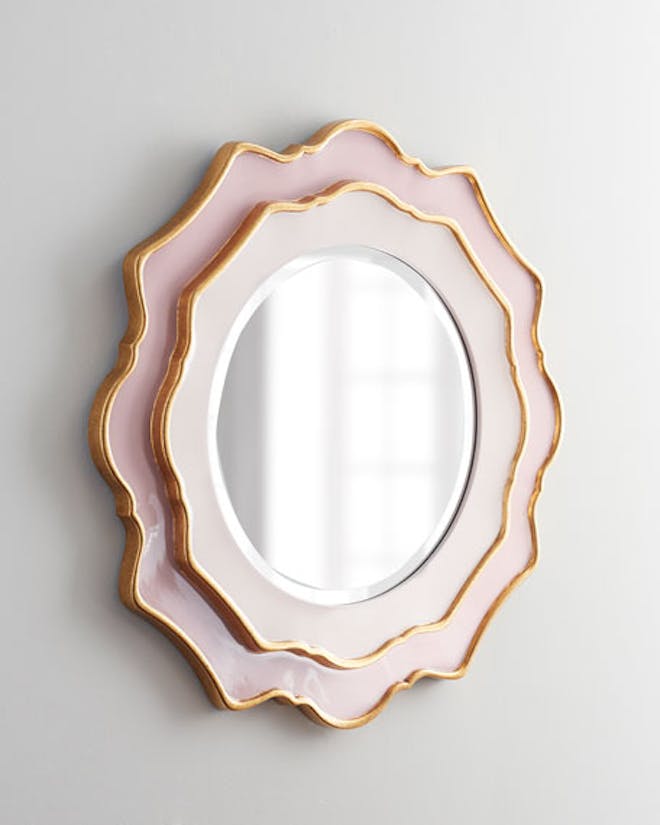 Horchow Rosemead Mirror $206.00
Interesting mirror with gold accent and powder pink frame. I love this mirror and think it would look great in a contemporary home.
---
1/8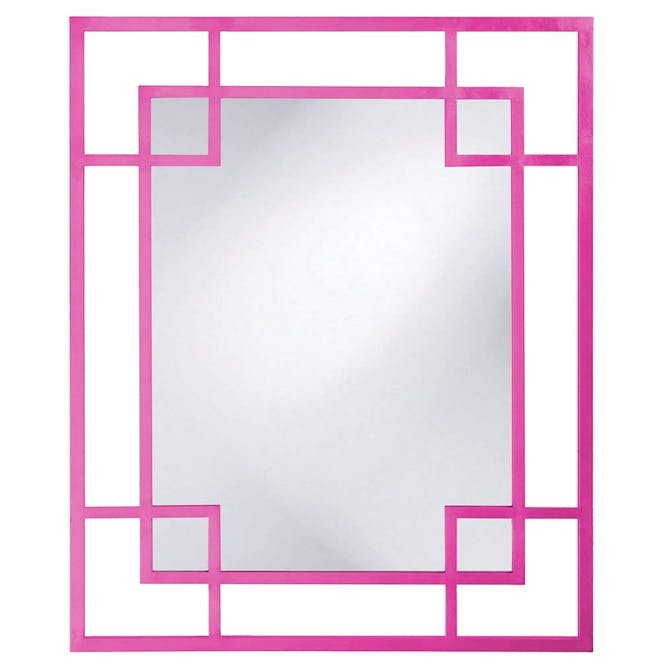 Howard Eliott Pink Framed Mirror $251.00
Bright, contemporary take on pink mirror from Howard Elliott. This piece would look great as a statement pieces in an otherwise vanilla room.
---
3/8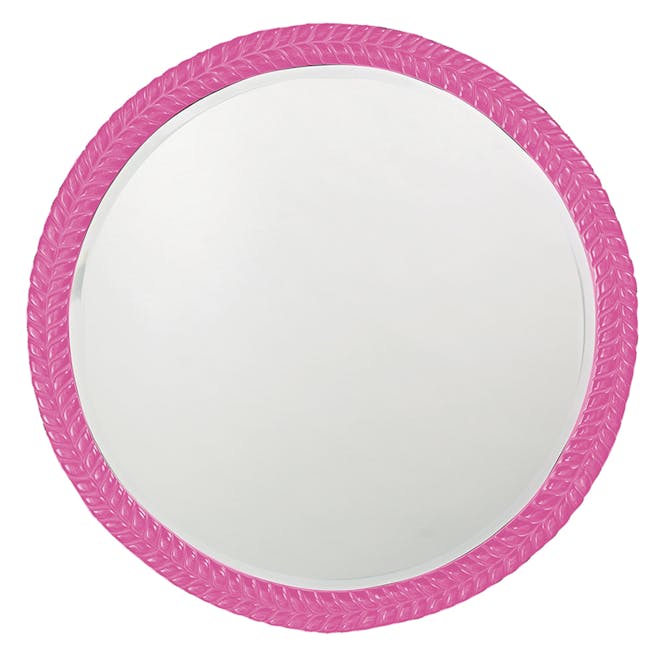 Howard Eliott Amelia Glossy Hot Pink Mirror $275.00
Simple, pink framed wall mirror that measures 32″ x 1″ deep. Perfect as an accent in a guest bedroom or half bath.
---
4/8
Our Favorite Pink Framed Mirror
Our Favorite Pink Framed Mirror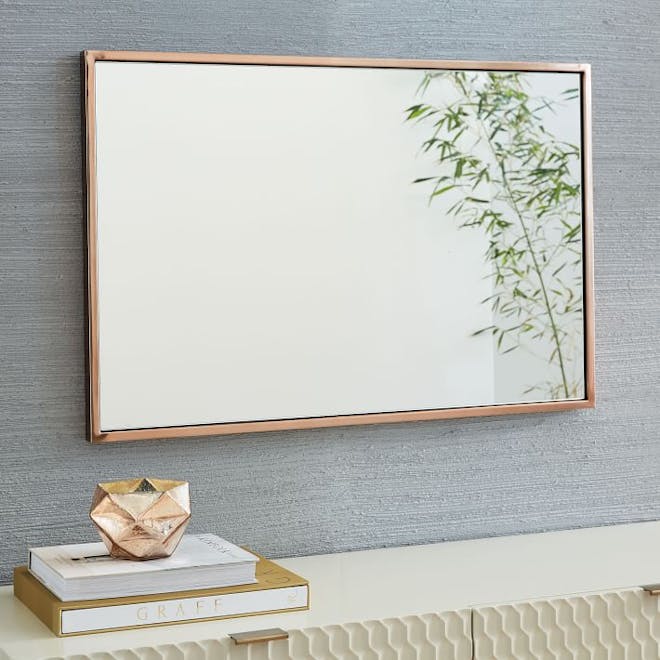 West Elm Metal Framed Wall Mirror $299.00
Streamlined and versatile, our Metal Framed Wall Mirror adds a polished finishing touch to any room.

---
2/8

WS Bath Collections Rectangular Wall Mounted Framed Mirror $508.00
Italian style pink framed wall mirror with subtle frame. Perfect piece for just a touch of pink in your space.
---
8/8
Best Of The Big Retailers
Best Of The Big Retailers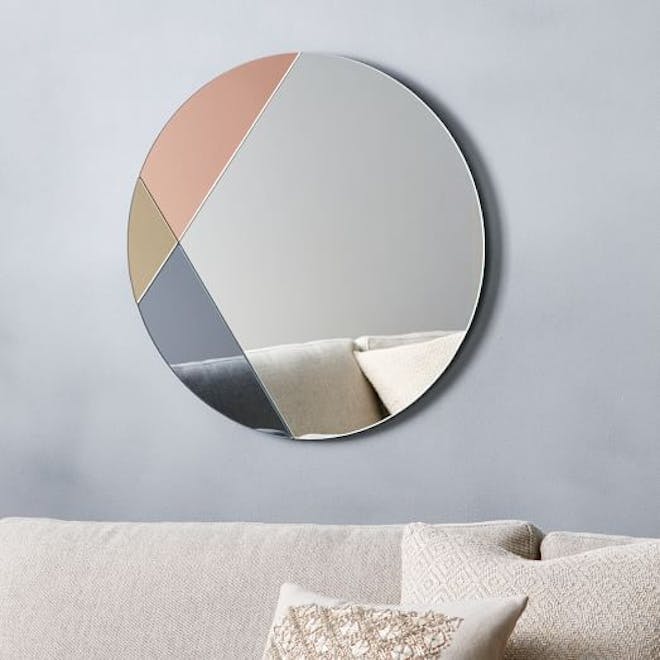 West Elm ColorBlocked Mirror $565.00
Modern wall mirror with interesting blue, gold, and pink accents. This is one of our favorite pieces for its forward thinking design and cool frameless shape.

---
7/8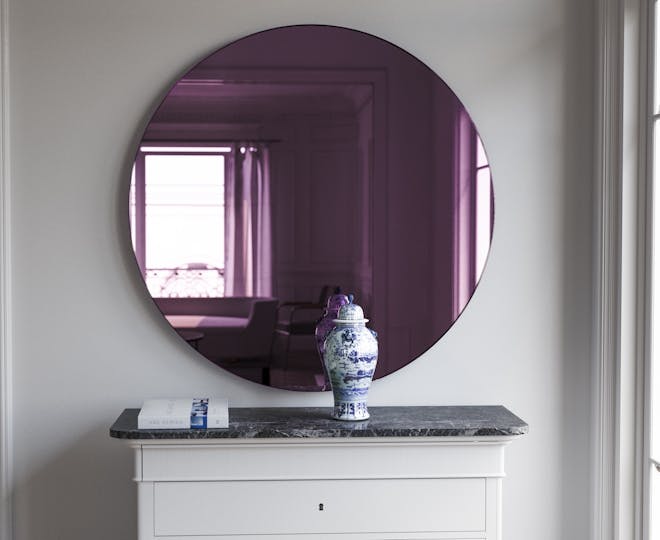 Color & Mirror Deep Purple $1,195.00
34″ dark purple mirror by our friends at Color & Mirror. This piece is an Art Deco throwback with its rich color and round shape.
---
6/8
Best Of Handcrafted
Best Of Handcrafted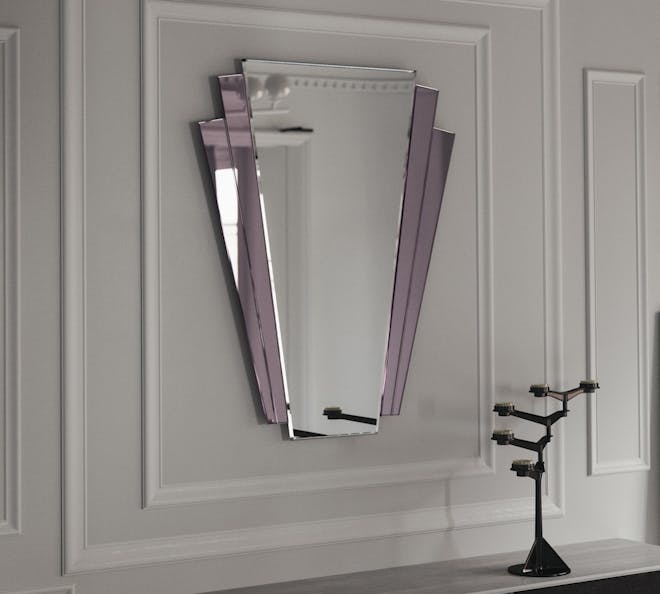 Color & Mirror Art Deco Petal Mirror $1,750.00
Art Deco inspired fantail mirror by Color and Mirror. This piece has beautiful pink mirrored accents and a classic 1920s fantail shape.

---
How is This Pink Mirror Available?
Pink Mirror
As I mentioned above, the 1920s method for creating vintage pink glass was proved toxic and very dangerous in the 1950s, which led to a halt in the production of colorful mirror.
Today, non-toxic, artisanal methods for creating pink mirror and other colored mirror glass do exist, though they require much skill and special equipment. The mirror mentioned in this article uses the latter, non-toxic method for creating pink mirror.
Where Can You Find Pink Mirror
Pink Glass Mirror
If you are looking for pink mirror as a compliment to part of your home — like a backsplash or mirrored wall — you need custom sized pink mirror. Below, I let you know where you can find it!
MirrorCoop Makes Custom Sizes Pink Mirror As a furniture design studio, MirrorCoop specializes in creating custom pieces of mirror in all colors, including pink. As such, we can produce most size, edges, and shapes with our pink mirror.
Color & Mirror is another mirror studio that produces pink glass mirror. I'm not sure of their capability, but some of our design clients have worked with them in the past. I do believe they use vintage material, not reproduction mirror like we do.