Looking for a round antiqued mirror? You're in the right place. This article shows you 9 of our favorite round antiqued mirrors — how they been used and where you can find them.
Below are my picks for the pick frameless antiqued mirrors. I love round mirrors for their minimal look — and because they are so easy to integrate into your existing decor. Some of the mirrors are from my studio, while others are from vendors that I like.
1/9
Best Round Antiqued Mirror 🌟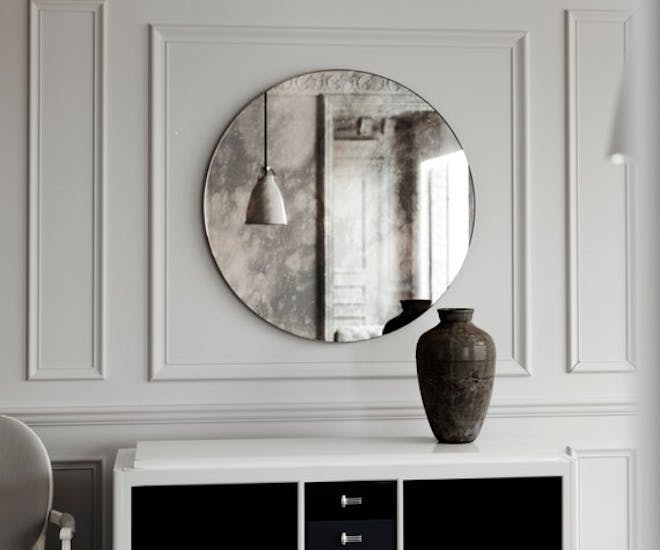 One of our most popular wall mirrors. The Emy has a light, stormy finish and very modern aesthetic.
The piece is frameless, with a polished edge and high visibility. In other words, you could use this piece to apply make up without any problem.
The piece is shown at 28″ but comes in any diameter between 8″ and 60″
2/9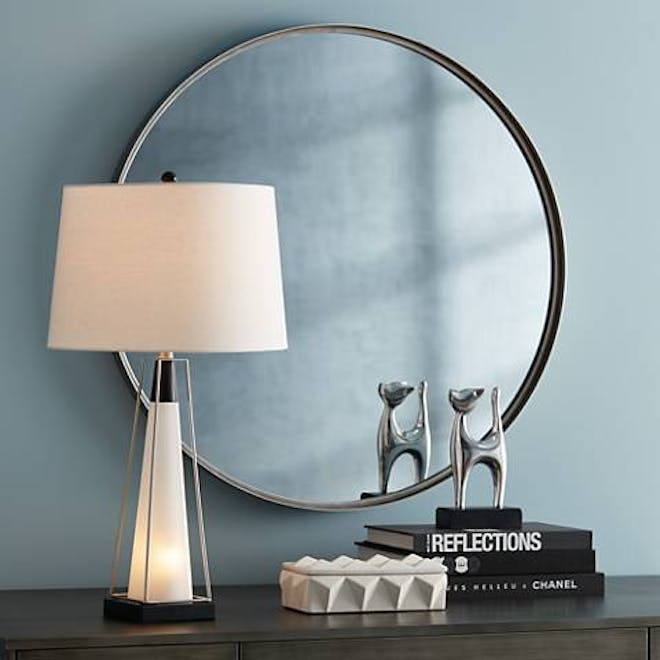 Uttermost Sierra Antiqued Mirror $250.00
Subtle 34″ antiqued mirror with minimal brushed metal frame. Great as an accent piece in a foyer or bathroom.
---
3/9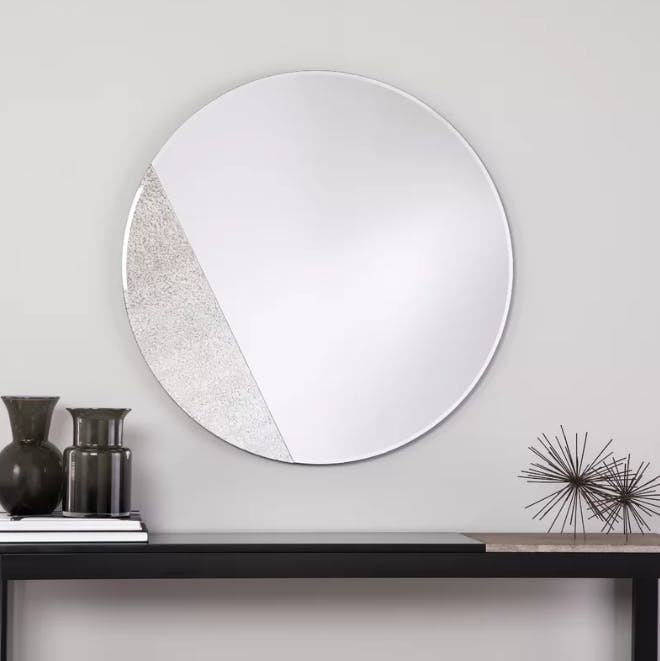 Wrought Studio Hutchinson Accent Mirror $169.00
Antiqued accented mirror with Modern design that is very popular right now. Tons of clear space on this mirror for easy viewing.
---
4/9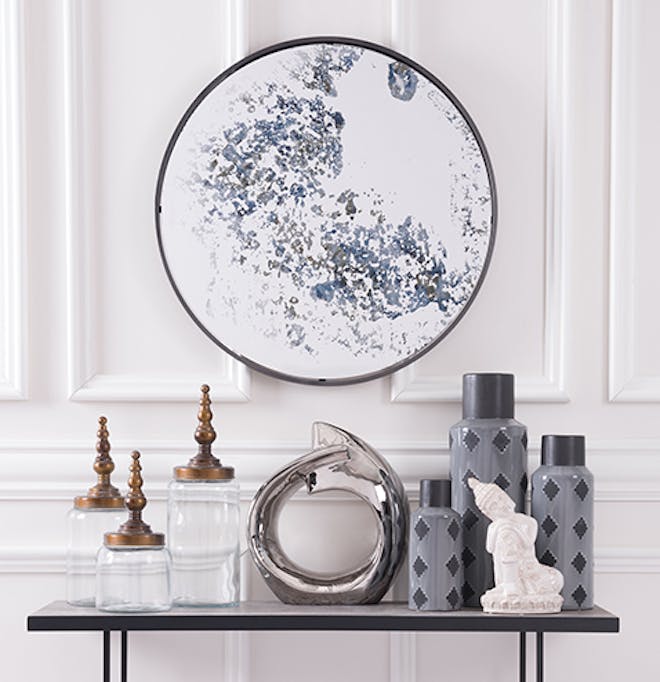 Zuo Modern Blue Antique Finish Mirror $190.00
30″ diameter antiqued mirror with very abstract finish. This piece has a blue tint that would work well if you are looking for something more artistic.


---
5/9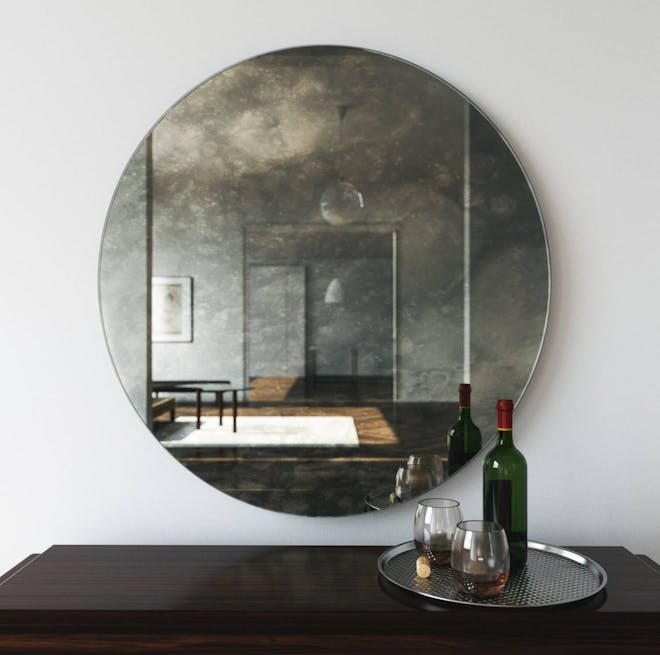 52″ Hanging decorative wall mirror made with antiqued mirrored glass. 1950s inspired large European wall mirror with smoked glass mirror.


---
6/9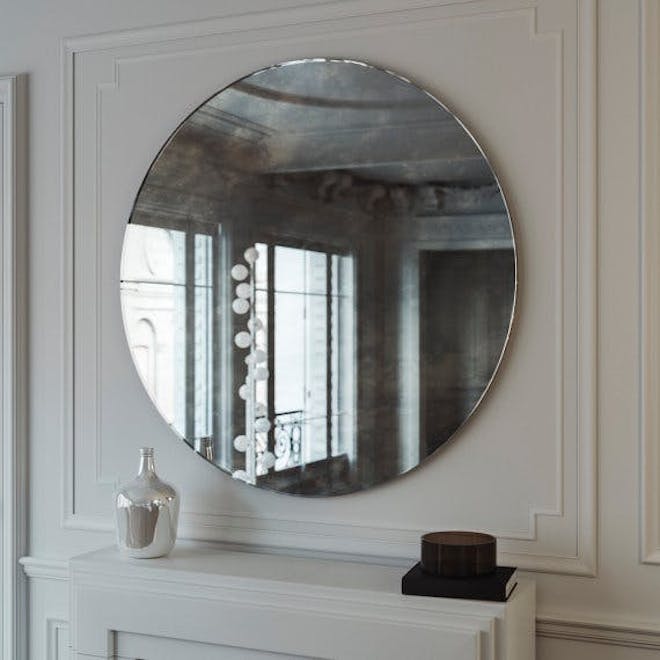 Another classic — and maybe our most loved — the Emory is a simple, elegant beauty.
With its cloudy finish, the piece has a simple antiqued patina perfect for creating a little mood with out going overboard.


---
7/9
Best Distressed Round Mirror
Best Distressed Round Mirror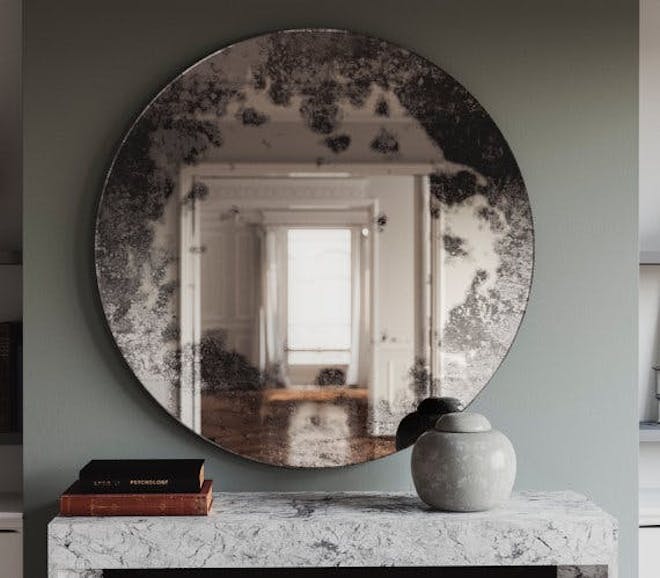 MirrorCoop The Penelope $1,715.00
Just like its name, the Penelope is a dynamic, fun, and exotic wall mirror.
The center, viewing section of the mirror is clear, while the edges have a black patina, creating an artistic effect and pseudo frame along the outside of the mirror.
---
8/9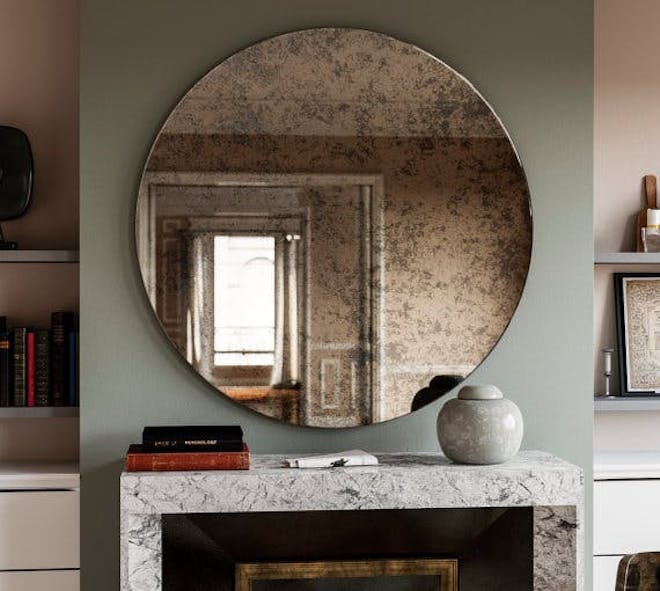 MirrorCoop The Olive $1,195.00
One of our moodier mirrors, the Olive has a dark patina that works well in a Midcentury interior space.
Another frameless mirror, the Olive is a more traditional part of our collection.
If you want to add some artistry to your space but don't want to stray to far, this is a great option.


---
9/9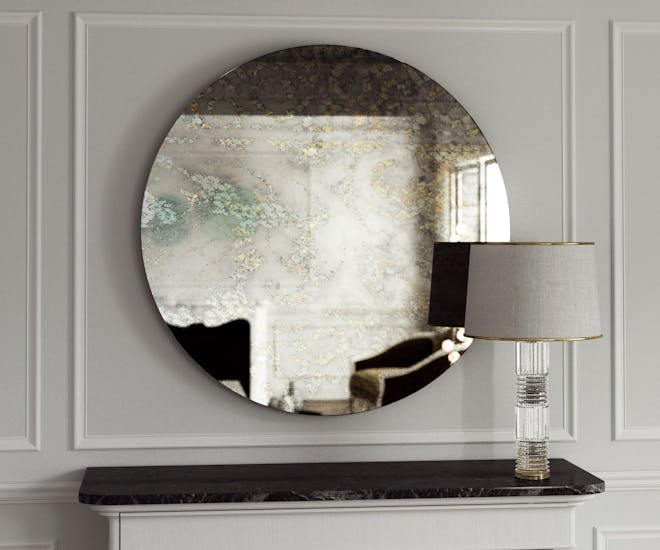 MirrorCoop The Galyn $1,135.00
Look closely and you will see what sets this piece apart. The light gold shimmer that the Galyn has creates a lowkey sparkle on the surface of the mirror.
This piece is a subtle yet interesting statement that is perfect in a boho bedroom or living space.
The sparkling gold fits with the boho aesthetic, providing a colorful, dynamic reflection of your space.


Decorating Your Space with Frameless Mirrors
Round mirrors have been a central piece of wall decor since the 1920s. Traditionally, round mirrors are made as vanity or foyer mirrors. Today, they are also used as decorative pieces.
Frameless mirrors have also been a longstanding wall accessory. With frames, there is a lot of finish matching that you need to get right for the look to be perfect.
Frameless mirrors don't need this extra layer of detail and have a great, Modern look in most instances.
---
Want More Design Inspiration ?
Subscribe to our newsletter to see stories like this one every day.
Looking for more antique wall mirrors for sale?? We handbuild custom wall mirrors.