The midcentury period produced some of the most iconic mirror designs in history.
With newfound access to mirrored glass and a wealth of framing materials to experiment with, the midcentury modern designers created an endless amount of amazing mirrors.
Today, you don't have to look very far to find a great, midcentury-inspired mirror.
Check out our guide to see some of them below.
Editor's Choice
Editor's Choice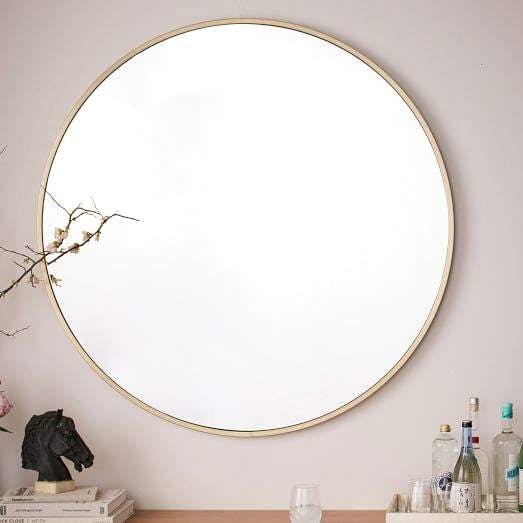 Subtle golden framed, oversized wall mirror with classic elegance and simplicity.
The Shortlist of Our Favorite MidCentury Mirrors Below
See our picks for the best below ↓
---
our favorite jeans
Our Favorites MidCentury Modern Mirrors
There's no shortage of midcentury modern mirrors available on the web.
If you browse through the catalogs on sites like Chairish, you'll find hundreds of stunning, authentic mirrors from the 1950's, 60's, and 70's.
But, they tend to run pretty expensive (like thousands of dollars expensive).
So, a lot of midcentury enthusiasts opt for reproductions, instead.
They look just as good, too! You can find some of our favorites below.
1/11
Decor Wonderland Large Bathroom Mirror
You definitely don't have to look far to find a good reproduction. In fact, you can find a nice one at your local Walmart.
This large, midcentury-style mirror goes for a little over a hundred bucks. Made from a single, two-toned panel, it hangs both vertically and horizontally and would would amazing in your bathroom or living room.

---
2/11
Best Standing Midcentury Modern Mirror
Best Standing Midcentury Modern Mirror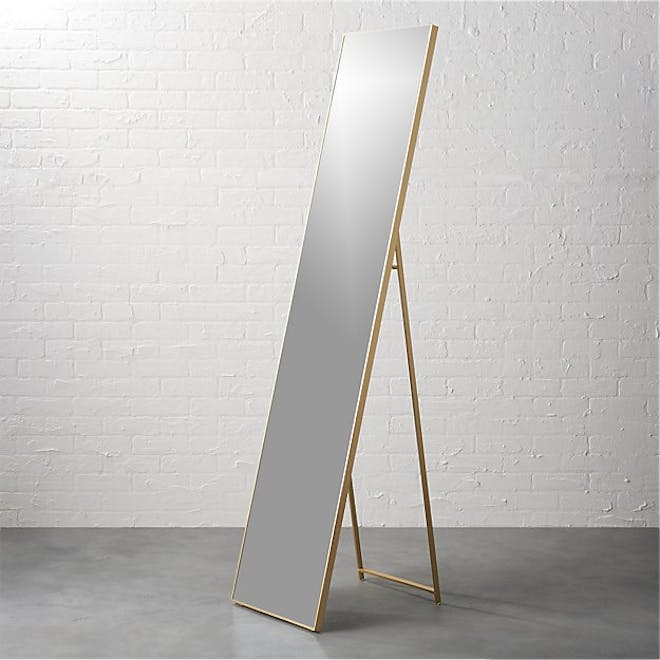 CB2 Infinity Brass Standing Mirror
Although the midcentury designers valued experimentation, most of them worked with functionality in mind. As a result, you'll find that many of their piece are made to be moved around and stored easily.
This model, created by the furniture outfit CB2, is a great example. With a thin frame and a folding mechanism that allows it to stand upright, you can move this mirror and store it in the closet whenever you need to.

---
3/11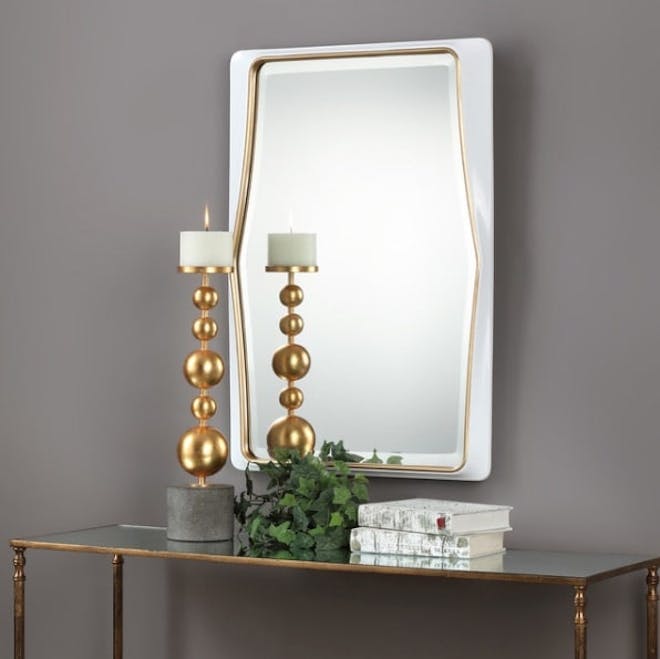 Uttermost Midcentury Modern Gloss White Wall Mirror
This midcentury reproduction mirror from Uttermost is rectangular, yet adorned with a uniquely shaped frame.
Cast in white urethane and decorated with a thin layer of gold leaf, this piece almost borders on Art Deco. So, if you're a fan of gold (or glitzy) decorations, this one might look perfect in your collection.
---
4/11
Best Unique MidCentury Modern Mirror
Best Unique MidCentury Modern Mirror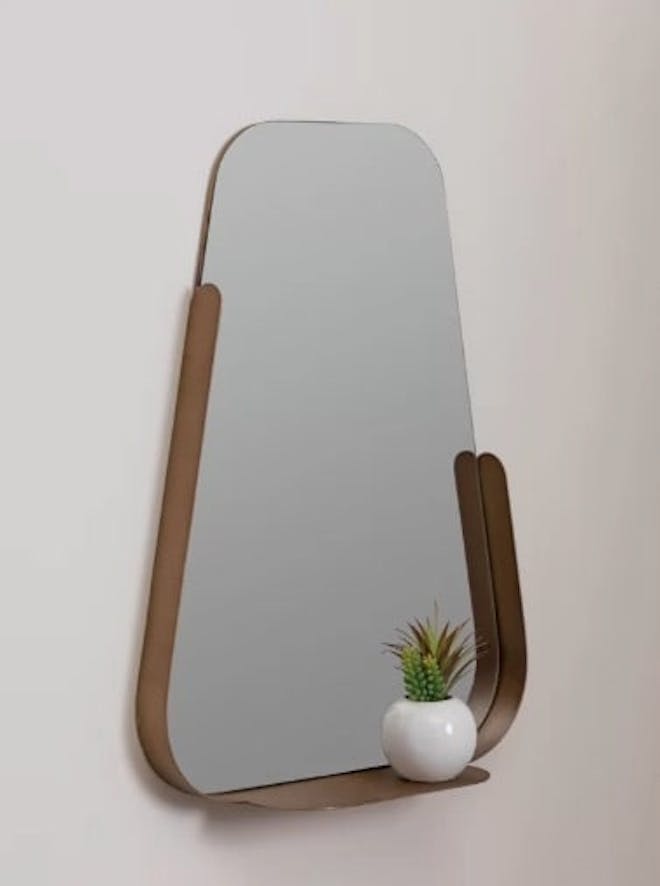 Cooper Classics Kayley Accent Mirror
One of the best things about the midcentury designers is that they experimented with shapes in interesting ways. And this mirror, available on Perigold, captures that aspect of the period perfectly.
Almost triangular, this mirror is both geometric and organically shaped.
And, it features an asymmetrical shelf along the bottom half that's perfect for displaying plants or other decorations.

---
5/11
Framed Mid Century Modern Mirror
Framed Mid Century Modern Mirror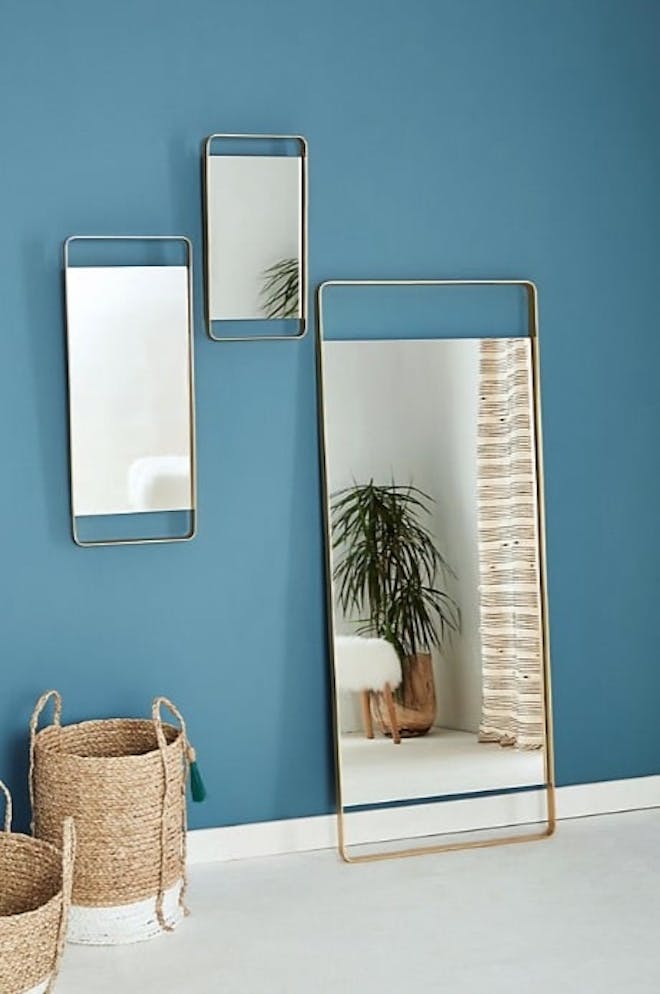 Anthropologie is always a go-to-place for midcentury reproductions. Whether you're looking for furniture or decorations, their designers just seem to understand what it takes to make things look authentic.
This midcentury mirror reproduction is a great example. Framed by a brass rectangle that allows it to "hover" a few inches off the ground, this piece looks directly out of the midcentury period.

---
6/11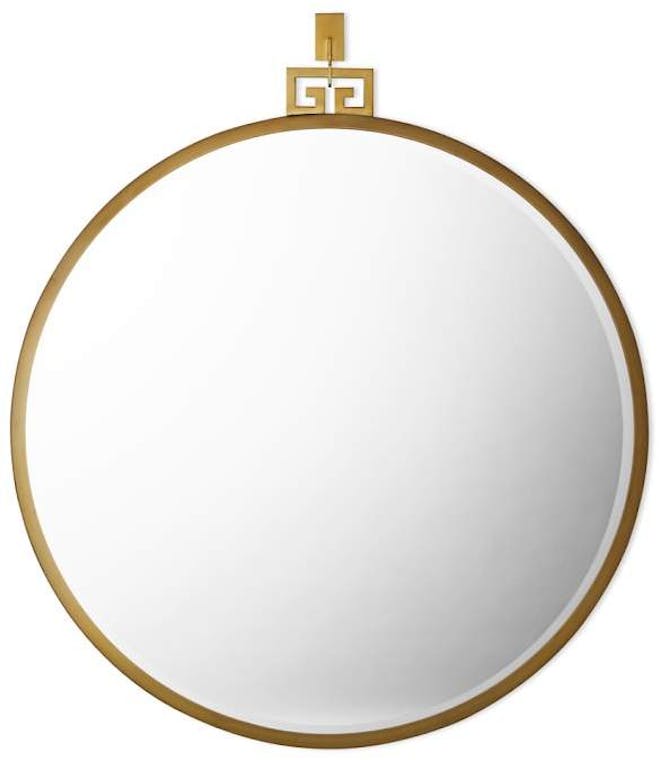 Summary Simple and stunning, our circular mirror is topped with a squared Greek-key symbol. The metal mirror features an antique-brass finish, w
---
7/11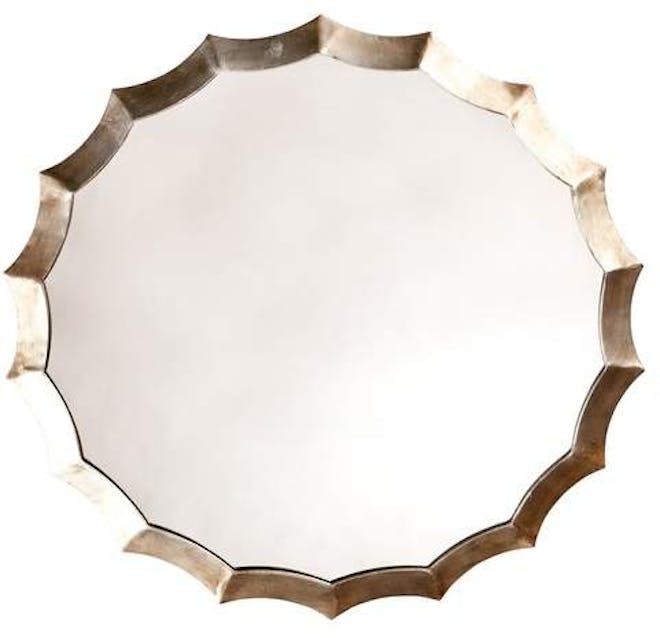 Metal Dust with dry cloth only.
Color: silver
32″ H x 32″ W
Ready to hang
Imported
---
8/11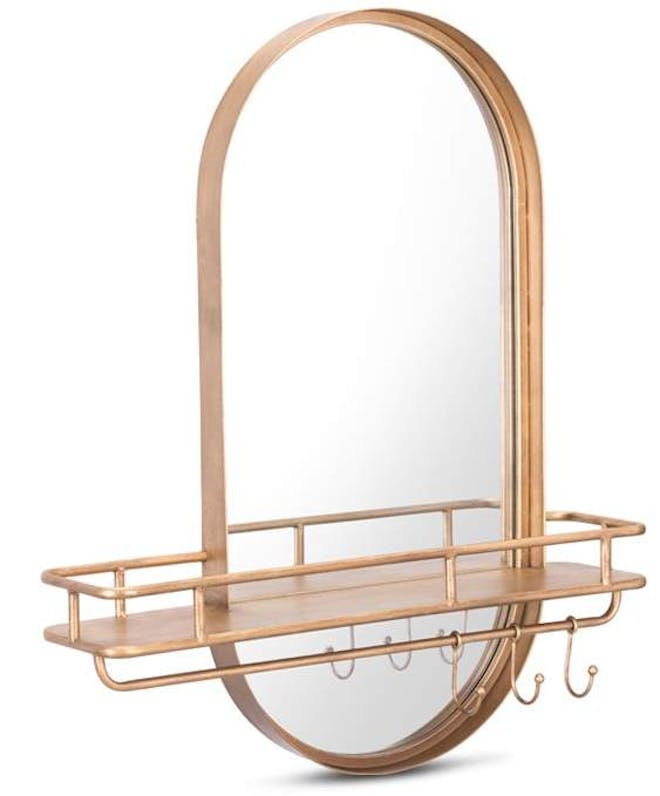 The Windward Mirror blends nautical charm with modern luxury. A built-in shelf and hooks make this piece a no-brainer for front entryways and ba
---
9/11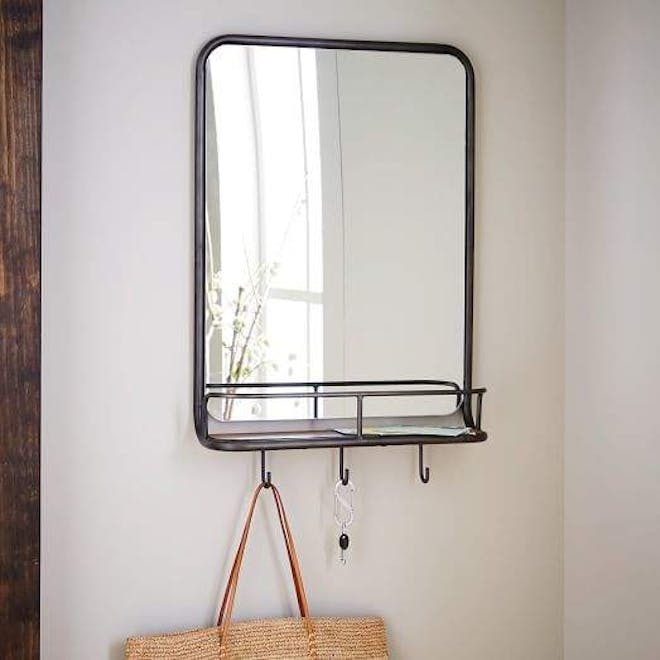 Make an entrance. Made from steel, this industrial-chic mirror has 3 handy hooks, perfect for stashing jackets, hats and more. A shelf provides
---
10/11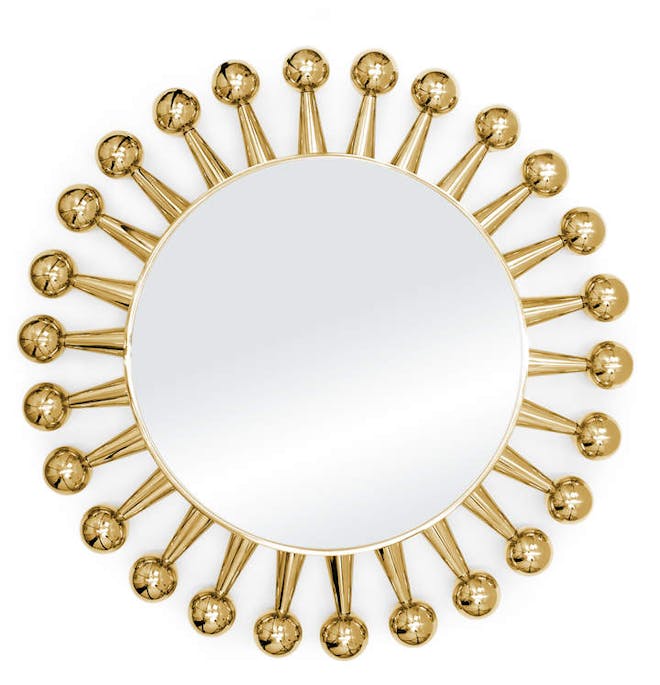 Reflectology. Our bold, graphic take on the classic starburst design comes in polished nickel or brass. Perfect for the powder room. Fab above a
---
11/11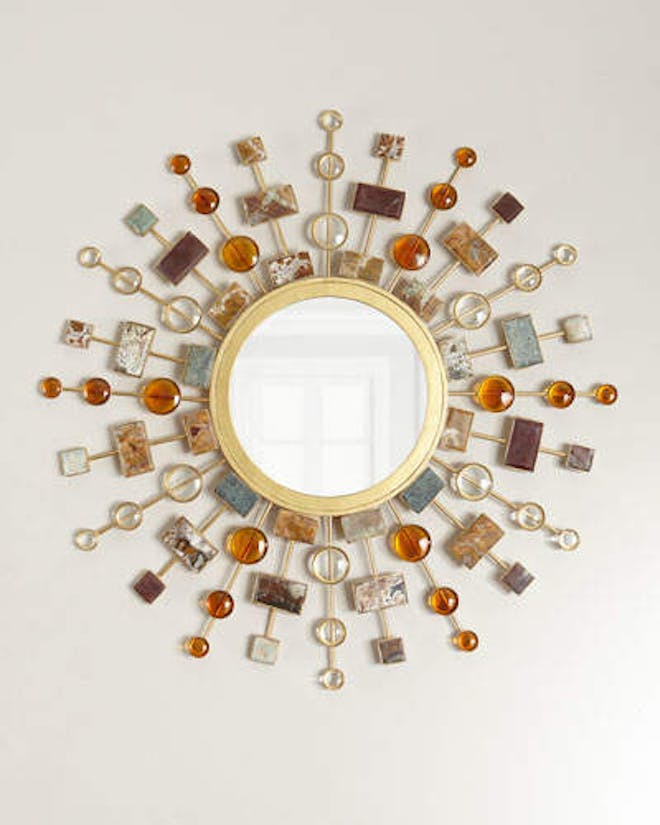 EXCLUSIVELY AT NEIMAN MARCUS Handcrafted mirror. Wrought iron. Tiled with red jasper, scenic agate, chalcedony, and green malachite gemstones an
---
Where can I buy modern vanity mirrors?
There's no shortage of places to buy a modern vanity mirror.
Whether you want to make your purchase in person or online, there are a ton of retailers with amazing catalogs.
Here are a few places you might want to look:
Wayfair: The fastest-growing furniture retailer has everything you need, including a great mirror selection.
West Elm: West Elm has an enormous catalog of luxury furniture. If you're looking for a stylish modern mirror, they'll have something for you.
The Interior Gallery: This Texas-based retail is building a name for themselves in the furniture. They not only have a wide selection of modern vanity mirror, but all kinds of other beautiful pieces as well.
iBMirror: ibMirror is named after their collection of light-up bathroom mirror ("iB" = "illuminated bathroom"). If you're looking for a vanity mirror with lights behind it, this is the store for you.
Home Depot: This hardware mega-store has a surprisingly great selection of modern vanity mirrors. And, there's one in almost every city. So, you can walk in and see their mirrors in person before you buy anything.
Last Updated on